The Best Protection for Your Truck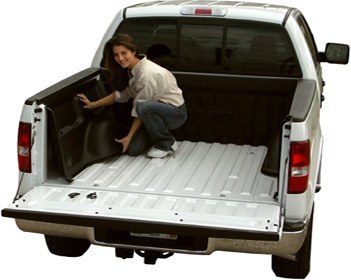 Your truck performs a tough job: hauling loads, moving furniture and transporting items with rough edges and off-the-charts weight. At DualLiner, we know exactly the kind of damage a truck bed suffers when it is not protected. That is why we have developed an innovative truck bed liner that is easy to install and will prevent dents and dings.
Why Choose DualLiner?
Unlike a drop-in or spray in bed liner, our product offers complete protection for the bed floor and sidewalls. In addition to featuring the smoothest installation possible, our liner:
Utilizes a rubber floor, which will prevent the cargo in the bed from sliding and damaging the bed or the cargo itself
Does not require any surface preparation for installation, which means your truck's paint job is protected
Will not fade, crack or thanks to a UVA/UVB protectant
Custom-fit sidewalls maximize dent protection.
Has thick, plastic sidewalls to absorb any impact
Features an interlocking system that prevents you from having to drill into the truck for installation
Made right here in the United States, the liner comes with a lifetime warranty to ensure that it is the only product you will ever have to use in your truck bed. We also offer a 30-day money-back guarantee if you are not satisfied.
Selecting Your Product
Finding the right liner is easy to do, as you can simply plug in the year, make, model and bed length of your truck and place your order online. We make products to fit every major manufacturer, customized to the unique contours of your truck to ensure that the liner is a perfect fit. At DualLiner, we are happy to offer free shipping on your order in the continental United States.
Get Started Today
We stand by our word that the DualLiner will last you a lifetime. Our warranty does not come with any exclusions because we make your satisfaction our priority. To learn more about our products or for help placing an order today, please call us at (800) 992-1949.