Stops Dents. Controls Cargo. Installs in 20 Minutes.
Patrick C. - Boise, ID

I was going to do a spray on AND add a rubber bed mat, but threw out that idea when I found your product. THE BEST OF BOTH WORLDS!!

Justin E. - Hinesvilla, GA

The customer service from DualLiner and the installation of the bedliner were both outstanding. I received my DualLiner within four days of ordering it from the website. The installation was simple and everything fit perfectly. I plan on keeping my 2010 F-150 for a long time and I am looking forward to having a dent-free and rust-free pickup bed.

Randy W. - Waterloo, IA

I can't say enough about how impressed I am with this liner! Easy to install, great fit and very heavy duty! Everything about it says quality. I'm sure glad I found this site and changed from the drop in liner!
The Bedliner of The Future is Here.
ZeroSkid Floor
Interlocking Tech.
ZERO Surface Prep
Complete Protection
NO Fading
NO Cracking
NO Denting

About DualLiner
American Innovation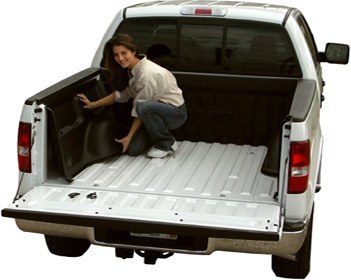 The DualLiner is an innovative product that significantly improves upon plastic drop-in and spray-in bedliners. Offered with a real lifetime warranty that has been recognized by PickupTrucks.com, the DualLiner is the best bedliner available today:
Unlike drop-in liners, the DualLiner's ZeroSkid® Rubber Floor controls cargo and keeps it from sliding
Unlike spray-in liners, the DualLiner's thick plastic sidewalls and rubber flooring absorb impacts and stop bed dents
Installing a DualLiner is quick and easy, and unlike spray-in liners, you don't have to destroy your truck's factory paint job to install a DualLiner
Best of all, the DualLiner is an American product from an American company. Based in Kewaskum, Wisconsin, each and every DualLiner is made in the USA. When you purchase a DualLiner, you're supporting the American economy and the American worker.