Posted on Monday November 18, 2013

  Truck sales continue to be healthy as all four U.S. truck makers showing double-digit gains in October.  While the Ford F-Series maintained its top spot, Ram posted the largest percentage gain at 18 percent. The F-Series has been America's top selling truck for 30-plus years and clung tightly to spot in October logging sales […]

Read more...

Posted on Thursday September 12, 2013

August 2013 Top Selling Trucks Trucks are fueling the recovery! Pickup trucks continue to do the majority of the heavy hauling in what some are calling a recovering auto industry. Clearly sales for full-size trucks are on the rise as the truck segment is outpacing the auto industry as a whole. In fact, the big […]

Read more...
Hybrid Truck Bed Liner
Definitions:
DualLiner by definition is a Hybrid Bed Liner. There are many types of truck liners, from one piece drop-ins to spray-ons, roll-ons, do-it-yourselfers, rubber mats. But DualLiner carries the only hybrid. So how do we define hybrid?

The definition is as follows - Noun: A thing made by combining two different elements; a mixture. or Adjective: Of mixed character; composed of mixed parts. When we call the DualLiner a hybrid, we are referring to the fact that it is made of two completely different types of material, hard plastic for the outer walls and a soft rubber for the mat. Simply put our bedliner is a mixture of a drop-in and a rubber bed mat.
This product is at the forefront of the truck bed protectio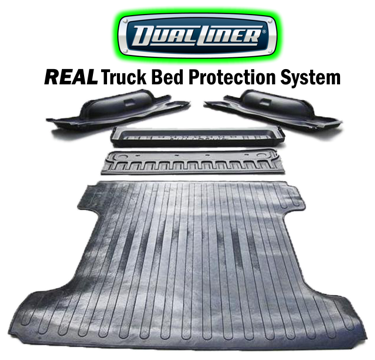 n industry. The interlocking technology makes our bed liner one of the safest ways to truly protect your truck's box from scratching and denting. The design is basically flawless. it consists of four UV treated hard plastic outer walls and a 3/8 of an inch rubber mat that snaps into place within the channels at the bottom of the side walls and load guard. The tailgate on most models is held in place by the existing factory hardware, which makes it a drill free application.

The DualLiner is 100% manufactured in the United states with only the best materials. Our factory is located in Kewaskum, WI with shipping locations through out the continental United States. We are currently targeting customers through out North America, and we have the ability to ship for free within the continental U.S.A. We can also ship to Alaska, Hawaii and Canada for a very reasonable rate.


Our customer base is anyone that is looking to protect a new pickup from scratching and denting without having to permanently alter the look and feel of their new pickup. We also market towards the consumer who has had one piece drop-ins in the past and seen the type of damage that those inferior systems will actually cause to their truck's bed in the long run.

Don't be fooled by our competitors. Spray on bedliners actually damage your factory paint. The average consumer does not realize that a spray-on dealer actually scuff sands or removes their factory paint to adhere the material to the truck's box. If there is any scratching or scuffing that happens your box will be exposed to the elements and the corrosion sets in. Spray-ons are permanent and can not be easily removed. Our product can be removed at any time to reveal your bed's pristine condition. Get yours today!
In the past truck owners had to choose a bed liner that was the lessor of two evils.
They could either choose a damaging "Drop In" bed liner or a "Spray On" bed liner that required the trucks finish to be sanded off and only provided minimal scratch and dent protection. Thankfully today there is an alternative to the "Drop In" and "Spray On" type of truck liners.

"Drop In Bed Liners" were great for protecting the trucks sheet metal from dents, but they were absolutely horrible on the trucks finish. Since they were designed to fit multiple trucks, there was a lot of wasted space that could otherwise be used for cargo. These large areas behind the liner would collect dirt, dust, and debris. While driving down the road these "Drop In's" would shift around the trucks box and grind the sand/dirt against the trucks finish, eventually wearing the trucks paint off and leaving bare metal totally unprotected. You add some rain or snow to this equation and the end result is rust, and lots of it, all underneath the "Drop In" so the trucks owner has clue that this is happening to their truck.

"Spray On Bed Liners" quickly became the most popular type of bed liner after the "Drop In's" problems became more well known. There are many different types and brands of "Spray On's", but they all seem to share these same drawbacks. Over time it is very likely that they will fade and discolor, which was a big problem for those of us that hang on to our vehicles longer than the average person. Another drawback to many truck owners is the lack of protection that a "Spray On" bed liner provides. Even though the thickness may vary from installer to installer, heavy cargo could easily scratch the material off leaving exposed sheet metal (because the trucks finish is sanded off so the chemicals can adhere to the metal). Again based on the thickness of the material, some "Spray On's" provide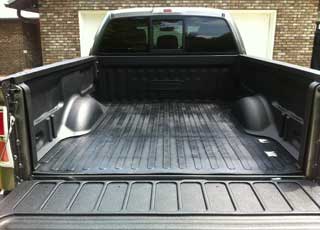 very minimal dent protection.

"The Alternative" is a truck bed liner developed to provide the maximum amount of scratch protection. The Dual Liner uses exact fit panels that are shaped to the contour of your trucks sheet metal, this prevents the panel from shifting and thus prevents your trucks finish from being harmed. Each panel is made from thick thermoformed polyethylene (which is one of the most durable materials available) that absorbs incredible amounts of force and spreads it over a much larger surface area to provide more protection against dents. Dual Liner is made from UV treated materials which will stand up to even the most harmful rays from the sun for a very, very long time. Dual Liners unique Zero Skid mat keeps your cargo safe from freely sliding around and crashing into the sides of the trucks box. Another nice feature is the fact that you can take it out of your truck to clean it properly or if you are you want to wax the entire truck. This bed liner also comes with a Lifetime Warranty so you can be sure it will stand the test of time. The whole idea was to bring to market a truck bed liner without the drawbacks of its predecessors, and that is exactly what Dual Liner has done!


Most people with pets at some point will want to transport them; if they become sick, to board them, to get shots, to take to the park, or whatever the reason may be.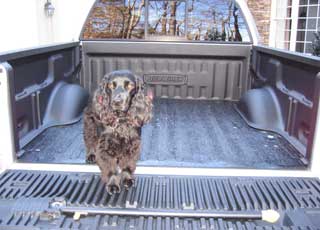 Some people will transport their pet in a travel carrier or crate that is placed in the bed of the truck. Others will just put the dog right into the back of the truck without any enclosure. Either way this can be a very risky way to transport your pet. If you do not have the proper bed liner your pet could become injured badly or worse.

Several different types of bed liners out on the market today will claim that they are "skid resistant" or "anti-skid." What is the definition of "skid resistant" or "anti-skid?" I don't think that your dog would call a one piece plastic drop in bed liner "skid resistant." I don't think your pooch would call most spray on bed liners "anti-skid" either. A dogs toe nails become very slippery on pretty much any hard surface. If your pet carrier is plastic it will slide across these types of bed liners like it has wheels on the bottom. Just remember the last time somebody pulled out in front of you and had to slam on the brakes, if that would happen with your dog in the back, ouch is all I have to say about that.

There is a solution to this problem; it is called the Dual Liner bed liner system. It is the only bed liner available with "Zero Skid Technology." The definition of "Zero Skid" is "No Skid' or "No Slip." That actually means whatever you put in the back of your truck, it will not slide around. If your cargo just happens to be your family pet, this is very important. Thanks to advances in manufacturing the Zero Skid bed mat was invented, this is not your average rubber bed mat. This Zero Skid Bed mat is 3/8ths of an inch thick, it is composed of high grade corded rubber, and the underside has hundreds of soft rubber cleat to prevent the mat from lying directly on the trucks finish. This allows water to drain out of the factory designed drain holes. The thickness of the mat is very important as well, it is able to absorb what would otherwise be a damaging blow by spreading the impact over a much greater surface area.

The Zero Skid Mat tucks securely into a channel located at the bottom of the sidewall panels. This insures that the mat will not move around. The sidewalls are composed of polyethylene and each panel is designed to fit the precise contour of the sheet metal it is protecting. The Dual Liner is not a "one size fits all" type of bed liner, each bed liner fits a specific year, make, and model of truck. These precision panels act like a time capsule for your trucks box, preventing dents and scratches from occurring to your truck. If you would like to remove the bed liner for any reason you do have that ability, this is a nice feature if you lease your vehicles.


Don't put your pets at risk, get a bed liner that will help to keep them safe.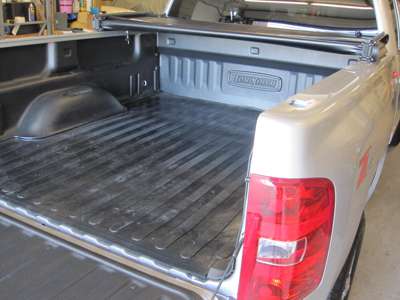 The Right Bedliner
If you asked your truck which bed liner they would want you to purchase, I can say with confidence that it would be the DualLiner. I like to think of truck bed protection as clothing. You know as well as any that there are certain types of clothing that just feel and fit better than others. If your truck has to be fitted for a new outfit you'd like to fit 'em for the best. To figure which one is right for your pickup takes a little searching, here we are going to try an examine which may be right for you.

There are a few different types of bedliners to choose from. From the older style one piece drop-ins, to the DIY Roll On bed liners, to the spray-ons that seem to be pretty popular these days. Now recently our company has come out with a 5 piece that I believe to be at the forefront of the industry. Some can be better than others depending on the exact application you are going for so choose wisely. Purchasing the wrong one can mean a lot more than just being out a couple hundred bucks, it can mean disaster for your truck's box!

One piece drop-ins have great dent protection. The real problem with this part of the industry has always been the one size fits all mentality of the manufacturers. Just as when you are buying clothes, if you are big or small, one size fits all usually is not going to fit you properly. It's really a misnomer if you think about it. I understand why they went that route. You try to open the tolerances as far as you can to apply to as many different makes and models as possible to widen your customer base. The models for plastic are very expensive, so the manufacturers are trying to keep the cost down as low as possible. The problem though occurs with improper fitment. If your Penda or Duraliner doesn't fit properly, then your so called protection is able to slide all around and actually causes scratching. The exact thing you are trying to protect the bed from.

Now the roll on liners are somewhat newer to the scene. They can be inexpensive and if applied properly they can give you good protection for years to come. I would NEVER recommend applying a DIY roll on to a new truck, but for something older that has already been scratched and has exposed metal, this is a cheaper way to protect from corrosion. The real key though here is proper installation. If you do not scuff sand and clean properly, these will chip and peel off which will make your box look worse than it did in the first place.

Spray ons are very popular and I believe they will be for years to come. There are diehards out there, you've seen the forum posts, where even when they are complaining about the common spray on problems, would still never buy anything except the beloved Rhino Lining or Linex. The complaints are there though for sure, in heavy numbers about the sun fade and the way that cargo slides around in the truck's box. For some that isn't as big of a deal as others, but I say why pay well over $500 for a product that does not address the consumers need? If I paint something black, I expect it to be black forever, not just for one summer!

Now the DualLiner 5 piece Truck Bedliner has addressed all of these issues to truly bring you the best of truck bed protection. There is no need to permanently alter your truck in the name of protection. Our liner is made of 4 UV treated hard plastic outer walls that will not fade in the sun and will keep your paint protected. Our rubber mat will keep your cargo in place, that's truck protection plus cargo protection. And the installation is a breeze clocking in at well less than 30 minutes with no special tools needed. If your truck was able to talk I believe it would convey that the DualLiner is the only choice to keep your paint protected without permanently altering it's appearance. Get the bed liner your truck wants!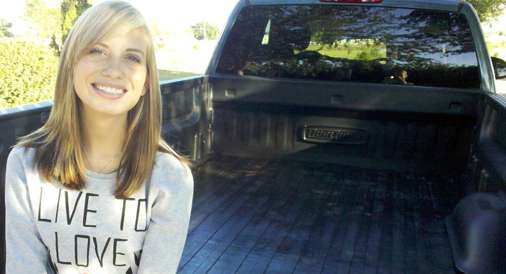 Happy Bed Liner Customers
The word is out and DualLiner Truck Bed Liner customers couldn't be happier! We at DualLiner pride ourselves on customer satisfaction. Everything we do with our products and company is about pleasing our customer base. The word is spreading fast and the satisfaction levels are up in 2011. So is there a secret to satisfying the people that spend money with you? I don't believe it's a secret but the key to success is calling your product what it is, standing behind it once it is sold, and treating your loyal customers with respect!

Being truthful is one of the most important things my elders taught me when I was growing up. Without trust relationships never work. We like to believe with this company that we are building a trust with our consumers. When we speak with a potential customer we ask them what are they looking for? What type of materials will you be hauling with your truck? We want to be sure this bedliner will be the right fit for them. It's about being respectful and truthful. We have never been misleading about what our product can do. Our product is great for many different reasons, but our company is great because of these couple of philosophies.

Standing behind your product once it is sold is where a lot of vendors fall short. We see it all the time where a customer is buying from us after having problems with another type of bed liner. Maybe it's that their spray-on has started to fade and peel. Maybe it's that they pulled the one piece drop in out and realized it was scratching the truck's box. Maybe it's because once they called the vendor with their problem, the vendor did not want to help them. Either way we love fixing a problem that someone else has created! It is very easy for the consumer to like you after you addressed their problem. It is then also easy for that consumer to refer a friend to your company. See they are happy about the way they have been treated and they are eager to tell the story.

That's why if you look at our site it is filled with happy comments about our bed liner. Now I know there are skeptics out there that say we would never put a negative comment on our own site. Well as they say, the proof is in the pudding, so take a look at our distributors sites and read their customer comments. Go out and search through the truck forums and see what our past customers are saying about us. Google DualLiner complaints and you will see they are just not out there. If you search for bed liner reviews you will see many positives about the DualLiner. Can our competitors say the same? Most can not!

Respect is what I am talking about, and we respect our clientele. We want to hear from them. If they have a problem we want to fix it. We want them to come back and purchase again in the future. We want them to say our bed liner is the best, and that our customer service is second to none. That is how we have done business from the start and we are not about to change.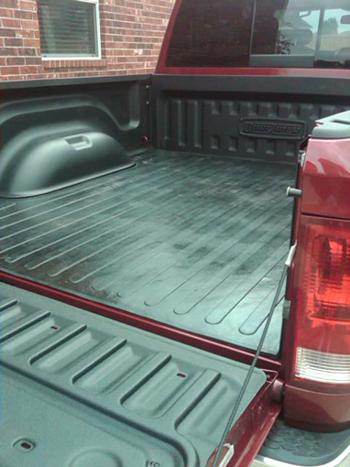 Where Our Bedliner Fits In
Before the DualLiner was around there were three distinct categories of truck bed liners; spray-ons, drop-ins and rubber mats. They each have their pros and cons, as with any product, but overall the truck bed protection industry seemed to be full and your options were clear. I've owned many trucks, every truck I have owned has had a bedliner in one form or another. So from experience and personal preference I know what I like.

Just over 5 years back a couple of guys noticed a trend of certain types of complaints for each of the three categories and saw an opportunity. The complaints on the drop-ins where that the cargo slides around and over time they actually scratch your truck's box. With the spray-ons it was the sliding cargo issue and the sun fade that most experience. With the rubber mat, simply put, it was an incomplete design. No protection for the sidewalls, load guard or tailgate. And with all of these products it was access. If you did not have a local dealer your choices even became more limited.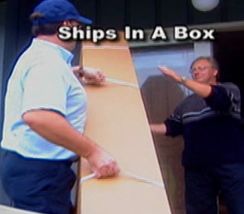 That is what finding a niche is about. Locating the holes and filling them with your product. DualLiner addressed these issues. The five piece design was the way to go. The zeroskid rubber mat keeps your cargo in place. The hard plastic outer walls are UV treated so they never fade in the sun. The pieces bolt and clip in so they can not move, they form fit so no scratching. The 5 piece design also allows it to pack into a box that can be shipped anywhere!

The DualLiner Truck Bed Liner is the only bedliner that ships complete to your door!
The Cost Effective Bed Liner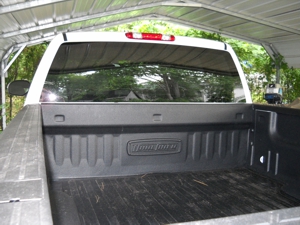 Most Bedliner Bang for Your Buck!
In our present economy every dollar counts, so when it comes to buying a new truck you must be sure to protect your investment. There are few things that can protect your pickup better than a truck bed liner. There is nothing that will drop your vehicles value faster than scratches, dents and rust. That's common sense really. Yet in a lot of cases consumers will worry more about what they are spending up front then about what is going to best protect their investment in the long run.

Trucks and vehicles in general are a hard investment since they seem to lose value not only by pulling them off of the lot, but also with every mile added to the odometer. Plus we all know that time is a factor in placing a value on your auto, as a 2000 is of course less valuable than a 2010 in most cases. But looks sell a vehicle faster than anything, and a scratched up truck bed isn't going to win you any awards, so truck bed protection does play an important role in the future value of your pickup.

Initial cost does play a factor when purchasing a bedliner, but paying less now can sometimes mean paying more in the future. So what is your best option, and what are the mistakes a lot of consumers make? I believe the biggest mistake made here is by the average do-it-yourself guy that buys a $30,000 truck and then does a roll on bed liner for $100 or less. I really cannot believe that after making the biggest investment a person makes besides their house, that they skimp so hard when protecting that investment. The margin of error on these roll-on products is small to say the least. Any deviation from the installation procedure can lead to a peeling off and cracked up mess. Even when applied correctly, if it wasn't taped off with perfection, the lines will look like total garbage.

Another common mistake is choosing a spray-on, and I say that for a few reasons. One is that the average consumer usually goes with the cheaper of the spray-on materials. Which will not protect from sun fade for instance. Also not choosing a truly skid resistant product. Which will allow their cargo to be thrown all over, or in the worst cases thrown out of their bed! Another thing to realize is your spray on will not last forever, you will be going back every year or two for another expensive coat to cover either scratching, chipping or a sun faded product. So that $500 you pay now will lead to hundreds here and there for years to come.

Now with DualLiner we offer one truck bed liner that will last for the life of your pickup. For a more than reasonable price you can keep your new truck bed looking as pristine as the day you bought it without any permanent alteration to the truck's box. We offer a lifetime warranty on the DualLiner that is unmatched in the industry and we can assure you that it is the most cost effective truck bed liner manufactured to date!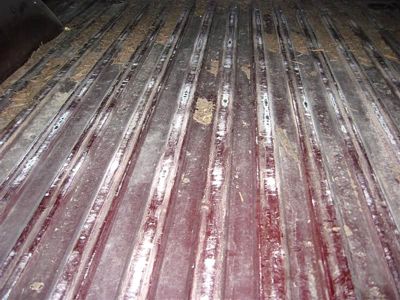 Bedliner Blunders
When researching a truck bed liner most people think about the features they want. They want protection from dents and scratches. They want something cost effective, and they want something that looks nice! But when you think about it what you want is only half the story. What about what you don't want?

I know the problems that I've had in the past. I don't want a bedliner that is going to allow my cargo to slide all over the place. There is nothing more annoying then my tool box hitting the load guard when I stop and the tailgate when I take off. If it isn't going to keep my cargo in place then it is not for me!

I don't want a bed liner that is actually going to cause my truck damage. These one piece units really do a number on your pickups factory paint. There is a pretty good pic here in this article showing what in most cases will happen if you go that route. To say the least, that isn't pretty.

I don't want a bedliner that is going to fade in the sun! If I buy a black bed liner today, I still expect it to be black tomorrow. Which ones are you looking at? Is sun fade a common complaint? With many spray ons that is a common complaint and not something covered in the warranty, so the cost of the fix will be on you!

I do not want a bed liner that is going to have to be resprayed every one to two years. When I do a job, I try and do it right the first time. I do not expect to have to do it over and over again. I will not once again be duped into buying a spray on that has to be resprayed every year or two due to sun fade or scratching or gouging. That was what I was trying to protect my truck from in the first place. If the product can't do the job then don't buy it. Plain and simple!

This is the reason that the DualLiner is able to thrive. We addressed these issues. We saw the need for a real lifetime warranty. We saw a need for a zero skid surface. We realized that sun fade is a serious issue. Get yours today!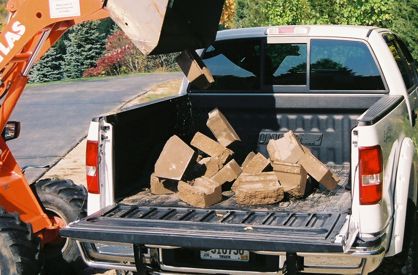 Bedliner Dependability
In order to label something as dependable lets first take a look at exactly what the definition of dependable is. "Dependable": it is capable of being depended on; worthy of trust; reliable. Some Synonyms are, trustworthy, trusty, trusted, and responsible.

As a truck owner for many years I have come to realize the value of a dependable truck bed liner. I usually hold onto my vehicles longer than the average guy and that is why I take the proper steps to extend the life of my truck. I want to keep my truck in the best shape possible not only for resale value, but for dependability and usability as well. Over the years I have seen the truck accessory market change course, from first a "Rubber Mat" then to "Drop Ins" and eventually to "Spray Ons." The problem that all of these different types share in common is the fact that they all have major drawbacks.

The drawbacks with "Spray On's" are first that you must in effect destroy the factory finish to allow them to bond, and second they are a permanent application. That means your truck will be altered permanently, as there is no good way of taking an old one out after it has deteriorated.

The main drawback of a "Drop In" is the fact that they are a universal fitting application. Sort of a "one size fits all" different makes of truck that have the same length bed, this leaves less usable space in the back of your truck and provides extra room for the "Drop In" to shift around. Eventually over time the "Drop In" will wear the trucks finish off and allow the trucks sheet metal to rust.

The one major drawback of a "Rubber Mat" is the lack of protection on the sidewalls, wheel wells and the load guard sections of the box.

These drawbacks led me to believe that there was a better and more dependable way to protect my truck and cargo. After hours of sifting through truck forums I found a post about a new product that had recently been introduce to the market. It was a totally new type of truck protection called the Dual Liner. Instantly I was drawn to it because as far as I could tell there were no major drawbacks. After thinking about it for a week or so I decided that I would like to give the Dual Liner a try, and I have not looked back ever since. The concept is simple; there are 4 polyethylene custom fit panels that hold a thick "Rubber Mat" in place on the floor of the bed. Because each panel is formed to the exact contour of the sheet metal of the specific year, make and model of truck it is protecting there is no risk of chaffing, while at the same time providing unparalleled protection against dents and scratches. The Dual Liner is also covered by a "Lifetime Warranty" proving it will outlast the truck. You really can't get much more "Dependable" than that.

Thanks to many advances in manufacturing technologies, the ability to make the best bed liner on the market exists. Dual Liner uses computer design, precision tooling, and a state of the art facility to set themselves apart. It is clear to see how the other types have fallen short in many different areas, thus making the Dual Liner the most dependable bed liner ever.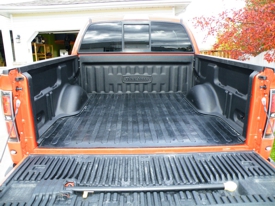 Not Your Average Bedliner
You are probably familiar with the conventional "Drop In" type of bed protection. It is a huge one piece plastic tub that lies in the back of your truck that should prevent damage from occurring to the sheet metal of your trucks box. If you have ever owned a "Drop In" then you know firsthand that they do a great job of preventing cargo from denting your trucks sheet metal. Likewise you would also be familiar with the damage that the "Drop In" causes to the trucks finish. This happens because "Drop Ins" are made to fit many different makes and models of trucks. For instance the "Drop In" truck liner that fits the Dodge 8 foot long bed also fits the 8 foot Ford, the 8 foot bed of the Chevrolet Silverado, as well as the 8 foot bed of the GMC Sierra. There is no possible way for it to follow the precise contour of each individual truck because it has to fit in the other models as well. Another problem with "Drop Ins" is the fact that your cargo will slide around. Take a cooler for instance, if you hit the brakes, turn, or accelerate quickly the cooler will slide around and you risk damaging the cooler and everything in it.

The new type of "Drop In" bed liner was developed by Dual Liner and it utilizes 4 polyethylene side wall panels that are made specifically for each different year, make, model, and bed length of truck. Dual Liner believes that the enormous expense of all these precision molds is worth it. Because each panel follows the exact contour of the trucks sheet metal this leaves no room for the panel to chaff or wear off the paint. Each panel interlocks with the panel that it is next to and this also helps to keep the panels locked in place. The exact fit panels have raised the amount of truck bed protection to all new levels.

Each of the sidewall panels has a "C" channel built into the bottom of the panel, this is what holds the "Zero Skid" bed mat in place. The "Zero Skid" bed mat is similar to the conventional rubber mats with a few exceptions; it is thicker than other mats at 3/8ths of an inch thick and located on the underside of the mat is hundreds of rubber cleats. These cleats help to prevent the mat from lying flat on the trucks finish and they allow water to travel to the factory designed drain holes. "Zero Skid" means that your cargo will not slide around at all, this is not the same as "skid resistant" like the other types of truck bed liners claim.

Many advances in manufacturing technology in recent years made it possible to protect your truck from dents as well as protecting the factory finish all while looking good in the process. I don't know about you but, I am sure that your truck would choose "The new type of Drop In bed liner" by Dual Liner every time.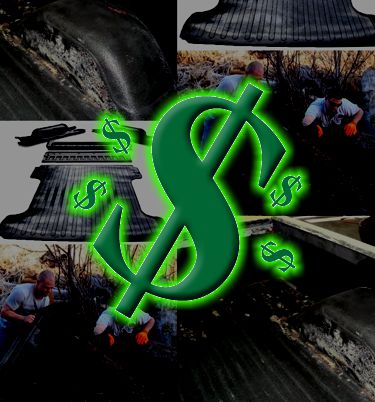 How Much Does Your Bedliner Cost?
Bed Liner prices can be all over the map. From as little as $100 for a DIY roll on job, up to around $800 for a good spray-on. So what really is a reasonable bedliner cost? I suppose that all really depends on the budget that you are working with and the type of protection you are looking for. There are some common questions you should ask before getting started. How much am I willing to spend? Is this a permanent solution? Will there be up keep costs down the road?

Roll on bed liners seem to be the most inexpensive truck bed protection on the market. Herculiner is a vary popular brand and retails from $79 to $99 for a one time application kit. The kit comes with a gallon of the paint material and all that you will need to apply the product. Customer testimonials that I have seen lead me to believe that with a longer truck bed, you may need more than one gallon, so there is another $50. You will also need some cleaner for the bed, and some gloves. Lets say that is $30. So the overall cost appears to be anywhere from $120 to $170. Keep in mind also that you will more than likely spend a whole Saturday doing a project like this. So if you believe time is money, then the cost just shot up!

One piece drop-in bed liners such as those made by Duraliner cost right around $200. You can search their website to find a local dealer as these are too big to be shipped to your door, but in most cases you can find one close and the dealer will install it for you. No time on your part really so that is good. The real cost here is from the damage your truck's bed will inevitably receive from the shifting of these poorly fitting bedliners over time. Once that starts your cheapest solution is to do a roll-on liner beneath it so see the previous paragraph for the cost on that!

Spray-on bed liners are the most expensive form of truck bed protection, anywhere from $500 to $1000 depending on the brand and type of finish the customer wants. There is no time lost here as the best option is to have these professionally installed and can be done in one day. The real problem is the maintenance. See once you install a spray on which is permanent there is no turning back. If you want them to keep looking good, you will need to have touch up sprays every year or two to fight the sun fade and the scratching/gouging that happens. Add on a couple three sprays over lets say 10 years and the cost really sky rockets

Now the DualLiner is being touted as the most cost effective bed liner on the market today. The DualLiner can be shipped to your door for the low price of $399 and comes with an unbeatable lifetime warranty. The DualLiner can be taken in and out at any time to keep your trucks bed looking just like new. I have had one in my truck for almost 5 years and it has never faded, and still looks great. To me the DualLiner is the best bedliner in town!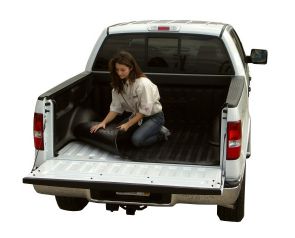 DualLiner Is Really Making a Mark In The Truck Bed Protection Industry
DualLiner Truck Bed Liners are steadily becoming an industry leader and a household name when it comes to truck bed protection. When I started to work for DualLiner nearly a year ago, I had barely heard of the company. The referral traffic to our website, www.dualliner.com was weak to say the least, and the only way you could buy a DualLiner was through a distributor. There have been a lot of changes to say the least.

The truck bed liner market is fierce, especially for a newcomer. With brands out there suck as Linex and Rhino linings, with huge advertising budgets and brand recognition. These brands are already widely known and frankly they have a strong foothold. For our most coveted term bed liner, there are around 6,500,000 results in the serps and it is moving up constantly. It was hard at first to take a company from point of service sales and change the direction and move towards internet marketing, but we have made it happen!

I believe the DualLiner to be the best bedliner made to date. We have addressed all of the common bed liner problems to truly bring you, the customer the best product for the best possible price. Our lifetime warranty is unmatched in the truck bed protection industry and we have made a huge push forward with recognition amongst truck enthusiasts. We are succeeding in a down turned economy both because of great marketing and because we stand behind the product that we sell. Our customers are among the happiest there are. We receive more hits and more sales every day that say I wanted your bedliner because my friend got one and they are so happy. We receive customer comments and photographs that say this is the best investment that they could've made for their truck

Every day we see more and more traffic come to our sight not off of a paid advertisement, but off of the search string "DualLiner". The snowball has started to roll in the right direction, and DualLiner is becoming a household name. We are making our mark, and we are here to stay!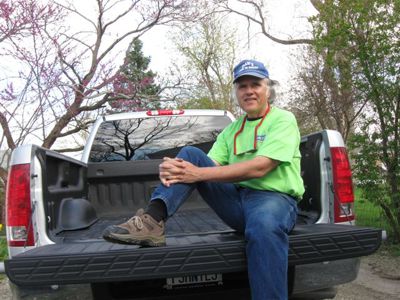 Bedliners perfect for Baby Boomers
The DualLiner Truck Bed Liner is the perfect bedliner for the baby boomer generation. The baby boomer generation in my opinion is one of the greatest generations of all time. They've worked hard for many years to grow this country into what it is. They are getting closer to retirement and most are in a good position financially which gives them a great amount of buying power. Now that the kids are gone many are getting into new hobbies, some of which are pickup truck related.

There a few different reasons why the DualLiner is a great bed liner for this part of the market. The zero skid mat is easy on the knees, if you need to crawl up into your truck's bed to grab some cargo it is easy to appreciate that. The zeroskid mat also keeps your cargo in place. So if you set something in your truck's box back near the tail gate, it will still be back near the tail gate when you reach your destination.

The easy installation is also a great feature. The DualLiner's 5 piece design installs in less than 30 minutes and there are no special tools needed. The baby boomer generation has also held on to the idea that buying American is the way to go. The pride that their generation has for our country is well known, and the DualLiner Truck Bed Liner is 100% Made In the U.S.A.

I would define wisdom as being the combination of knowledge and experience, and my older relatives and friends pushing 60 are more than wise. Gone are the days of rash decisions and impulse buys, they've out grown that. The Boomers put time into research before they make a purchase, and they protect their investments. When you invest $30,000 in a new truck, as a boomer, you are going to protect that truck. They have pride of ownership. If they sit down and do the research they will see that DualLiner is the best bed liner to protect that investment.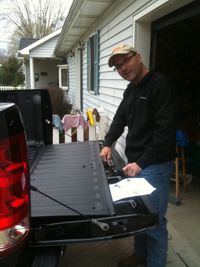 The perfect fit for your bedliner is of utmost importance.
Bedliner technology has evolved quite a bit over the years, from the days when the only option was the old drop-in, to today's market, where several options are available. Truck bed protection is very important in maintaining the resale value of your truck, and you really must be sure to get something in your truck bed as soon as you get your new truck home.
Spray-on's are a widely used option, but recently their durability has come into question. The problem with spray-on's is that they will all eventually fail in one way or another, causing you to have to either have the entire surface of the truck bed removed an replaced, or take some other action to restore your truck bed. Pitting that occurs to the surface of the spray-on will not always be easily repairable, and the material does not patch well at all. Take it from a truck owner, if you were to buy a spray-on, the first time you drop a sharp corner on the truck bed, you will not feel well. Forget about the condition of your spray-on if you're planning on using it as a work truck, most liquids used in construction will definitely cause damage to the spray-on, most of the time being irreparable.
Drop-in's used to be the only solution available for a long time, and, if you've had a good amount of highway driving experience, you've probably seen one or two laying on the side of the highway from time to time. These drop-in's are on the side of the highway because they blow out of the back of people's trucks, causing a dangerous and potentially harmful/fatal incident. This condition is produced by a fatal design flaw: the liner simply isn't an exact fit, allowing air to get trapped between the surface of the truck bed and walls causing lift. Forget about keeping your cargo in place with a drop-in as well, and always remember that they are very slick when they are wet.
The DualLiner Bedliner addresses all of these issues and then some. Forget about your load moving around anywhere, you load it in your truck bed, and it stays in the same position. This means the freedom of being able to load things near the tailgate of your truck, and having them be there when you open your tailgate again. The 3/8" rubber floor will make it nearly impossible to gouge your truck bed, and it keeps the water that runs through your truck bed traveling through the factory channels, so no alteration is required, and drainage isn't affected. Cracking and sun-fading, which are constant problems with spray-on's and drop-in's, is totally circumvented by our special UV-treatment that is added at the time of manufacture. The DualLiner also preserves the resale value of your truck, which, in today's economy, is extremely important. What about finding a dealer? Don't worry, the DualLiner ships right to your door. How will I get it installed? The DualLiner installs in 30 minutes, and, in most instances, requires only light hand tools. It's really one of the most innovative installation designs around, focused around using the existing structure of your truck bed to insure not only a tight, but extremely accurate fit. It must cost a lot to ship that big box, how much? We know how tough the economy is, and we want our customers to enjoy the lowest prices possible. Due to some creative shipping negotiations by our office, we are able to offer free shipping to the continental United States.

Knowing what you want in a bedliner is something that everyone must consider themselves, but remember, a damaged truck will hurt the resale value of your truck by anywhere from several hundred to several thousand dollars. Always keep in mind that the DualLiner is the most innovative product in truck bed protection on the market today, and will continue to protect your truck for years. Don't get duped into a shotty spray-on or paper-thin drop-in. Get a real truck bedliner, get a DualLiner!
I don't know about you, but when I think of cracking open a can of DIY roll on bedliner and applying it a trucks bed, it seems like a recipe for a huge mess.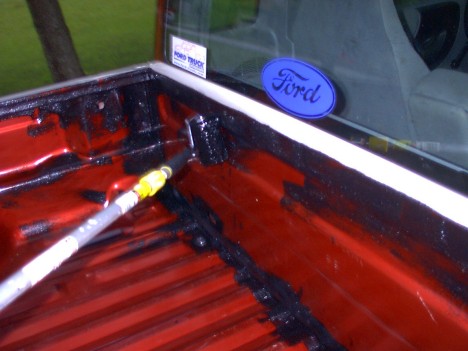 Don't get me wrong, I am just saying, if I would attempt this feat it would most likely result in mess of epic proportion. I am pretty handy around the house, but when it comes to me with paint, I will just say that we do not get along. I evidently lack the patience and artistic ability required to do a half way decent job, that is why I tried to stay away from the "bed liner in a can" when I was looking for a bedliner for my new truck.
That is what led me to the Dual Liner; it is a five piece bed liner system that ships right to your door. Along with the bed liner kit, it comes with easy to follow instructions on how to install it yourself. There are four easy steps that you need to complete:
1. Snap the load guard panel over the trucks load guard at the front of the bed.
2. Tuck the sidewall piece up under the rail, and then push the bottom of the panel tight to the sheet metal. Repeat on the opposite side.
3. Lift the bed mat into the bed of the truck and lay it out flat. Tuck the bed mat into the C-channel that is molded into the sidewall panels.
4. Remove the tailgate latch access panel bolts, set the tailgate protector in place. Align the panel and then reinstall the bolts.

That's it you're finished. No messy drips on your drive way, no splatters down the side of your truck, and definitely no bed liner chemicals staining your clothes and hands (which by the way I have heard it is nearly impossible to get off). The Do It Yourself Dual Liner truck bed liner system is not only easier to install it also provides much greater dent protection, scratch protection and cargo protection as well. Dual Liners Zero Skid bed mat is the thickest in the industry and prevents your cargo from sliding all around in your trucks bed. It comes with a Lifetime warranty from the factory and it is designed to hold up to even the most extreme abuse. That is why it is easy for me to say that the Dual Liner is the best D-I-Y bedliner on the market.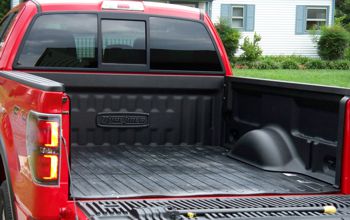 Bedliner Terms Can Be Misleading
Let's take a closer look at some of the words associated with the most popular types of bed liners.

It is easy to assume that something is water proof when in fact the item states that it is water resistant. This might not sound like a big deal, but if you wrecked your brand new Rolex watch by jumping into a pool, that would be a different story.

If you are currently looking for a bed liner for your new or used truck, then I am positive that you have encountered some of these "misleading" terms. One term that most bed liner companies use is "Skid Resistant." Over the years I have come into contact with just about every different type of truck bed protection. I don't think, well actually I know that I would never label what happened to my cooler when I hit the brakes as "Skid Resistant." The term that I would quicker label that very fast movement as would have to be "Launch Pad."

Obviously "Skid Resistant" has many different definitions, or varying degrees of resistance. I supposed that if you were to conduct a controlled experiment where you took each type of bed protection and compared it against glare ice. Then you could honestly say that there was more Skid Resistance than ice. Even though that is not saying much, most of these companies still push the fact that they are.

I did say most companies used these types of misleading terms, but there is an exception. One of these companies labeled their truck bed liner as "Zero Skid", they did not leave much room there for interpretation. "Zero Skid" is not confusing at all, it is clear, and to the point. It means "No Skid", when you put your cargo in the back of your truck you can be assured it will stay right where you put it.

The company that produces the "Zero Skid" mat is called Dual Liner, they are committed to providing the maximum amount of scratch and dent protection without causing any harm to the trucks factory finish. They can achieve this, thanks to many recent advances in manufacturing technology. The "Zero Skid" mat inserts into a channel that was built into the side wall panels. Each panel is molded to fit the exact contour of your trucks box; this provides complete and unparalleled protection.

So the next time you see any of these kinds of misleading terms, ask yourself if this is really the type of product that I should be looking for?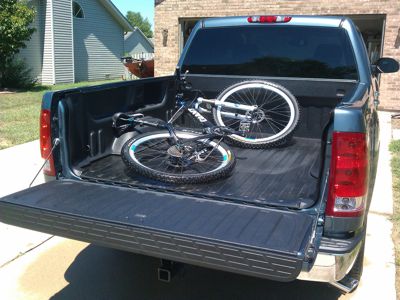 Zero Skid Bedliner has Cargo Protection
To expand on our last article, zero skid means exactly that! With our bed liner, your cargo will stay put, and that can make hauling cargo a whole lot easier. This picture was sent to us today and this is what the customer had to say: "I really like my Dualliner! The whole experience was great from ease of ordering to home delivery and easy installation! I love being able to throw my new bike into my new truck without worrying about scratching them up."

The comments are rolling in, and there are many that sound the same. From the hunters who are happy to throw their gun in the bed without worries of it sliding around. To the fisherman who are able to do the same with their gear. The DualLiner bedliner holds your cargo in place. Just last night I transported a set of bunk beds in my truck and guess what? I didn't even have to tie them down. We simply loaded them into place and away I went with no worries. I would have never been able to pull that off with your average drop-in or spray-on bed liner.

This is the perfect bed liner for outdoor enthusiasts, fisherman, hunters, orv'ers, bikers. The list goes on and on. There is no comparison, the DualLiner beats them all! The fact that this is a 100% American made product is the icing on the cake. Who out of our competitors can make that claim? I'll answer that for them, it's none of them. There really are so many things that sets the Dual Liner apart that I know it is only a matter of time before the DualLiner is America's #1 best rated, and best selling Truck Bed Liner.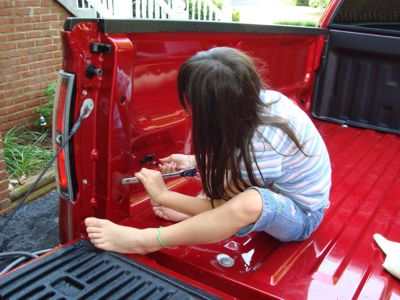 Super Easy Bedliner Install
DualLiner boasts the easiest bed liner install in the industry. Our 5 piece bedliner installs in less than 20 minutes, there are no special tools required and even the most modest novice can pull it off all on their own. Just see what our customers have to say:

"Easy to install in my 2011 F-150. It was so easy, I had my two girls install it for me." - David K - Potomac Falls, VA (The pic to the left shows one of his daughters doing the install)

"This was installed by 2 senior citizens ages 66 and 68 one has a lung problem the other has 2 artificial knees I think we did pretty well." - Wayne P. - Fredericktown

"Very happy with this product. Out of the box to fully installed, took 15 minutes." - Darby M Houston, TX

The install process varies slightly depending on the model, but overall the process is as follows. Once you've received your DualLiner, simply pull the pieces and the install pack out of the box. The Load Guard simply snaps into place. If you have bolt in tie downs they must be removed to put the sidewalls into place and then re-installed. If you have weld in tie downs the sidewalls simply snap into place. You retain full access to the tie downs on all models which is an excellent feature.

The rubber mat fits snugly into the channels towards the bottom of the sidewalls, interlocking technology. The tail gate is different on many different models, but it boils down to simply remove some of the factory hardware and re-installing once the tailgate guard is in place.

As my Mother would say easy as pie. You've got a great looking brand new DIY bed liner installed in less than 20 minutes. Sit back and have a cold one and admire a job well done.
The Green Bed Liner
Our Bed Liner Is Greener Than Theirs
Our bed liner is the greenest bedliner on the block and here is why:

DualLiner is made in the U.S.A. and uses recycled materials wherever possible to make up the components of our REAL truck bed protection system. We recycle any and all scrap pieces that are cut off during the manufacturing process. The rubber Zero Skid Mat is made using recycled tires from cars and trucks. This cuts down on the waste that ends up in landfills. The installation process requires no ventilators or breathing machines because no harmful chemicals are being released.

These days society encourages everyone to do their part to limit damage to the environment. Awareness of our environmental impact has never been higher. The general population is definitely aware of most harmful pollutants, and they frown on excessive waste. This forces companies to think outside of the box, to be more efficient and limit any harmful pollutants.

A while back a compound called polyurea was developed that would stick to most any surface. This harmful chemical required ventilation systems to be installed in any facility it was applied. It also requires a fresh air respirator for the installer to breath. These ventilation systems basically evacuate these harmful pollutants right into the atmosphere.

One of the chemicals that is released is Isocyanate. Isocyanate exposure has been cited as a common cause of work-related asthma. In 2003, a man in his 40s died of an acute asthmatic reaction shortly after he sprayed a vehicle with an isocyanate containing truck bed liner material. I would consider that to be reason enough to stay away from spray on bedliners.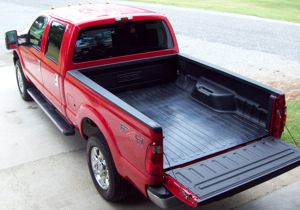 Is Our Bedliner Right For You?
When buying a new bed liner, how do you decide which is the right bedliner for you?

There are a few questions you should ask yourself before purchasing a new Truck Bedliner. What is your real goal? Is it simply to keep your truck looking just like new? What type of cargo will you be hauling? Is it a work truck? Are you ever going to haul anything in it? Will you have a tonneau cover? Do you need access to the tie downs? These are all valid questions you must ask yourself before making your purchase.

First off the average person who has a truck does not do a lot of hauling with it. They purchase it for the size and safety or the way it drives in snowy or muddy conditions. For these types of consumers the ideal bed liner may be different than the rest of the pick up owners on the road today. If you are throwing a tonneau cover on it, and all you are going to use it for is a trunk, then maybe a carpet liner is right for you. These carpet types are not great for hauling heavy, sharp or dirty cargo, but are decent for throwing sleeping bags and groceries in. So depending on the case, this may be right for you.

Now if you are using your pickup for a work truck, you are going to need durability. Something that is really going to protect your bed for years to come. Are you going to haul tools in the bed? If so something like the DualLiner would really be the best bed liner for you as the Zero Skid Mat will keep your bed protected and your cargo in place. The DualLiner also gives you complete access to the truck's tie downs in the instance that something taller must be secured. Something that cannot be said about the one piece drop-in bedliners.

Do you like American Made? DualLiner is 100% American made, and comes with a lifetime warranty. What type of money would you like to spend? The DualLiner is shipped to your door for $399.00 within the continental United States and your satisfaction is guaranteed. Research is important when purchasing REAL Truck Bed Protection. An impulse buy can prove to be disastrous and costly. Dig in and read more about our system, as we believe the DualLiner to be the best bed liner money can buy!
The Only 100% American Made Bedliner
When buying a new bed liner, there are many factors that people take into account

You have those that will only think of function, and the options that will work best for them. Nothing wrong with that. You have those that are only going to think of price, that can cause problems as we all know that the cheapest doesn't mean the best, and in many cases you get exactly what you pay for.

Then you have the people that are going to go out of their way, at all costs to be sure and buy AMERICAN. I like those people, my Dad is like that, and I have followed suit. We need the jobs here. It's hard for me to understand sometimes why my generation has turned their back on this type of thinking, but it has happened.

DualLiner Truck Bed Liners are 100% American made, right here in Kewaskum, WI. We take pride in being the leading American made bedliner, and we have tried to take it even one step further. DualLiner offers a military discount, that not only applies to our service men and women, but also to all of our police, fire fighters and first responders. We at DualLiner believe that these people are the type that sacrifice so much to make this country great. So we are trying to give back to them, to show our thanks, for our freedom and our safety.

We commend what you do and would love to help you out in any way that we can. DualLiner is a great American made Truck Bed Liner, and we are proud to be a part of this great country!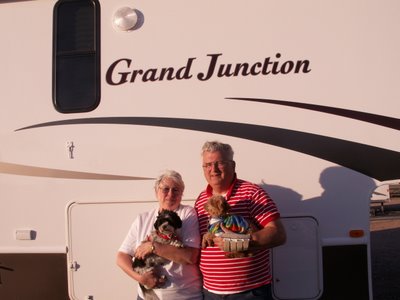 Best Bedliner for the RVer
As a long time RVer I have owned several different trucks and several different campers as well. We actually started camping in a tent when our children were little, then moved up to a travel trailer after a few years. The move into a travel trailer was really nice as far as camping goes but towing this huge box had its challenges. We eventually moved up to a Fifth Wheel and love how it tows and it is way easier to hook up and maneuver than the conventional travel trailer. The only drawback to a fifth wheel is the fact that you have a hitch mounted in the bed of your truck and this makes it more challenging to find a bed liner to fit.

When I was searching for the best bed liner for my needs, I had several requirements that the bed liner had to accomplish. The first being the ability to work perfectly with the fifth wheel rails that the hitch mounted to. Second, the bed liner needed to protect my truck from dents, as you know when you go camping, you have to bring camp fire wood. The third requirement that the bed liner needed was the ability last several years, without fading or deteriorating. Last it was of great importance to me that bed liner would not harm my truck (obviously).

Drop in's cause so much harm to the trucks finish I ruled that one out right away. Spray On bed liners don't provide enough dent protection for the way I use my truck, so I ruled out that one too. These requirements narrowed down the possible contenders to one, the Dual Liner truck bed liner. The Dual Liner provides more protection than the others and it will not damage the trucks finish. That was "HUGE" for me, as I just spent more money on my new truck than what I paid for my first house (really). I was really impressed with the Zero Skid Mat, it kept whatever I had in my trucks bed from sliding around. Since the fifth wheel hitch is right in the middle of the bed, I decided to order two Zero Skid Mats, one I for when the hitch is in place (I just traced the fifth wheel hitch rails and cut those pieces out) and one for when the hitch is out. The Dual Liner has a lifetime warranty so we know it will last for many years to come. It was like the Dual Liner was made exactly for my needs (and I suppose every other truck owner). Thank You Dual Liner for such a wonderful product.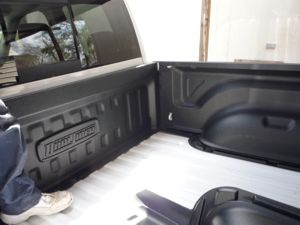 Bedliners and Jobs
No matter what your favorite source for news, the top headline is likely to be regarding JOBS or the lack thereof. This recession has literally affected everyone in some way. You might not have lost your job, but I am sure that most of us know someone who has. Maybe it is your neighbor, your longtime friend, or even a close relative that is out of work. Our hearts go out to them all, and I would like to share with you exactly what Dual Liner is doing to help with this situation.

Although the economy has slowed Dual Liners sales numbers have been up, way up. 2011 is set to be the best year so far, topping all previous sales records since the company began over five years ago. Dual Liner attributes this success to their commitment to provide the industry the best bed liner and excellent customer service. They will not outsource any of the production to any other country, doing their part in keeping jobs here. Both of these factors have led to significant gains in market share. This large increase in demand has forced them to ramp up production. In order to produce more Hybrid Bed Liners there are several departments that demand more skilled manpower to make this happen. There are manufacturing engineers, quality engineers, and production staff needed to develop and optimize the process used to make the precision panels that make up the Hybrid bed liner system. It takes a completely different staff and machinery to handle the production of the industries only "Zero Skid" bed mat. It is easy to see how this growth affects many employees and their families. These same people buy services and goods in their local community which also helps other employers such as the local grocery store, shopping mall, Movie Theater, auto repair shop, gas station, and so on.

In addition to these internal departments growing, there are many other companies and their employees that benefit from the increase in production and sales of the Dual Liner Bed Liner. Take the shipping company for example; UPS carries huge numbers of our packages each month and the more units we ship the more jobs it takes to deliver our product. Each bed liner needs to be shipped in a box and those boxes come from another company. In each box there is specifically designed installation hardware that comes from yet another company. I think you get the idea... It is amazing what one company can do to affect the lives of so many. This makes it pretty easy to do business with a company like Dual Liner.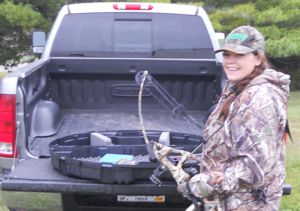 Sportsmen Tested and Approved!
I, like many others, use my truck as a tool to get myself out of the city and into the woods. I love to spend time in the great outdoors, it doesn't really matter what I am doing I enjoy every minute of it. During the summer I search for new fishing spots, hit the trails on my 4 wheeler, and take my kids out for a fun day of exploration. In the fall I deer hunt, which means a lot of trips into the woods scouting for signs of deer activity and checking my trail cameras. In the winter I do a lot of ice fishing and snowmobiling. Each of these activities requires me to carry a bunch of stuff in the bed of my truck.

nbsp;I bought my truck new from the local dealership and I asked my salesman if he recommended any particular bed liner, he said that he has a "Dual Liner" and that he really liked it. So I checked it out and it instantly made perfect sense to me. It was one of those "why didn't I think of that?" moments. Such a simple idea of combining molded plastic panels with a rubber mat to provide the best of both worlds.

nbsp;I have owned my "Dual Liner" for about two years now and I have definitely put it to the test! I am constantly loading and unloading my four wheeler along with all my other toys. I also use my truck regularly to haul fire wood for heating my home. This would lead me to believe that my truck is getting more abuse than the average truck, and the Dual Liner still looks like new. All though the bed liner still looked great, I was curious how the truck was holding up. I pulled out the mat and the sidewall panels and I was surprised (enough to write this letter), I could not find any scratches in the trucks finish or dents in the sheet metal. That is VERY impressive!

Whenever you purchase a product, you can't help but wonder if it is really going to be as good as they claim it is. Take it from me the Dual Liner is everything that they claim it to be and that is why it is the only bed liner I will put in my truck.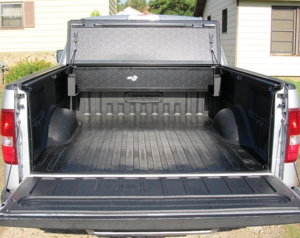 Bedliner's That Work With Tonneau Covers
As you know tonneau covers have become a very popular truck accessory in the past ten years or so. They are very user friendly and there are many different styles available to suit your needs. Say that you need to transport a pressure washer in the bed of your pickup truck, but the pressure washer is too tall to fit underneath. This used to be a major problem for trucks with tonneau covers on them, but not anymore. The tonneau cover market now has several sectionalized covers to choose from. This allows you to fold up the sections that would interfere with the pressure washer (or whatever oversized items) and even travel down the road at highway speeds with them in this position.

These tonneau covers mount onto either the top of the bed rails or in between the bed rails. This works perfectly with the Dual Liners under the rail design. Some bed liners are an "over the rail" type of application and you could have a problem installing a tonneau cover with those types of bed liners. If you plan on purchasing a Dual Liner before you order a tonneau cover then it is a huge benefit to know that the Dual Liner works great with all the major brands.

The custom fit panels are designed specifically to follow the contour of each different make and model of truck. To install the side panels you first need to insert the top of the panel underneath the bed rail. Then you push the bottom of the panel tight against the sheet metal. Located at the bottom of the sidewall panels is a "C" channel, this channel is what holds the Zero Skid bed mat in place. The Zero Skid Bed Mat does an excellent job of preventing your cargo from shifting. The properties of the Zero Skid bed mat make it the perfect material for absorbing impacts and preventing dents in the sheet metal. This system provides complete protection for the sidewalls, tailgate, and the bed of your truck.

Tonneau covers work great with the Dual Liner. The cargo you haul in the back of you truck will not be sliding all over and you have added security with a lockable tonneau cover. They also make your truck yours and it is going to look better longer with these important accessories. Both tonneau covers and bed liners are great ways to increase your trucks resale value as well.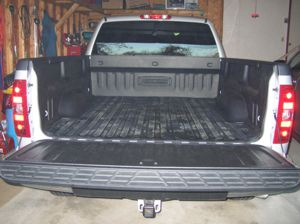 Bedliners and Truck Bed Protection
Have you ever bought a product that quickly deteriorated? I have, and it was a lesson I will never forget. I was at my local hardware store and I was dreadfully looking for some deck stain to reapply to my deck since it had been about 4 years since it was done originally. There were several different brands to choose from and they all claimed to last up to a decade. This was where I made the mistake and chose the least expensive option. The savings worked out to be roughly 30.00 total on the three gallons that I had purchased. Since both cans seemed to last the same length of time (according to the labels) I figured I would be wise to save the $30.00.

It took me a couple days to prep and apply the deck stain, once it was complete it look pretty good. Although it looked pretty good at first, it quickly deteriorated in just a few short months. Looking back I should have spent the extra 30.00 to purchase the same exact stain that I had applied originally (it lasted roughly four years). Since the cheaper stain only lasted one year, it ended up costing me several times more than the initial savings. Although this experience was quite frustrating, I did learn a valuable lesson. Now before I make a purchase I make sure that I do enough research to be sure that what I am looking at purchasing is indeed worth the money and that it works as advertised.

When I was looking for a bed liner for my truck, I took roughly a month to make a decision. I check bed liner reviews on the internet as well as forums and blogs to help educate myself. I looked at several different types of bed liners and quickly became intrigued by a bedliner called the Dual Liner. It is a new 5 piece bed liner that is made up of precision panels that interlock together to provide maximum scratch and dent protection.

I compared the Dual Liner against the conventional drop in bedliner. Sure it was a bit more expensive, but I could easily justify the difference in cost. If your familiar with drop in's then you know they tend to shift around in the bed of your truck, which causes the paint to eventually be worn off. Once the sheet metal is exposed to moisture it is going to rust. With the Dual Liner the sidewall panels are shaped to the sheet metal of your specific type of truck so the panels won't shift. The sidewalls also hold the Zero Skid Bed Mat in place. The Zero Skid Bed Mat is 3/8ths of an inch thick and provides excellent dent protection while at the same time securing your cargo from sliding all over in the bed of your truck. The materials that make up the Dual Liner are UV treated and covered by a Lifetime Warranty. A Lifetime Warranty is a really good indicator on how long the product is going to last, surely a very long time.

Just because a product is less expensive doesn't always mean that it is a better deal. I found that spending a few dollars more upfront can save you time and money in the long run.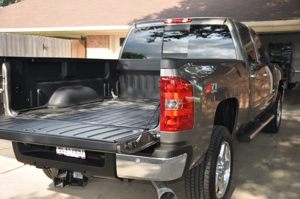 Truck Bed Protection
Every three years or 50,000 miles I purchase a new truck. I would say I use and abuse my truck more than the average guy. Years ago in my spare time I would buy and sell classic auto parts, this eventually turned into a full time business for me. Cars have always been a passion for me and I love what I do. I will travel hundreds of miles to find a rare fender, an original transmission, or even a set of hub caps for a classic car. When I travel to get these parts I always take my truck because you never know what you're going to find while you're there. I have gone to a junk yard to pick up some tail lights and left with the bed of my truck overflowing with all sorts of parts and pieces.

Some of the parts that I buy are very expensive, because they are original and in good condition. When I was looking for a bed liner for my truck, I wanted to find a liner that would protect my truck and anything that I would haul in the bed. The salesman at the dealership that I bought my last truck from showed me his new 5 piece bed liner, and instantly I was sold on the idea. I have had a Dual Liner in the past two trucks that I have owned, and it works perfectly for me.

I can set a car door or even a piece of auto glass right on the bed mat and I don't have to worry about it sliding around and getting damaged. I don't have to worry about the sides of my trucks box getting scratched or dented either because those are protected by the hard plastic panels. Before I had a Dual Liner I remember cargo sliding into the wheel wells and making huge dents (I do not miss that, by the way).

If you use your truck like a truck (like me), the Dual Liner is a great bed liner and I would highly recommend it to you.
DualLiner
Truck Bed Liners
offer the best in
truck bed protection.
This is not a
roll on bed liner
, this is not a
spray on bed liner
. DualLiner is a
DIY Plastic Bed Liner
with the most
Rugged
Bed Mat
on the market. Customer satisfaction is our highest priority as can be seen by our customer's
bed liner reviews
. Our 5 piece liner is more durable than any
bed liner paint
, or your average spray on
bed liner coating
.
---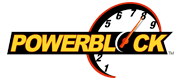 ---