If this was any other year, Ford F-150 buyers would be enjoying big discounts on close-out 2014 models…but this year is different. The 2014 F-150's aren't technically being "closed out" until December at the earliest, as the 2015 F-150 isn't due on dealer lots until mid-December.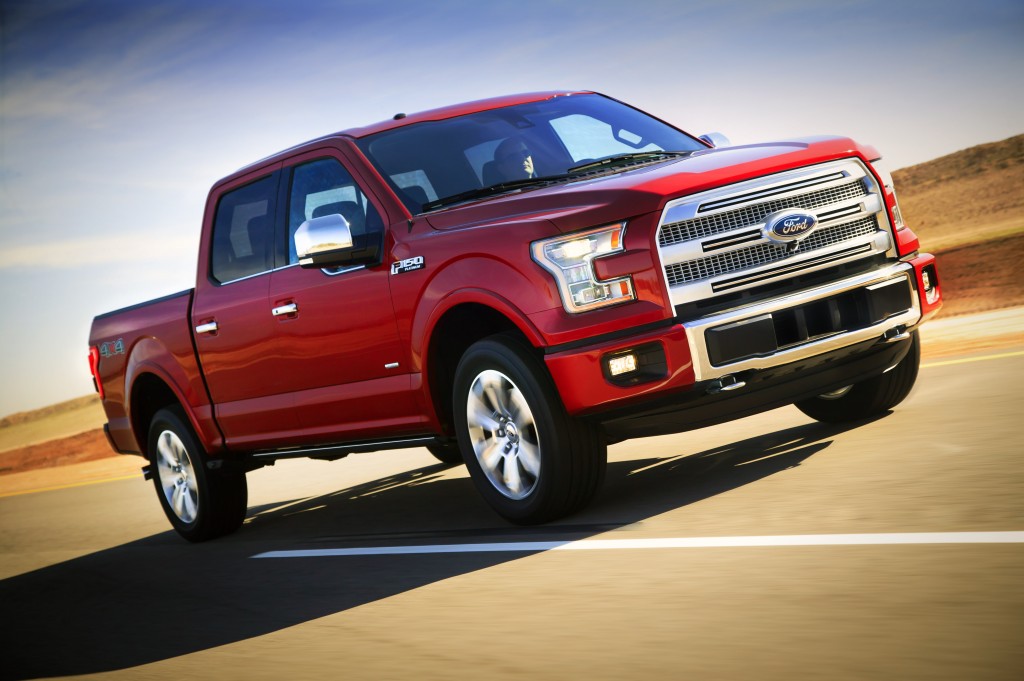 The reason for the delay? Ford's working to refit both their Dearborn and Kentucky truck plants to produce the new aluminum F-150, and these refits are taking a lot of time. Dearborn won't begin producing 2015 trucks until late October, and Kentucky might not produce a 2015 truck until February…assuming the refits go off without a hitch.
The long and short of it? It will be hard to find a 2015 F-150 until late December, and it might not be until the spring of 2015 before 2015 F-150's are out in full-force.
That means that getting a big discount on a 2014 F-150 might not be possible for a few more months.
NOTE: DualLiner isn't commenting on Ford's vehicles or production negatively here. We're big fans of Ford (as we are of GM and Ram), we're just sharing some info that we think anyone buying a new F150 ought to be aware of.
When Will the New 2015 F-150 Be Available?
Earlier this year, it was announced that Ford Motor Co. would initiate production of the 2015 F-150 at their Dearborn, Mich. assembly plant in the fourth quarter of 2014. Currently, Ford's 2.6-million-square-foot plant in Dearborn is undergoing an extensive makeover to enable production of their newly redesigned F-150. The plant is being converted to produce an aluminum body F-150, which means transitioning away from the standard spot-welding assembly method that's compatible with steel and implementing a more intricate assembly procedure involving adhesives and rivets.
Ford developed the F-150's aluminum construction procedure during their ownership of Jaguar/Land Rover. The process itself has proved worthy, but approaching the production lines with a workload of this size has some worried. Ford has very little room for error. AutoPacific analyst, Dave Sullivan, informed Automotive News "nobody's riveted and glued at this speed yet. That's the big unknown." If Sullivan's concerns play out, Ford may not be able to meet their aggressive 2015 production schedule (which has already been delayed once, according to TundraHeadquarters.com).
Meanwhile, as Dearbon is refitted to build aluminum trucks, Ford's Kansas City, Mo. facility will continue producing the 2014 F-150 thru the end of the calendar year. Then, once Dearborn has all its bearings, Ford will give Kansas City the same treatment.
Ford has informed dealers that there will be enough 2014 F-150s to last thru the the end of 2014, and that dealers can expect 2015 F-150s to begin trickling in by mid-December. However, the majority of a dealer's 2015 F-150 inventory might not arrive until February, 2015 (according to Automotive News, at least).
What This Means for Customers
Ford's 2015 F-150 production schedule impacts new truck buyers in a couple of key ways:
Traditional model-year-close-out discounts and rebates might not be available until December (if at all)
Realistically, those interested in a 2015 F-150 might have to wait until the spring of 2015 to get the truck/features they want
If Ford's refits don't go as planned and they end up falling behind schedule, F-150s could be in short supply for a few months
So, whether you're expecting to find a good deal on a 2014 F-150 or you're hoping to drive a shiny new 2015 F-150 home, you're probably going to have to wait a few months. If you're hoping to special order a 2015 F-150, Automotive News reports you that February, 2015 is the earliest you'll be able to get it.
Finally, this whole situation begs the question, what's a brand new 2014 F-150 worth after January 1st, 2015? At that point, the vehicle is technically a year old…will dealers offer big discounts? Or will there be such a shortage of new F-150s that buyers won't care?