When waiting for the new models of your favorite vehicle to debut for the year, it can be hard to be patient. What engines will be available? Safety features? Interior options? What colors? What's nice about Ram: the range of models to choose from and the flexibility of their trim levels, a spectrum of choices that allows shoppers with differing wants, needs, and budgets to get the vehicle they want.
This post will look more specifically at the 2022 Ram 1500, a vehicle that benefits from a protective Ram truck bed liner.
2022 Ram 1500 Truck Models
Pricing ranges between $35,085 and $60,035 with these models available:
Tradesman: $35,085
HFE: $36,945
Lone Star: $39,955
Big Horn: $39,955
Laramie: $45,040
Rebel: $49,035
Longhorn: $55,055
Limited: $60,035
TRX: $72,120
You might hear the TRX called the Hellcat—and for good reason. This vehicle is the most powerful half-ton pickup truck produced . . . Hellcat powered! Add in premier horsepower and best-in-class torque and you've got the TRX Hellcat.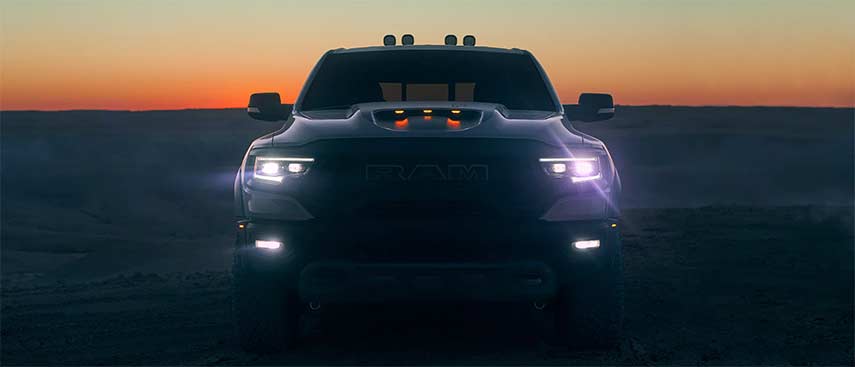 According to Cars.com, several 2022 models have six trim options: Big Horn, Laramie, Lone Star, and the Tradesman. Limited and Longhorn packages have four; Rebel has three; HFE has two; and the TRX has one because it already has it all.
2022 trucks come in regular, extended, and crew cab options in varying bed lengths with the regular cab being a classic style. Rear-wheel drive is standard with four-wheel drive available along with powertrain upgrades. Base engines are 3.6L V6 with 305 HP, and 269 pound-feet of torque. Want more? Next up is a 5.7L V8 engine with 295 HP and 411 in torque. Looking for monster performance? Refer back to the TRX Hellcat with a 6.2L supercharged V8, 720 HP, and 650 in torque. Ram fans who enjoy diesel-powered vehicles can select a 3.0L V6, turbodiesel with 260 HP, and 480 pounds in torque.

Staying Safe and Connected
Go above the base model and you can enjoy the best of infotainment with an 8.4-inch or 12-inch touchscreens and mobile hotspot that also come with physical knobs. Driver-assisted technology includes lane-keeping assist; automated emergency braking; blind-spot monitoring; rear cross-traffic alerts; adaptive cruise control; and automatic high-beam headlights.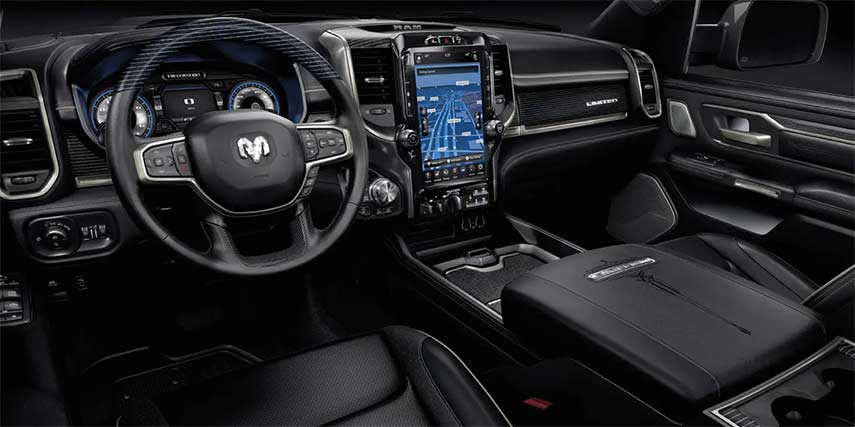 What's New for '22
Both Laramie and Rebel will be available in 2022 in sporty G/T models that come with steering-wheel-mounted paddle shifters, cold-air intakes, and unique exhaust systems, along with a shifter that's mounted in the console. The interiors are similar to TRX models, including the exterior G/T logo and high-bolstered bucket seats. They will be available on crew cab models only with a 5.7L Hemi V-8 and eTorque.
For off-road driving, there's a BackCountry Edition that's available with Lone Star and Big Horn models at a good value. On the other end of the spectrum, you can make your Limited model even more special with luxurious interiors and a shade of blue that's only available with this trim.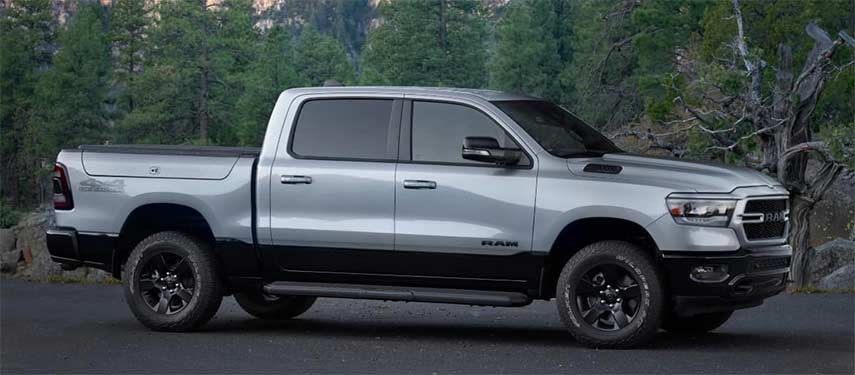 Choosing the Right Trim
Buying a new vehicle can be compared to buying a home in one crucial way. You can make a list of what you absolutely need and what you'd love to have and then be ready to select the vehicle with the trim bundle that most closely matches your lists. Will you need to make any compromises? You might but with so many options available with Dodge Ram trucks in 2022, you'll also likely get plenty of what you want and need.
You can do a dollar and cents comparison to see what model and level of trim fits your needs and budget best—and then make your choice. No matter what you pick, you'll want to take the best care of your new truck.
Dodge Ram 1500 Bed Liner
Once you've picked the Dodge Ram 1500 of choice, it's time to protect your vehicle's truck bed and cargo with a Dodge Ram bed liner. These liners will fit your 1500 truck with any bed length (although they aren't compatible with the RAM Box Cargo Management System) to provide the rugged protection you want and need. The system will also prevent your cargo from slipping around the bed, protecting what you carry.
DualLiner offers a lifetime warranty on every bed liner for Dodge Ram 1500 pickup trucks and is easy to install with no need to grind down factory paint. Hard, custom-fit sidewalls will protect your truck and allow you to just say "no" to rust" while the ZeroSkid® rubber mat prevents slipping and siding. 100% made in the United States, Dodge Ram bed liners ship for free.
We make it easy to choose the right Dodge Ram 1500 bed liner for your vehicle. Simply list your vehicle's year, make, model, and bed size, and we'll provide results that are custom returned for your needs.