Considering bedliners for fleet trucks? Well, it's safe to say your search can come to an end. Review these five reasons why a DualLiner is the best bedliner for fleet trucks.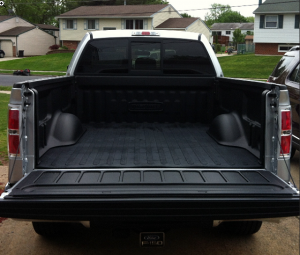 1. Truck Bed Protection With a Real Warranty
Few bed liner manufacturers warrant their products for commercial use. DualLiner, on the other hand, doesn't deny commercial users a warranty.
For us, it's simple: If your DualLiner breaks, cracks, or fades, we'll replace it. What's more, if you're selling your truck, the warranty carries over to the new owner.
NOTE: You can learn more about which bed liner companies exclude commercial use from their warranties in this article on PickupTrucks.com.
2. A Reasonably Priced Bedliner Solution

A DualLiner doesn't break the bank. In fact, the DualLiner is nearly $100 less than the average spray-in bedliner. We conducted a national survey of spray-in bedliner installers and found that the average cost of a spray-in was nearly $480. Please note that we say average cost…in many regions of the continental US, spray-ins cost more than $500.
3. Easy, Trouble-Free Installation
Every minute that a work truck isn't on the road, it's losing money. Considering that spray-in bedliner installations often take a vehicle out of service for an entire day (or longer, assuming you don't want to use the vehicle until its' been sprayed), a DualLiner is a money saver. It installs in 20 minutes, and it's easy enough that a kid can do it. Our customers can vouch for it.
4. Low Maintenance, Great for Fleets

Fleet trucks need entirely too much maintenance as it is – who wants to apply a treatment to protect a plastic drop-in liner every 12 months? Or spend hours scrubbing the stains out of a spray-in liner? The DualLiner is maintenance free. You don't have to do anything to protect it.
5. Superior Truck Bed Protection
The typical truck bedliner isn't expected to do much. In fact, it's a safe bet that a LOT of personal-use trucks never haul more than furniture, lawn mowers, and (occasionally) building materials. Most bedliner companies design their products for personal users, which is why these same companies refuse to warranty commercial use.
However, a DualLiner is different. Out thick ZeroSkid rubber floor takes abuse without damage. Our tough plastic sidewalls absorb impacts (preventing dents) and are UVA/UVB resistant (resisting fading). Unlike just about every other bedliner company, we guarantee this performance regardless of use.
Obviously, a blog post on DualLiner.com is going to be complimentary towards the DualLiner. However, we've got proof that our warranty is better, proof that our pricing is better, and a mountain of testimonials from satisfied customers.
If you're looking for a fleet truck bedliner, check out a DualLiner.