If you have a pickup truck, you definitely know how versatile they are when it comes to transporting various cargo. As long as you have a truck bed liner, you might think it's totally okay to simply put your bike in the bed of your truck and be on your way.
A DualLiner bed liner will definitely protect your truck bed from being scuffed or damaged by contact with your bike. However, it might not be the best thing for your bike to be transported in this way.
Why Get a Truck Bed Bike Rack?
The main reason to consider a truck bed bike rack is to keep your bike secure. Simply placing your bike in the bed of your truck could lead to damage as the bike will move around in the bed while you drive. A sudden stop or sharp turn might even cause your bike to fly out of the bed if it's not secured.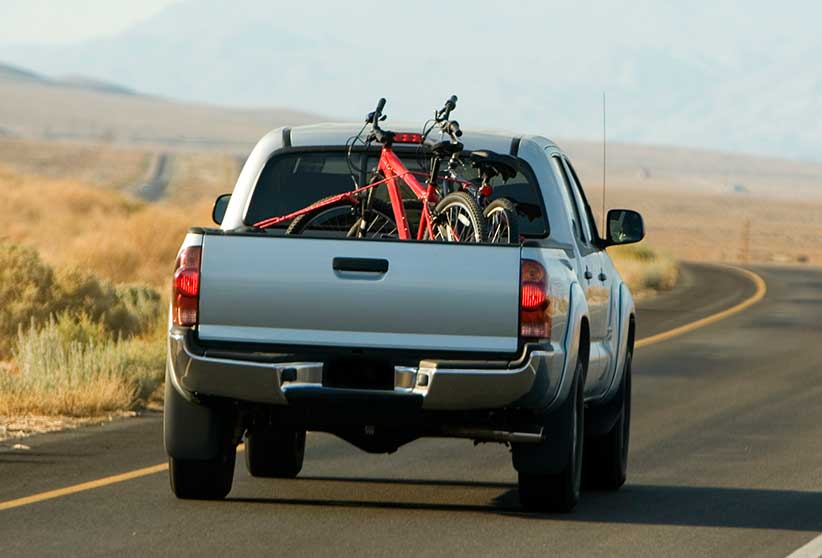 Many people with bikes use hitch mounts, but this poses another problem in that it keeps your hitch from being used for something else. Truck bed bike racks allow you to safely and securely store your bikes in the truck bed, while also keeping your hitch free in case you need to tow something at the same time you're transporting your bikes.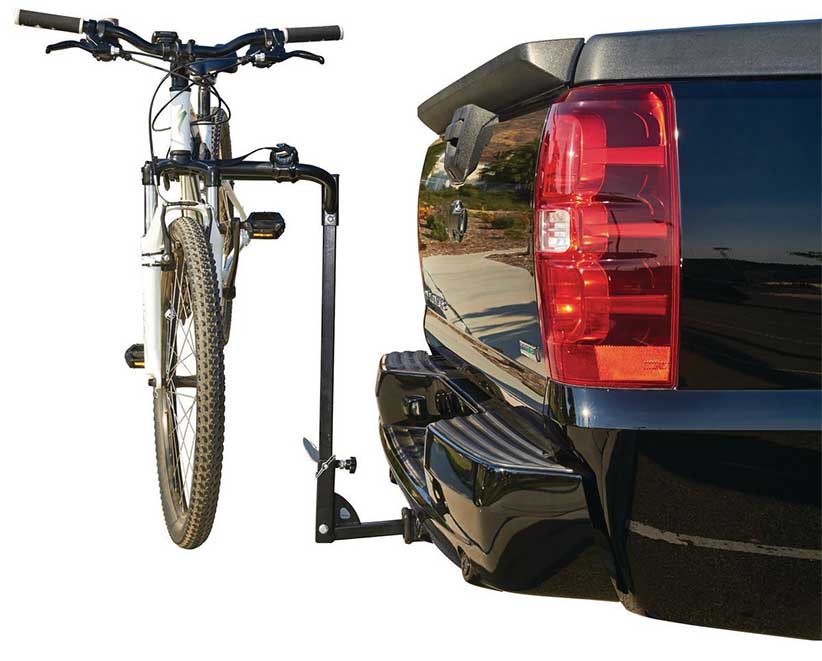 What Types of Truck Bed Bike Racks Are Available?
There are two main types of truck bed bike racks–-fixed and adjustable. Fixed bike racks are the most popular. These racks are held securely in the truck bed by a rod or pole that extends the width of the bed.
Some racks can also be directly attached to the sides of the truck bed. The designs vary a bit depending on how many bikes they can hold. These racks have the advantage of being very easy to set up.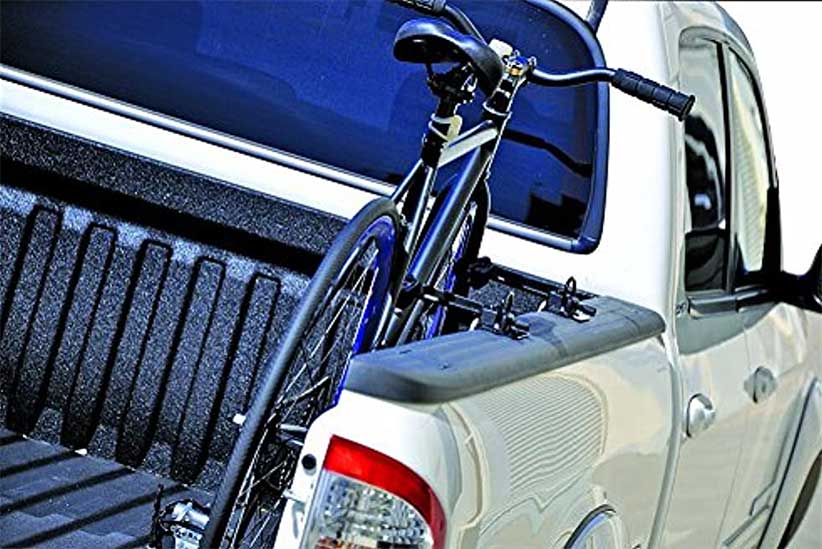 Adjustable bike racks are a little trickier to set up and bulkier. They have the advantage of having extendable arms to lock down the bike's frame without removing the front tire.
What Are Some Top Brands of Truck Bed Bike Racks?
If you're just getting started looking for a truck bed bike rack, it can be handy to know what some of the top brands are. You might recognize the three top brands as they are known for making other adventure equipment besides truck bed bike racks.
Thule
Thule is a Swedish brand that also makes tents, backpacks, and other accessory mounts besides truck bed bike racks. They have a number of different racks to choose from.
Yakima
Yakima comes from one of the friendlier biking states in Washington State. Aside from bike racks, Yakima also makes roof racks and cargo boxes, among other adventure gear accessories.
Swagman
Swagman is from British Columbia, Canada, and they specialize in a wide range of accessory mounts for bikes and more.
Truck Bed Bike Racks Pricing
The price you can expect to pay for a truck bed bike rack depends on the type of rack and how many bikes it's designed to hold. If you're looking for racks under $100, you'll find a selection of bike racks that are smaller and designed more simply. These racks usually hold one or two bikes, and you might have to drill holes into your truck frame to properly connect them.
Moving up to the $100 to $200 range is where you'll get the sweet spot of more quality materials and racks that can hold more bikes. These racks typically have stronger frames and more complex locking mechanisms to keep them secure when the bikes are off.
For racks that are $200 and up, you'll typically be getting larger and sturdier mounts that can hold a lot of weight. Many of these racks can also be used to carry larger equipment like kayaks and rooftop tents, among other things.
Key Features of Truck Bed Bike Racks
A truck bed bike rack secures your bike in one of two ways. It either clamps the forks or the wheel of your bike. If you get a bike rack that is wheel-mounted, then you won't have to remove the bike's front wheel.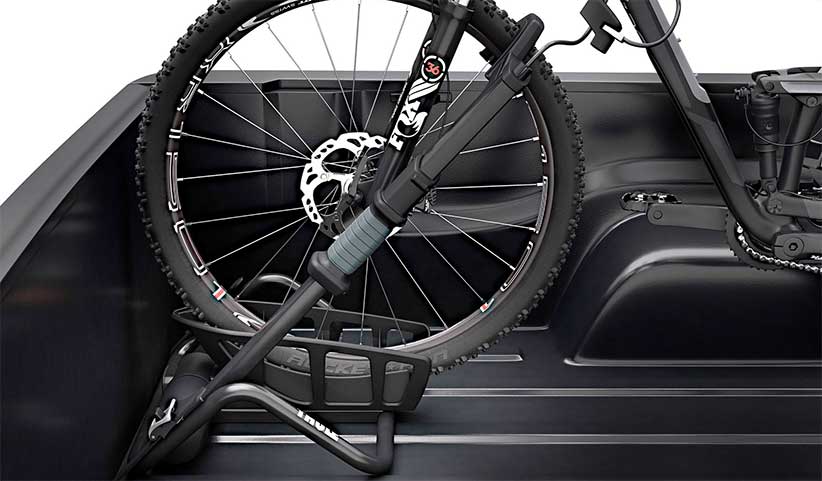 Other bike racks are designed to fit the fork grooves of your bike, which means that you will have to remove the front wheel and store it elsewhere.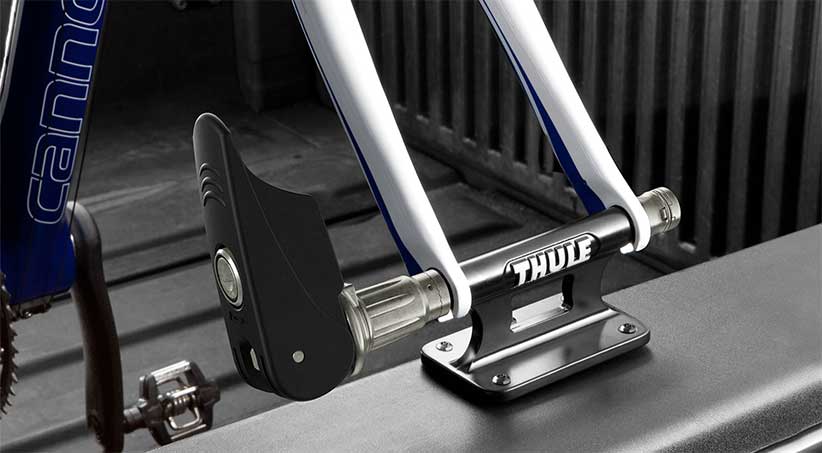 Truck bed bike racks have different ways to attach to your truck. Some racks extend from one side of the bed to the other, while others slide into the area between the bed and tailgate.
If you get a bike rack that fits in the latter method, you'll want to make sure that your tailgate can be locked to prevent someone easily from lowering the gate and stealing your rack. Some bike racks require you to drill holes into your truck frame, and some racks won't work if you have a bedliner that goes over the rails.
It's important that you take all these bike rack features into consideration depending on your truck and how many bikes you need to carry.
Before you start carrying anything in your truck bed, it's important to install a truck bed liner like DualLiner. Unlike a spray in bedliner, DualLinerbed liners are extremely durable and made for a precise fit.
Installing a bike rack in your truck bed with a DualLinerbed liner does not void the warranty and it will not affect the liner's ability to keep rain and water from reaching your truck bed.