It's hard to believe that a small piece of plastic installed on the leading edge of your vehicle's hood can deflect bugs. So hard to believe, in fact, that many people wonder if bug deflectors work as promised, eg. do they actually keep bugs from splattering on the windshield?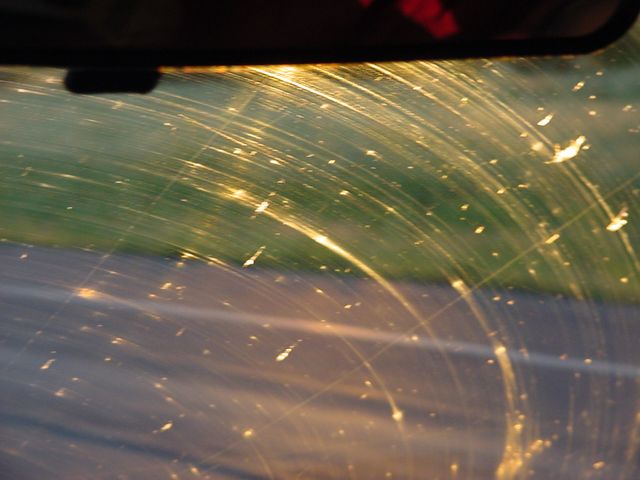 The short answer? Maybe. Depends on the bug deflector. Here's what you need to know.
What are Truck Bug Deflectors Supposed To Do?
There are two main missions for a bug shield:
Redirect air flow around your truck so that fewer flying bugs splat on your windshield.
Absorb impacts with bugs (and perhaps some other "stuff" that might hit your front window, like rocks) so that the window glass doesn't have to.
How Well Do Truck Bug Deflectors Do What They're Supposed To?
This is what causes the most debate: There isn't a preponderance of evidence for or against. Some people swear that bug deflectors work, others say no way.
Part of the problem might be that bug deflectors aren't all the same. Some deflectors are wind tunnel tested and carefully designed to alter airflow, while others are just someone's "best guess" as to what the deflector's shape and position should be.
Unfortunately, the aerodynamics of bug deflector design are complex. You can't just mount a basic air dam to the front of your truck's hood and magically reduce bug impacts. This is because:
The airflow over the front end of each vehicle is slightly different. GM, Ford, Toyota, etc. – they all have a slightly different front end design, and therefore different aerodynamic factors at play. A "one size fits all" truck bug shield probably won't work.
The angle of the deflector matters…a LOT. The single most important factor in bug deflector design is the angle. If the angle is too steep (meaning the deflector is perpendicular to the hood), it can't sufficiently alter airflow to reduce impacts. If it's too shallow (meaning it basically lays down on the contour of the hood), the impact on airflow is minor.
There are no hard and fast rules in bug deflector design. You need to model the airflow using computational fluid dynamics software, then test in a wind tunnel. There are no shortcuts, and there's nothing cheap about this process.
Therefore, consumers should only purchase bug deflectors that have been wind tunnel tested.
Do Bug Deflectors Reduce Gas Mileage?
In a word, yes. But the reduction likely isn't huge. Canada's National Research Council (along with Clarkson University) studied the effects of bug deflectors on commercial trucks to see how they impacted fuel economy. The long and short of it is is that bug deflectors likely reduce fuel economy 1-3%, and really only at highway speeds.
If we assume the worst – that bug deflectors reduce fuel economy by 3% – then a good way to estimate the impact on your fuel bill is to increase the amount you pay for a tank of gas or diesel by 3%. If you're driving a big 3/4 or 1-ton truck with a 30 gallon gas tank, then you're looking at buying an extra gallon of gas every time you fill up. For most people, this won't add up to more than $100 a year (and for many it will be quite a bit less).
Still, bug deflectors aren't necessarily "cheap", as they'll cost you money every time you fill up.
What About Protection From Rocks and Sand?
If we're talking about small rocks and sand or grit, a properly designed bug deflector (meaning one that's been wind tunnel tested) can probably help to reduce damage to the front window glass. These objects are small enough to be "carried" by the air flowing around your truck at speed.
However, no amount of airflow manipulation is going to "carry" a sufficiently large rock away from your windshield. Once rocks become big enough, gravity wins and the trajectory of the rock is all that matters…if it's headed for your windshield, it's not going to be stopped by a bug deflector.
So basically, bug deflectors may prevent damage from small rocks and sand (window pitting) but won't do much (if anything) to prevent impacts that lead to chips or cracks.
NOTE: If you're trying to prevent damage to the leading edge of your hood, consider "clear bra" material from 3M. It's UV protected, clear, and absorbs impacts, preventing paint damage to whatever surface it protects. The material can be applied to any painted or plastic surface (like your vehicle's front valance, or the back of side mirrors, etc.).
Are Bug Deflectors Worth Buying?
Only you can decide the answer, but the questions we'd suggest asking are:
Are you dealing with a lot of bug impacts, and if so, have you looked into wiper blade upgrades? Upgrading your vehicle's window wiper blades (or replacing them regularly) can go a long way towards keeping window glass clean.
Are you willing to pay both up-front and every time you fill up for a cleaner windshield? If you're OK with dropping $100+ on a bug deflector, plus another few dollars every week or two in additional fuel, than by all means go for it.
Are you looking for some style? We didn't talk about it much, but bug deflectors often give a vehicle some style, and that's a perfectly legitimate reason to add a bugshield to your vehicle.
Click for Bedliner Comparison Chart>
Click for DualLiner Step-by-Step Installation Guide>