What's A Bug Deflector?
Have you heard about bug deflectors? These small pieces of plastic help rework the airflow at the front of your vehicle. These deflectors move air up and over so bugs and other debris go above your windshield. These gadgets sound useful, but how effective are they really at keeping your windshield clean? It depends on what bug deflector you buy.
How Do Bug Deflectors Work?
Bug deflectors are thin plastic strips that attach to your front hood. They're designed to channel airflow around your truck so you don't get as many bugs on your windshield. They also absorb the impact of common road debris, like rocks, sand and gravel, so they don't chip your windshield.

How Well Do They Work?
The effectiveness of bug deflectors, or bug shields, is often up for debate. That's because there isn't a great deal of evidence proving, or disproving, how effective they are at their job.
Not every bug deflector is made equal; they all have different designs, and these different designs channel airflow in different ways. Whether you own a GM, Ford, Toyota, or some other truck, you're going to find a bug deflector in a different style for each make.
The quality of a bug deflector isn't just determined by its shape. The angle it sits at will also tell you how effective it is. If the angle is too steep, to the point where it's sitting upright on your hood, it won't be able to change the airflow around your car enough to make a difference. You'll run into the same problem if the deflector is angled too flat.
Finding a good bug deflector design isn't always as straightforward as finding a good shape or angle. There are steps you, the consumer, can take to make sure you're getting a quality deflector for your truck's windshield. Good bug shields are molded using computational fluid dynamics software, then wind tunnel tested. This is a lengthy, expensive process, and there can be no shortcuts when developing a quality product. Only buy bug deflectors you know have been wind tunnel tested.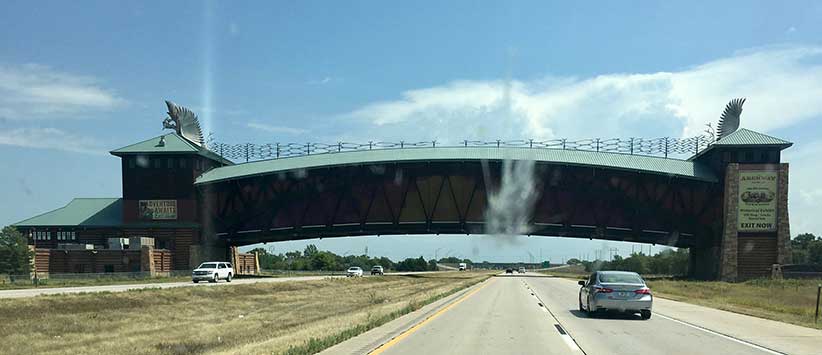 What Effect Does It Have On Gas Mileage?
Bug deflectors can reduce gas mileage, but not by any significant amount. Studies from Canada's National Research Council (along with Clarkson University) took a look at how drag from bug deflectors might impact your truck's fuel mileage. The results showed that bug deflectors most likely reduce your fuel economy between 1-3% –but that's only when you're traveling at highway speeds.
Let's assume that worst-case scenario and assume you're getting a 3% reduction in fuel economy. Thinking of the potential cost, it means you're spending less than $100 extra at the pump each year. Even if it's relatively minor, bug deflectors still cost you money over time.
Do They Really Protect You From Rocks and Sand?
If it's been wind tunnel tested, a bug deflector should have no problem deflecting debris. Small rocks and sand are tiny enough to be carried around by the airflow your deflector creates, potentially saving your front windshield from damage. When it comes to larger rocks, no amount of airflow will be able to change its trajectory; gravity wins every time.
Bug deflectors can prevent window pitting, which is damage from sand and smaller rocks, but they can't do anything to protect your windshield from large rocks that'll cause cracks or chips.
Since these deflectors can't protect the edges of your front hood from paint damage, consider picking up a clear paint protector instead.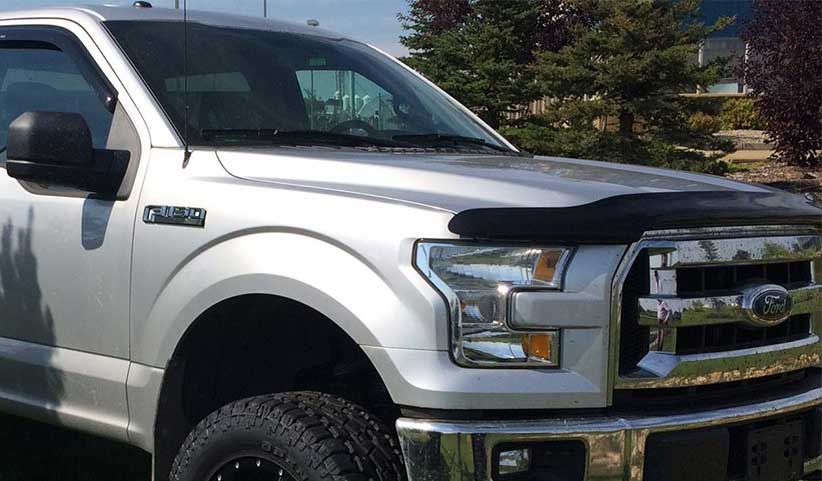 Should You Buy A Bug Deflector?
Are these deflectors worth buying? Only you can answer that. When making your decision you should ask yourself three important questions:
First, are you experiencing a lot of bug impacts? If bugs on your windshield are becoming a serious problem, there are alternative solutions. You can look into upgrading your truck's windshield wipers or having them replaced at regular intervals. They're a minor fix that can go a long way in keeping your windshield clean.
Second, are you okay with the additional costs? By themselves, bug deflectors cost $100, and because of potential drag, you'll be adding an extra dollar or two at the pump every fill-up as well. Before making a purchase, make sure you're comfortable with the additional costs.
Finally, do you like the style? Bug deflectors aren't just functional, they also enhance your truck's looks. And if you're looking for a custom style to give your truck, that's a perfectly good reason to pick up a bug deflector.
Protect your truck bed with the best truck bed liner from DualLiner. DualLiner bed liners are made to precisely fit your truck bed with custom interlocking parts and Zero Skid rubber mats. This means that your bed is fully protected from moisture, scratches, and scuffs.
Related Articles: