This Holiday season, even if your truck isn't bright, it might be mistaken for Santa's sleigh with all the gifts you'll be delivering. But a typical pickup truck bed isn't always the best place for large presents, especially if you don't want them sliding around or getting dirty. Fortunately, there are plenty of ways to not only make your truck bed safer and cleaner for bringing gifts, but also to keep the harsh winter weather out! Learn more about why DualLiner is the best bedliner for hauling holiday presents this year.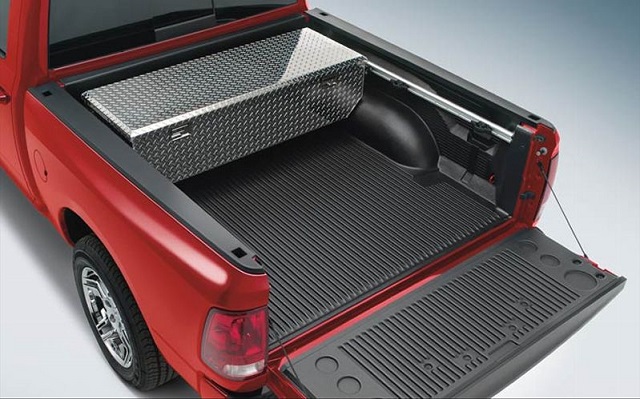 First, start with a DualLiner bed liner. Unlike a slippery plastic drop-in, DualLiner keeps your cargo in place with a Zero Skid rubber bed mat. Take those twisty roads – turn, stop and accelerate with confidence your gifts are safe and secure. Plus, DualLiner is a modular system which means that it's easy to wash and won't trap moisture. So, the same day you bring home your live tree, you can spray down the bed or run through the car wash and get right back to hauling large gifts without worrying about mud or pine needles.
On its own, DualLiner is great for securing your cargo while still giving your truck bed the best protection. But when paired with a bed topper or tonneau cover, you can turn your truck bed into a virtual trunk! You can check out our article from last year for more information about choices in truck toppers. DualLiner is compatible with all types of tonneau covers and truck caps which can add security and weatherproofing to your bed. Where else are you going to hide that antique desk you bought your mom!
DualLiner Makes A Great Gift
And if you don't drive a pickup, but a loved one does, help them keep their pride and joy in perfect condition with the gift of DualLiner! The DualLiner system is available for nearly all full-size American pickup trucks so you're sure to find one that has the right fit. You won't have to make an appointment to have a spray-in liner applied. We'll ship your bedliner right to your door. And once they open their present, it will only take them about thirty (30) minutes to install. Even if you've waited until the last minute this year, in addition to FREE ground shipping within the continental United States, we're offering special holiday pricing on every DualLiner model.
So you have a few hundred horses powering it instead of eight tiny reindeer, get your sleigh ready for this gift-giving season with the bed liner that offers both your truck and your cargo the best protection available, guaranteed for Life… choose a DualLiner!