Everyone knows that they shouldn't buy a bed liner without a warranty. But a lot of people don't realize that some bed liner warranties are tricky – they say that they're "lifetime" warranties, but when you read the fine print you learn that the word "lifetime" is more of a marketing term than an actual description of the warranty being offered.
Put another way, many bed liner manufacturers and installers will try to trick you into believing that you're getting a good warranty when you're really not.
Here's what to watch out for.
Trick #1: "Installer" Warranties That Dramatically Limit Coverage
Bed liners that come with so-called "installer" warranties – meaning that the installer honors the warranty – can have significantly limited protection. This is because an "installer" warranty requires you to return to the original installer if your liner has a defect.
The problems here are:
You could move to a different city or state, making it very difficult to get your warranty honored
The installer could move or go out of business
While some companies say that any one of their installers will honor a warranty anywhere in the USA, it's not unheard of for an installer to refuse to honor the warranty without making the customer jump thru some hoops (asking you to contact the original installer so he or she can seek corporate approval, asking you to produce a work order so they can call the original installer, etc.).
What's more, some bed liner manufacturers say that you must be a "considerable" distance from your original installer before you can get your warranty honored by a different installer. What does "considerable" really mean? Make sure you know.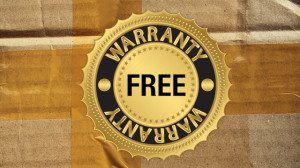 Trick #2: Warranties That Don't Transfer
Most bed liner manufacturers and installers like to play this trick on people – they say that you have a lifetime warranty, but the fine print says the warranty isn't transferable.
Why does a change in ownership invalidate a warranty? A product's integrity and quality should be the only thing that matters, not who's name is on the title of the truck versus who made the original bed liner purchase.
Besides, if you decide to sell your truck in the future, the next buyer might  be more inclined to get your truck if he or she knows that the bed liner is fully guaranteed.
NOTE: Not to toot our own horn, but all DualLiner warranties are fully transferrable — we care about the quality of our product, not who you sell your truck to, and we'd never use that as our "out" for standing behind our products. Our products are made to last the life of your truck (or longer), not the length of your ownership.
Trick #3: Use and Abuse Exclusions
Have you ever noticed just how many warranty coverage exclusions there are when you buy a product? That's most likely because the manufacturer knows exactly what's going to go wrong with their products. If you see a warranty that excludes coverage from cracking around the edges, or cracking near the front of the bed, you know exactly what's going to go wrong, don't you?!
Many bed liner manufacturers exclude coverage for things like fading, commercial use, and even general "abuse" — which basically means that they can turn down your repair or replacement request at their discretion. After all, what does "abuse" mean, exactly?
What About DualLiner?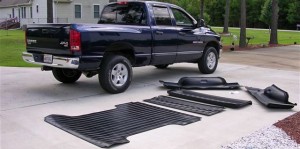 If you're reading this, you're probably thinking that we talk about all of these warranty tricks because our warranty is better.
It's true, compared to our competition, our warranty is better. It's fully transferable, we don't make you go back to some installer to get problems taken care of, we don't exclude commercial use, etc.
But the proof is in the pudding: Read our warranty here, then compare it to the warranty offered by other companies. Don't take our word for it – read for yourself.