Your truck is a powerhouse, but enthusiasts are always looking for ways to make their ride even better. Truck owners always appreciate more horsepower. From minor improvements to major overhauls, here are the seven best ways to get greater horsepower for your truck.
Give Your Truck Regular Tune-Ups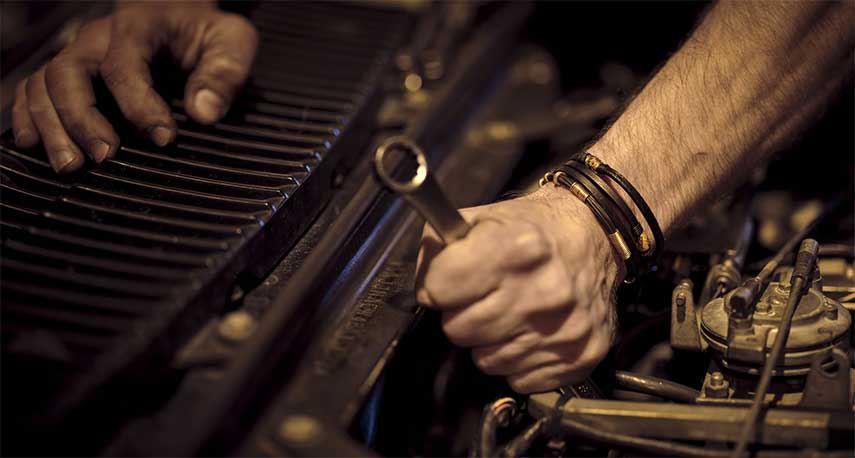 Vehicle maintenance won't strictly increase your horsepower, but taking regular care of your truck does ensure you're always getting the most horsepower possible. Your engine systems will naturally lose efficiency over time, so perform regular tune-ups to keep your engine working properly. Cleaning dirty or clogged systems are a surefire way to restore the horsepower you've lost over time. One easy and inexpensive way to tune up your truck is by replacing dirty filters.
Regular maintenance procedures, such as oil changes, are vital for a long-lasting, efficient engine. Clean, high-quality oil, as well as good oil filters, help reduce friction between your engine's moving parts, which makes them last longer. If you own a newer truck, you can try upgrading to a high-quality synthetic oil for slight gains in engine responsiveness and power.
Lighten Your Haul and Lose the Extra Gear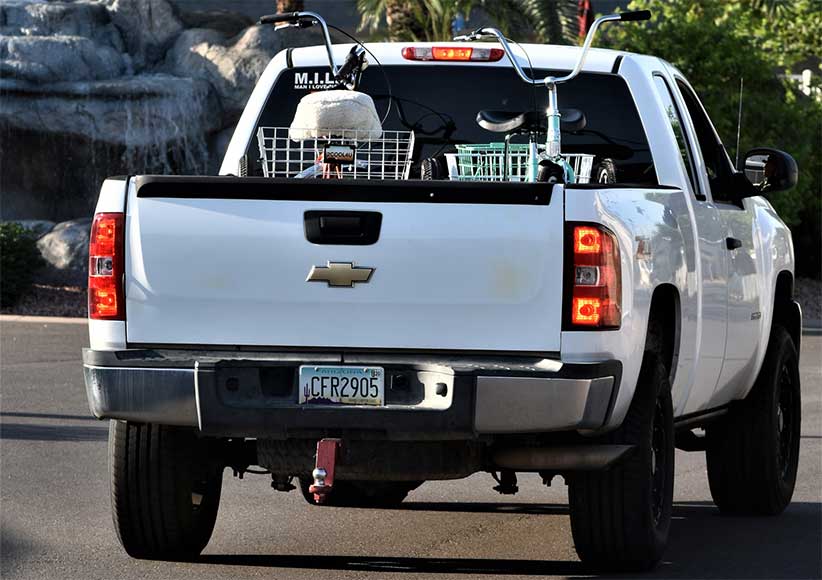 This trick doesn't put more power into your engine; instead, it lets you use your existing engine power more efficiently. Every extra pound you add to your truck adds more demands power from your engine. For example, a 100-pound load on your truck can decrease your engine's efficiency by 1-2% –that's a lot of power loss over relatively little cargo.
Trucks are great for hauling, but sometimes you need to know when to leave things behind. Doing small amounts of cleaning can make a huge difference in your engine performance. If you donate old clothes lying around in your back seat or move some unneeded tools into the garage, you can free up some extra power for your engine. You don't need the same supplies year-round either. Bags of sand or old tires are useful when driving in winter, but in warmer weather, they're just taking up extra space in your truck bed –and sucking up your horsepower.
Install A Cold-Air Intake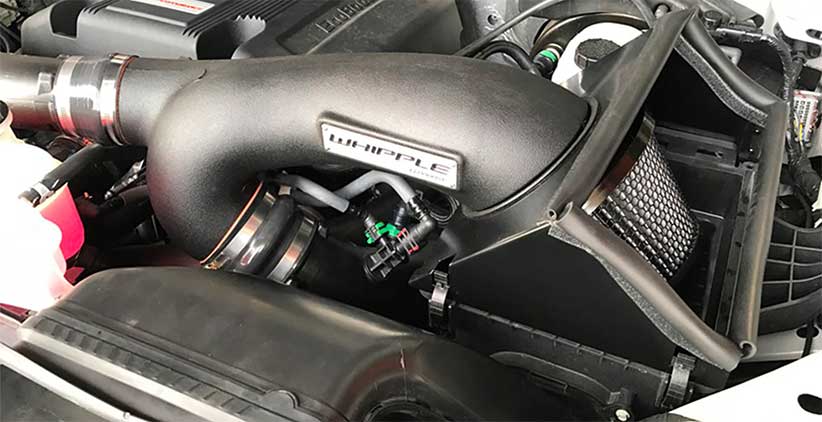 Cold-air intakes are a little controversial. Cold-air intakes improve your truck's efficiency and power, but there's debate among truck owners over whether installing these systems is worth it. We'll let you decide.
How do cold-air intakes increase efficiency? They make two major changes over your stock intake. First, they remove the sound baffling that your stock intake has. This baffling only exists to reduce your engine noise, so these bafflings aren't necessary —if you don't mind the loud noise they create. Second, they collect air from outside your engine compartment. The air outside your engine compartment is cooler, and cooler air is denser, which means it's richer in oxygen. With more oxygen, you can burn more fuel.
The results of cold-air intake setups vary. Depending on your setup you can add up to between 6 and 11 more horsepower to your truck's engine. You can also see improved throttle response, and many truck owners with cold-air intakes report better fuel economy too.
Install An Aftermarket Exhaust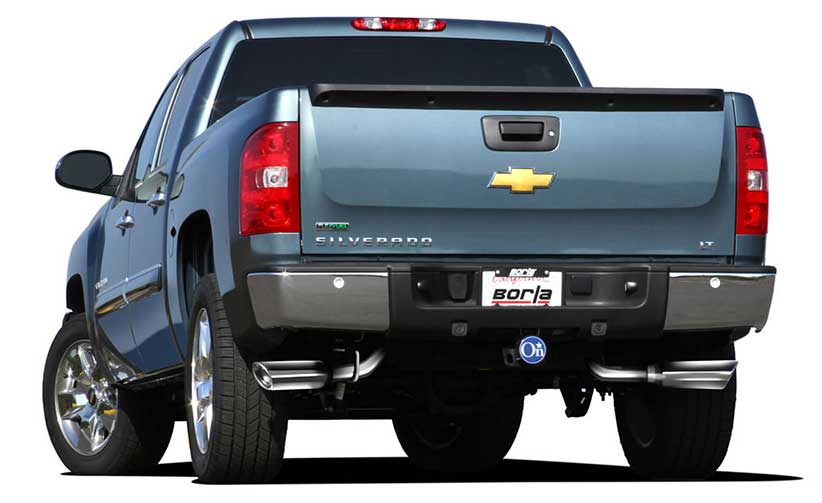 Aftermarket exhausts don't just sound awesome, they're also a straightforward way to get more horsepower out of your truck. Factory mufflers aren't too different from factory air intakes. They're both designed for quiet operation over efficiency. If you buy a high-quality aftermarket exhaust, you'll see a slight increase in horsepower –and you'll get a hearty exhaust sound to go with it.
If you decide to replace your factory exhaust, picking up something like an aftermarket-tuned cat-back exhaust can give you gains anywhere between 5 and 20 horsepower, depending on your engine size. Replacing your factory exhaust manifold with aftermarket headers can net you additional horsepower as well. Keep in mind that changing your factory's exhaust manifold can change your truck's torque curve too. If you're thinking of picking up some long-tube headers, for example, you'll increase your horsepower, but you'll also have less low-end torque as a tradeoff.
Pick Up an Engine Tuner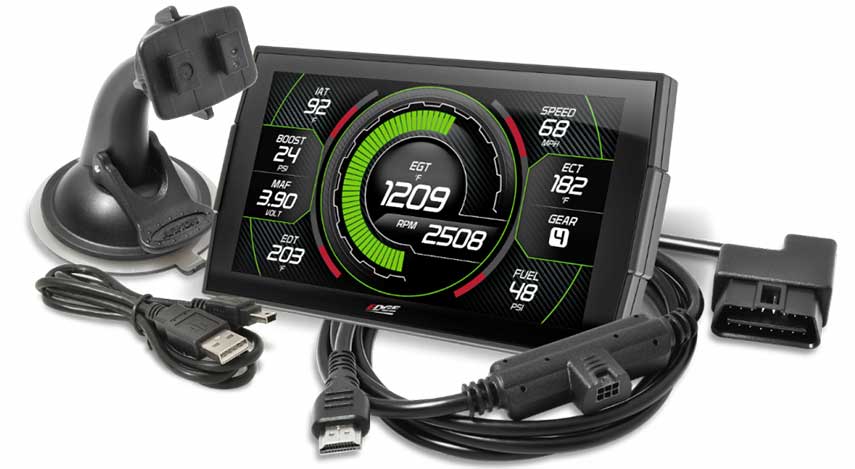 If you want more horsepower out of your truck, getting a factory tune job isn't ideal. When dealerships do tune jobs, they're optimizing for smooth shifting, quiet operation, and a good mixture of both fuel efficiency and power. For those who want more aggressive engine tuning, you can pick up an engine tuner and do it yourself. Depending on your truck's type (gas or diesel) and engine size, you can see anywhere between 10 to 50 horsepower.
Engine tuners are handheld units you can plug into your diagnostic port. They're easy-to-use and come pre-programmed with a wide selection of tunes. Engine tuners do have a large cost attached to them. They can be expensive, with some costing more than $400. They also require you to buy premium gas. If you're willing to make the investment, engine tuners can really maximize your truck's performance, especially if you have other performance add-ons, like the previously mentioned cold-air intakes and exhausts.
Install a Turbo Kit From STS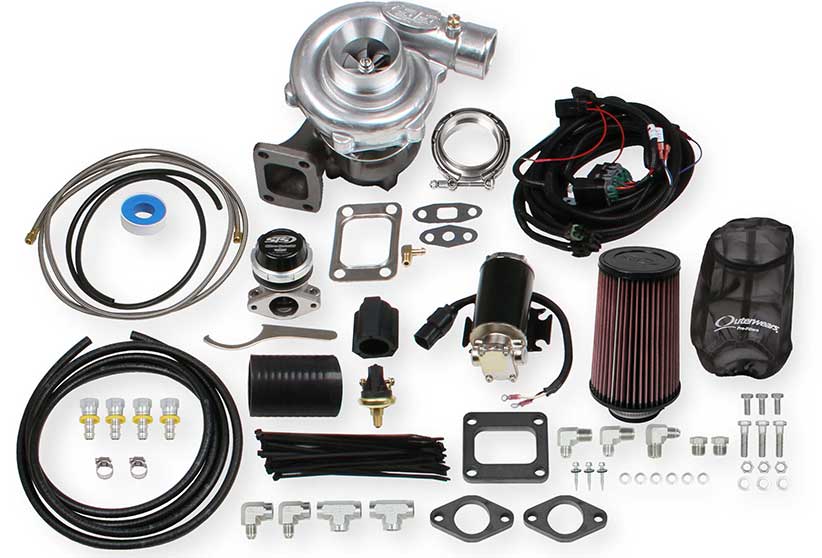 Turbochargers are a popular add-on for super-sized trucks. They're durable, affordable tools that boost your air intake pressure by utilizing wasted heat from your exhaust. Turbochargers make bigger engines more responsive without trading off reliability.
STS is a company that creates universal turbocharger kits that can add anywhere between 50 to 200 horsepower to your truck. These kits aren't cheap, and they'll cost you a few thousand dollars, but they also come with all the components you need for engine upgrades and they're available for practically every truck on the market.
Install An Aftermarket Supercharger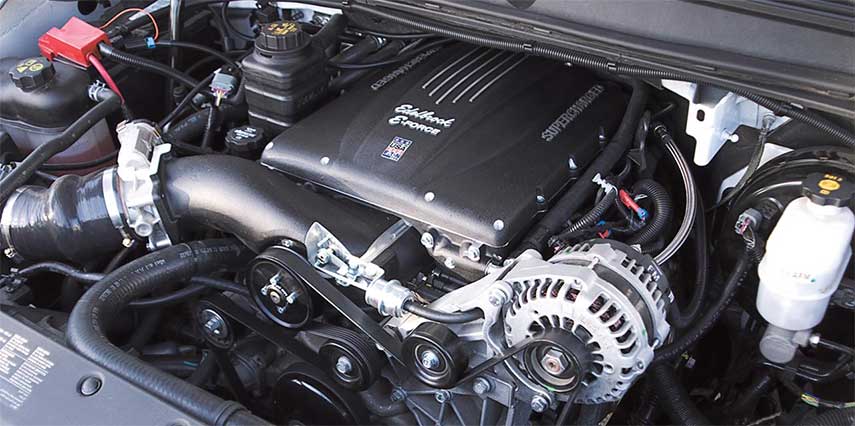 Superchargers and turbochargers work in similar ways. They're both forced induction systems, which deliver compressed air to your engine to improve your horsepower. Despite their similarities, superchargers do have advantages over turbos. The superchargers are more dependable, with no delay between your throttle application and your boosted intake pressure.
Superchargers are available for specific makes and models. For example, Toyota makes superchargers for their Tundra and Tacoma models. You can also find superchargers from Ford Racing, GM Performance, and Mopar. Even if you can't find a specialized supercharger for your truck, there are also universal superchargers on the aftermarket that work with most pickups.
Solving More Challenges With Dualliner
When you have a truck bed liner, you protect the bed from the elements, including rain and snow, to help prevent rust and other damage.
To find the right truck bed liners for your vehicles, just enter the year, make, and model, along with the bed length, in the search feature near the top of our site. No other truck bed liner in the market today offers better protection!