Bug deflectors get a lot of bad press. Many people swear that they don't do what they advertise and that the only purpose they serve is to increase your fuel usage. Others swear that bug deflectors have no impact on gas mileage and do a great job of lessening bug impacts on the windshield.
What's the truth? Here's what we know.
Do Bug Shields Hurt Gas Mileage? Yes. But Not a Lot.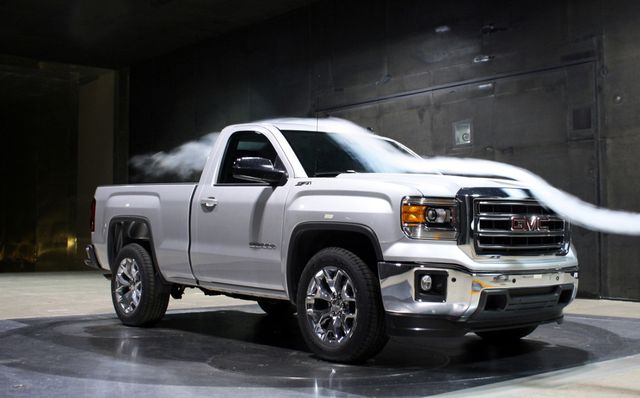 Bug deflectors disrupt the air flowing over the hood of your truck. Instead of flowing smoothly across the hood and over the windshield like the designers intended it to (see picture above), a bug deflector tries to "re-route" airflow so that it bypasses your windshield and goes over the roof of your truck instead. While this could technically work (it's the basic aerodynamic concept behind a rear spoiler, after all), it's not always effective (but we'll get to that later).
NOTE: Many believe that a rear spoiler is intended to cause downforce, but this isn't the case. Rear wings cause downforce. Spoilers are short and stubby deflectors that minimize drag by "spoiling" the turbulence that usually forms behind a fast-moving vehicle. The air is routed in one direction rather than allowed to tumble behind the vehicle. This is why drafting is so effective in NASCAR racing…the spoiler on the back of the lead vehicle creates a small area of undisturbed air immediately behind, which a trailing car can use to gain a small speed edge.
But however well a deflector does or doesn't work, it usually increases drag compared to a truck without a deflector. This, in turn, will make your vehicle less fuel efficient…but how much fuel efficiency sacrifice are we talking about? The answer depends on:
The speed in which the vehicle is traveling. Aerodynamic drag isn't a sizable concern until speeds reach 45mph or so, which means drivers that don't spend a lot of time on the highway (or who never drive faster than 55mph) won't notice much of a change in fuel economy.
The design of the truck. If you've got a newer, streamlined truck, adding a deflector could make a noticeable difference in gas mileage. But if you're driving a 1987 brick, you might not see any change.
The design of the deflector. Wind tunnel testing is expensive – thousands of dollars per day, in some cases. While some bug deflector brands invest in wind tunnels, many skip this testing and either a) rely upon computer modeling or b) make a "best guess" and hope the consumer won't know or care.
These three factors help to explain why there are so many differing opinions about bug deflector effectiveness and fuel economy. If you've purchased a quality, wind-tunnel tested bug deflector, you might think they work pretty good. If you got a cheapo special from the discount bin at your local auto parts store, you might not like bug deflectors at all.
Finally, to share some data: The National Research Council of Canada has done some testing in a wind tunnel on commercial trucks to see the effect that bug deflectors have on fuel economy. According to their study, bug deflectors decrease fuel economy 1.5% (or so). That's not a heck of a lot of change. Another study of commercial trucks pegged the fuel economy decrease at about 3%. So the data suggests that the fuel economy impact of a bug deflector is minimal (1.5-3%).
Is There A Way To Buy a Bug Shield That Doesn't Hurt Gas Mileage?
Bug deflectors reduce fuel economy and there's no getting around that. However, there are a couple things you can do to reduce the gas mileage "penalty":
Buy a bug deflector that's been wind tunnel tested for your specific application. Many of the products on the market are made by companies that don't do any tunnel testing and as a result they're far more likely to hurt gas mileage.
Try to save gas by making a modification in another area. Low rolling resistance tires for example, can boost fuel economy 2-3%. Making sure your tires are properly inflated can increase gas mileage too. Installing running boards on your truck will help the air flow around it more efficiently. Deciding not to install a lift kit, over-sized wheels and tires, etc. can all save gas too.
But mostly, bug deflectors are going to cost you a little gas. The trick is to invest in a good quality deflector. That way, the fuel economy loss shouldn't be too big (and it might actually deflect bugs too).
Click for Bedliner Comparison Chart>
Click for DualLiner Step-by-Step Installation Guide>