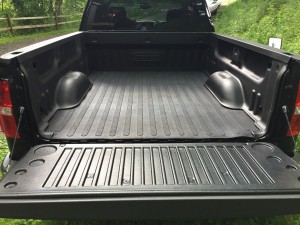 Purchasing a truck bed mat is a popular option for many truck owners. A typical truck bed mat is often little more than a single piece of thick rubber that is installed by simply placing it on the floor of your truck bed. There's no heavy one-piece plastic liner to wrestle with and unlike a spray-in rubberized liner, you don't have to sand or grind the paint inside your cargo box. Once in place, they offer a non-slip surface to keep whatever you're hauling from sliding around as your drive, and since the rubber offers a bit of cushion they also reduce noise from load vibration while protecting the surface of the bed floor from small dents. But the reason most truck bed mats are chosen is that they are easily removed to quickly rinse away dirt and mud or to make room for a fifth-wheel hitch to hauling large trailers.
The problem with truck bed mats is that they don't give any protection to the bed sides, the front wall, or the tailgate. If you're carrying something like gravel, it may not scratch the bed floor, but you'll probably end up with sidewalls that are covered in scratches, nicks, and dents! It's pretty obvious that the sidewalls of a truck bed are there for a reason: they keep whatever you're hauling from falling out. So what good is a product designed to protect your truck bed if it doesn't protect the whole thing?
Who says you can't have all the benefits of both truck bed mats and full bed liners without the difficulties of either. The DualLiner component bed liner system starts with our ZeroSkid rubber bed mat, but this isn't just any bed mat. The ZeroSkid mat has hundreds of soft rubber cleats lining the underside, keeping the mat from lying flat on your truck bed's finish to promote airflow & drainage, preventing scuffing, and providing more cushion than any other solid rubber mat. What makes DualLiner special though is the custom-fit sidewalls. These thick UV-protected pieces keep your bed damage-free by soaking up hits and dings from loose cargo. Since they're perfectly fitted to your truck, the DualLiner sidewalls won't shift or slide around, scuffing your paint. The sidewalls also interlock with the ZeroSkid mat to create a tight custom fit that gives your truck the best bed protection on the market. And just like a traditional truck bed mat, you can easily pull the ZeroSkid mat out of your bed for cleaning or to install a fifth-wheel hitch.
Sure, a truck bed mat is going to keep your cargo from sliding around, but it won't protect the sides of your bed. Only DualLiner will protect your whole truck bed with custom-fit sidewalls and a removable ZeroSkid truck bed mat. Plus, every DualLiner truck bed liner is made in the U.S.A. and comes with a zero-exclusion real lifetime warranty. No other bed liner or truck bed mat even comes close. Find the DualLiner that fits your truck and choose the only bedliner that works!
Click for Bedliner Comparison Chart>
Click for DualLiner Step-by-Step Installation Guide>