DualLiner fully supports and encourages DIYers. If you've got the skill, you don't need to spend time or money to have someone else do it for you. If you're into DIY jobs, we believe our DualLiner truck bed liner is the best option for you. But if you're interested in alternatives, we'll show you some other bedliner options.
ROLL-ON/BRUSH-ON BEDLINERS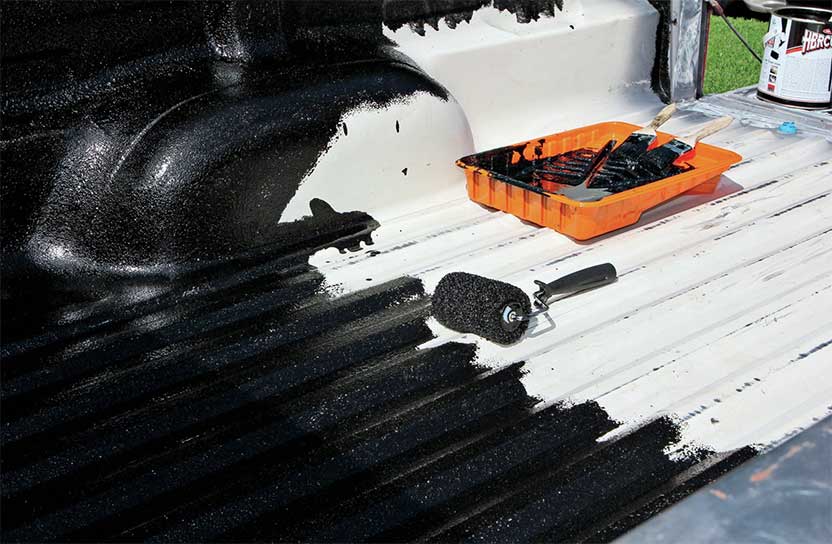 Roll-on liners were developed with the DIY crowd in mind. These liners are applied just like house paint: you either roll or brush a coating on. A lot of people have found success with DIY roll-on liners, but roll-ons/brush-ons aren't without problems either. For example:
Some roll-on coatings aren't very durable
Roll-ons require a lot of cleaning and prep work, which is difficult if you don't have the right tools or enough spare time
You have to be careful when applying these coatings. You need a well-ventilated area, shelter from the weather and you need to work quickly once you start
The coating needs to be applied consistently: uneven thickness from a bad brush or roller can ruin the final product
If done incorrectly, you can run into all sorts of problems: chipping, bubbles, tearing, etc
The biggest hurdle when it comes to roll-on/brush-on bedliners is experience. You need it. If you've got a brand-new pickup you want to apply a bedliner to, you don't want to mess it up if you've never applied a roll-on liner before.
Installation:
If you've ever painted a wall, then you have an idea of how to use a roll-on/brush-on. However, these liners require you to prep your truck bed's surface before you apply the coating. Prep work usually requires light sanding and careful, thorough cleaning of the truck bed.
Once installed, you need to wait 1-2 days for the coating to dry.
DIY SPRAY-IN BEDLINERS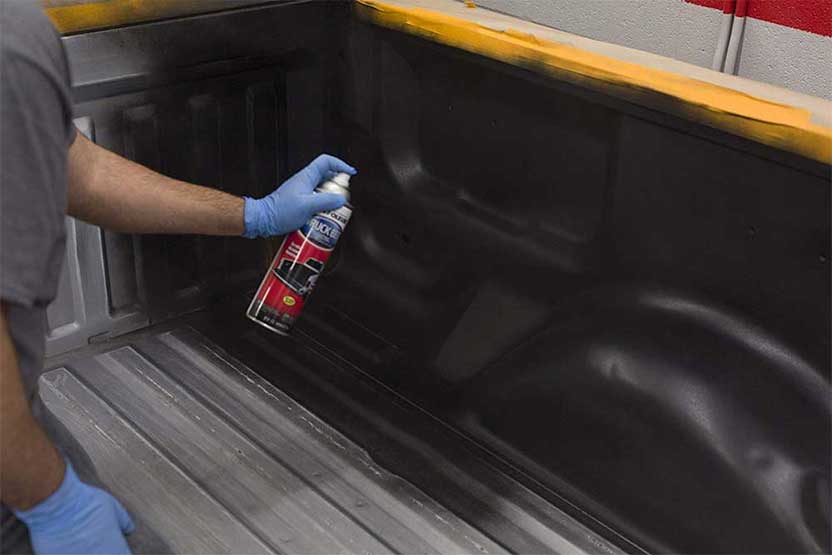 Spray-in bedliners are the last option DIYers should even consider.
Spray-ins have a high learning curve; even trained professionals can make mistakes when applying spray-ins. And this is a job best left to professionals because a DIY spray application won't come anywhere near a professionally-installed one. Professionals have a lot of experience and use high-quality equipment that DIYers can't afford. Your DIY spray can won't match the quality of a professional spray gun.
Installation:
Like a roll-on or brush-on bedliner, a spray-in requires you to carefully prep your truck bed.
Using a spray-in liner includes the following steps:
Initial prep work (typically sanding, a chemical cleaning, and removing debris)
Tape off the areas of your truck bed that you don't want sprayed
Spray the liner as evenly as you can –try not to let it build up too much in one area
You'll likely need multiple cans of coating, depending on the size of your truck
You'll also need to re-coat the truck bed several times
Let it dry –"quick dry" spray-in brands still require up to 72 hours before you can use your truck bed again
DIY DROP-IN INSTALL OF PLASTIC BEDLINERS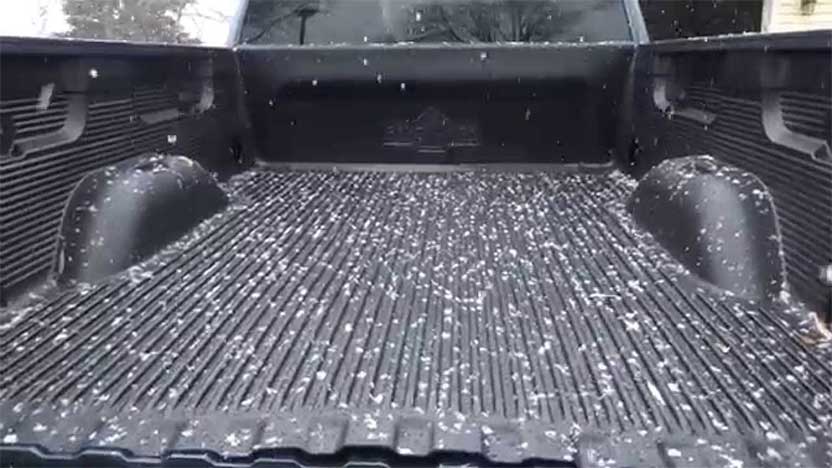 Drop-in bedliners are pre-formed liners that look like a giant bucket. These liners are accompanied by complaints; they don't work well because they're slick, they slide around your truck bed, and they're hard to kneel on whenever you're loading or unloading supplies. However, they're often very affordable.
Installation:
Installation is straightforward: clear out your truck bed and drop in the liner. Some versions of drop-in liners may use snaps or require taping/adhesive. Others install under the bed rail to hold the bed liner in place.
DIY DUALLINER INSTALL
Finally, we come to the DualLiner system. We believe that DualLiner is the future of truck bed liners. Unlike a spray-in or roll-on liner, DualLiner is removable, allowing you to move it between trucks with ease.
It also protects your truck bed from dents and scratches with its tough plastic sidewalls and impact-absorbing rubber floor mat. It's also easy to install. In as little as 20 minutes, you can have a great-looking truck bed liner that protects your bed better than any other bed liner on the market.
Installation: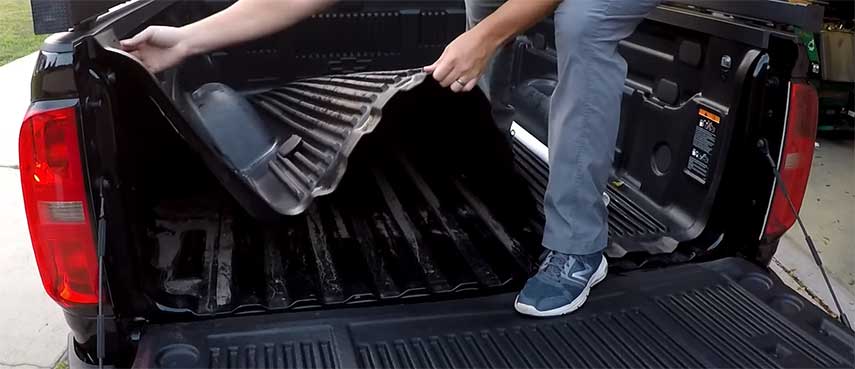 The DualLiner system comes with different pieces. Installation is easy and can be done by anyone —even children.
You can find complete instructions on our website, but installing the DualLiner is incredibly straightforward. You just need to put the right piece in the right place. And because you don't need to wait for the coating to dry, there's no downtime. You can use your truck bed right away after installing the DualLiner truck bed liner.