We completely support people with the DIY spirit. After all, who has the time or money to pay someone else to do something you might be pretty good at? While we believe the DualLiner system is the best option for DIY'ers, we've laid out some alternatives.
Roll-On/Brush-On Bedliners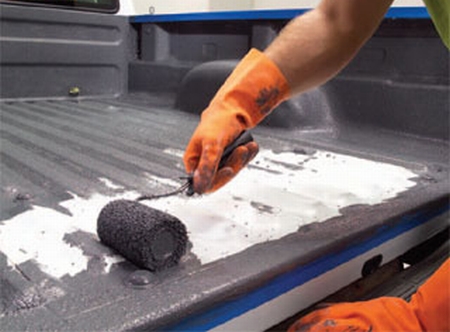 This is a kind of liner was developed to target the DIY crowd. It is applied the same way that you apply house paint – you roll it or brush it on. While many people have found a lot of success with DIY roll-on liners, it's my experience that most of the roll-on/brush-on DIY liners are problematic. Specifically:
Some coatings aren't very tough
It's difficult to clean and prep your truck bed correctly, especially if you don't have the right tools and/or don't invest a lot of time
The coatings themselves must be carefully applied – you need a well-ventilated area, shelter from the elements, and you need to move relatively quickly once you begin.
You have to apply your coating in a consistent manner…varying thicknesses and/or a low quality brush or roller can really ruin the look of the finished product
If the prep or application processes aren't done correctly, you can have all sorts of problems…chips, bubbles, tears, etc.
Fundamentally, the challenge with DIY roll-on/brush-on bedliners is that experience counts. If you've got a brand-new pickup truck, for example, you don't want to mess up the bedliner because you're a first-timer.
Installation:
If you've ever painted a wall before, you have the minimum skills. The only difference is, you will need to prep the truck bed's surface before you start to apply the coating, which frequently involves light sanding and carefully cleaning.
When install is all done, dry time is 1-2 days.
DIY Spray-In Bedliners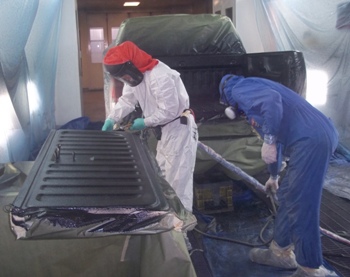 Before we go any further, this is probably the absolute last option most DIY'ers should consider.
First of all, even trained professionals can (and do) make mistakes with spray-in liners. Second, the quality of the finished product is not going to match a professionally installed spray-in. This is because professionals:
Have LOTS of experience and
typically use high-quality equipment DIYers can't afford.
Finally, it should go without saying that spray cans are not going to produce the same results as a professional spray gun. Consider yourself warned.
Installation:
Just like DIY roll-on and brush-on bedliners, the truck bed will need to be prepped carefully. Typical installation steps:
Prep work (usually sanding, chemical cleaning, and removal of debris)
Tape off all areas you don't want to be sprayed
Spray the liner as evenly as you can and try not to let it build up
Multiple cans will likely be required, how many depends on the size of your truck
Re-coats will also be required
Dry time of 72 hours before items can be placed in the truck for "quick dry" brands
DIY Drop-In Install of Plastic Bedliners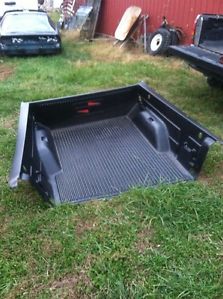 A drop-in bedliner is a pre-formed liner that looks like a bucket for the inside of your truck bed. While many complain that these liners don't work that well (they have slick surfaces, which means that cargo slides around in the bed, and they're also hard to kneel on when you're loading or unloading) they're usually very affordable.
Installation:
Clear the bed and drop it in. Various versions may have snaps or require taping/adhesive.
DIY DualLiner Install
We like to think that the DualLiner is the future of truck bed liners. Unlike spray-in or roll-on coatings, a DualLiner is removable (you can transfer it to another truck with ease), protects your bed from dents (the tough plastic sidewalls and rubber floor absorb impacts), and is incredibly easy to install. In 20 minutes (sometimes more, sometimes a lot less), you can have a great-looking truck bed liner that protects your bed (and your cargo) better than any bed liner on the market.
Installation:
This system comes in multiple pieces for a precise fit. Installing the DualLiner should take about 30 minutes and can be done by anyone. Seriously, we've even had customer submissions that show their children installing the DualLiner.
Click here for complete installation instructions, but for the most part, installing a DualLiner is just a matter of putting the right piece in place. There's also no down-time after installation, so feel free to use your truck bed right away.
Click for Bedliner Comparison Chart>
Click for DualLiner Step-by-Step Installation Guide>