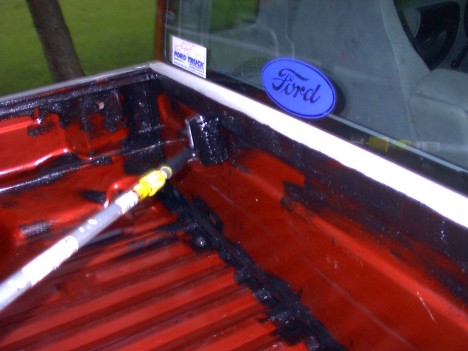 I don't know about you, but when I think of cracking open a can of DIY roll on bedliner and applying it a trucks bed, it seems like a recipe for a huge mess.
Don't get me wrong, I am just saying, if I would attempt this feat it would most likely result in mess of epic proportion. I am pretty handy around the house, but when it comes to me with paint, I will just say that we do not get along. I evidently lack the patience and artistic ability required to do a half way decent job, that is why I tried to stay away from the "bedliner in a can" when I was looking for a bedliner for my new truck.
That is what led me to the DualLiner; it is a five piece bed liner system that ships right to your door. Along with the bed liner kit, it comes with easy to follow instructions on how to install it yourself. There are four easy steps that you need to complete:
1. Snap the load guard panel over the trucks load guard at the front of the bed.
2. Tuck the sidewall piece up under the rail, and then push the bottom of the panel tight to the sheet metal. Repeat on the opposite side.
3. Lift the bed mat into the bed of the truck and lay it out flat. Tuck the bed mat into the c-channel that is molded into the sidewall panels.
4. Remove the tailgate latch access panel bolts, set the tailgate protector in place. Align the panel and then reinstall the bolts.
That's it you're finished. No messy drips on your drive way, no splatters down the side of your truck, and definitely no bed liner chemicals staining your clothes and hands (which by the way I have heard it is nearly impossible to get off).
The do-it-yourself DualLiner truck bed liner system is not only easier to install it also provides much greater dent protection, scratch protection and cargo protection as well. DualLiner's Zero Skid bed mat is the thickest in the industry and prevents your cargo from sliding all around in your trucks bed. It comes with a Lifetime warranty from the factory and it is designed to hold up to even the most extreme abuse. That is why it is easy for me to say that the DualLiner is the best DIY bedliner on the market.