Here is an actual letter we received from a customer that just purchased a Dual Liner Bed Liner for his 2013 Chevrolet Silverado.
Hello DualLiner,
I found excellent reviews on the internet for your bed liner. My previous truck had a 1 piece molded plastic bed liner and I did not like it because cargo would constantly shift around and slide with braking, acceleration, and cornering.  I liked the idea of hard plastic protection for the side walls and a heavy rubber mat for the bed.
I bought a DualLiner for my 2013 Chevrolet Silverado 1500 Extended Cab. The box arrived somewhat battered by the carrier, but the contents were unharmed.   I installed it yesterday and the installation went very well.  The instructions were "goldi-locks" correct.  Not too much to read, not too little information, just right.  The Phillips screwdriver idea to align the holes for easy and accurate insertion of the Christmas tree fastener was spot on. Unrolling the rubber mat in the warmth of the heated house was also an excellent suggestion.  The installation videos on you website are also instructive and useful.
I really wish that there was a no-drill way to mount the tailgate protector. but I appreciate the inclusion of the vial of corrosion protection material, it is indicative of your company providing a "total solution".  I would also add that it might be useful for customers to wash out the truck bed to avoid trapping dirt, grit, or debris under the DualLiner mat.  As my truck was brand new, I even waxed the walls and floor of the bed for a little extra protection.  The Zero-Skid bed mat unrolled pretty well in the warm house.  There just a little persuasion required to get the rubber mat to engage the channels in the hard plastic side walls.  However, this demonstrated the accurate fit of the components.  It would not be near as useful if the mat just "fell into place" without the good fit in the molded channels.  Once I installed it, as it is cold here, I am just waiting for the last few small ripples in the Zero-Skid rubber mat to level out.
Thank you for an excellent product.  I look forward to many years of use of my DualLiner.
Best regards,
Chris D. of Swisher, Iowa.
DualLiner Bed Liner Review – Trucks Are Part of the Family
Here at DualLiner we understand that your truck isn't just a truck. It's part of the family. Your truck is how you built your business from the ground up and turned it into something more than just a vision. Your truck is how you packed up and moved into your dream house. Your truck is what you loaded up to move your son or daughter into their first apartment or dorm. It's the daily driver that gets you to work, it's the weekend getaway enabler for camping in the woods, it's the tailgate required for tailgating your home team. Your truck is full of memories, experiences, journeys, and so much more. With that in mind, your truck needs some love to keep chugging along – and DualLiner is the best truck bed liner solution on the market to help with that.
For one of our customers, their truck is the story of multiple generations of fathers and sons. A story of summers full of hard work, long drives full of father/son talks, and a lifetime of memories. But don't take it just from us, here's what Rick B. had to say about his purchase of a 2007 Ford F-150 DualLiner:
"Took about 45 minutes to install (with removal of toolbox). Absolutely LOVE this!!! Inherited my dad's Truck …my sons worked with him in the summertime…lots of man stuff discussed in this truck. Dad worked hard and his truck was evidence of that. This liner looks great for the next generation."
As you can see, Rick's truck needed some love after all that hard work, but DualLiner had him covered with ease!
Before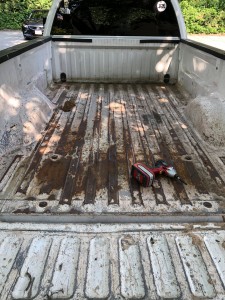 After
Do you have a favorite memory in your truck? We'd love to hear it! You can comment below, or reach us on Facebook or Twitter!
Click for Bedliner Comparison Chart>
Click for DualLiner Step-by-Step Installation Guide>
Click for Additional DualLiner Reviews>