Here at DualLiner we understand that your truck isn't just a truck. It's part of the family. Your truck is how you built your business from the ground up and turned it into something more than just a vision. Your truck is how you packed up and moved into your dream house. Your truck is what you loaded up to move your son or daughter into their first apartment or dorm. It's the daily driver that gets you to work, it's the weekend getaway enabler for camping in the woods, it's the tailgate required for tailgating your home team. Your truck is full of memories, experiences, journeys, and so much more. With that in mind, your truck needs some love to keep chugging along – and DualLiner is the best truck bed liner solution on the market to help with that.
For one of our customers, their truck is the story of multiple generations of fathers and sons. A story of summers full of hard work, long drives full of father/son talks, and a lifetime of memories. But don't take it just from us, here's what Rick B. had to say about his purchase of a 2007 Ford F-150 DualLiner:
"Took about 45 minutes to install (with removal of toolbox). Absolutely LOVE this!!! Inherited my dad's Truck …my sons worked with him in the summertime…lots of man stuff discussed in this truck. Dad worked hard and his truck was evidence of that. This liner looks great for the next generation."
As you can see, Rick's truck needed some love after all that hard work, but DualLiner had him covered with ease!
Before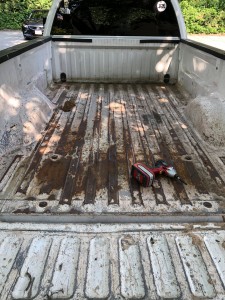 After
Do you have a favorite memory in your truck? We'd love to hear it! You can comment below, or reach us on Facebook or Twitter!
Click for Bedliner Comparison Chart>
Click for DualLiner Step-by-Step Installation Guide>
Click for Additional DualLiner Reviews>