Drop-in bedliners can allow for monsters to grow in your truck's bed. This can come in the form of leaves, mulch, sticks, or other things that can scratch the paint of your bed, standing puddles of water that can lead to fungal growths or rust damage, and a whole host of other problems.

So, what's the solution? A truck bed liner that is custom fit and tight enough to prevent debris from getting under the mat, while also allowing air flow for proper water drainage and evaporation. That's where DualLiner comes in.
Our modular bed liner systems are completely custom fit to match the bed of your truck perfectly. This fit means that smaller debris such as mulch and sticks have no chance to slip under our ZeroSkid® bed mat and cause damage. At the same time, our bed mat allows for air flow and water drainage to prevent water-based damage such as rust spots from forming. But how do we accomplish that?
ZeroSkid® Rubber Mat Comes With Rubber Cleats For Air Flow
The secret to DualLiner's ability to protect the bed of your truck comes in the form of our ZeroSkid® rubber mat. This is a multi-purposed rubber mat, and a key part of our full protection bed liner system. Our rubber mat is different from a drop-in bed mat as it is custom made to perfectly fit the design of your truck bed. The mat also interconnects with the sidewalls of the bed liner to provide a seamless full-coverage protection that offers no ability for debris to slip under the mat. While our ZeroSkid® rubber mat obviously exists to prevent paint scratching and dents and damages to your truck bed, that's not the full story.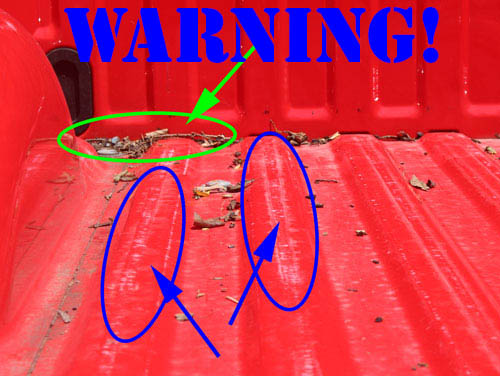 The real secret is under the mat. DualLiner's ZeroSkid® rubber mats are made with thousands of small rubber cleats lining the bottom side of the mat. Not only does this provide additional grip to prevent your mat, and thusly your cargo, from slipping and sliding around – it also provides the opportunity for proper airflow. As our mat is elevated by these miniature cleats and not flush tight to the bed of your truck, air is able to move underneath the mat. This airflow is critical to the long-term health of your truck bed. Airflow underneath the mat will evaporate water that is stagnant below the mat. Meanwhile, the gap between the mat allows for the airflow to push water to the factory drain holes in your truck bed, allowing water to drain out as intended.
Our Bed Liner System Lines Up With The Drainage Holes In Your Truck Bed
On top of allowing proper airflow, there's another benefit hidden underneath the DualLiner ZeroSkid® mat. The DualLiner bed mat is designed to match up perfectly with the factory drain holes in your truck's bed. This design further allows water to drain quickly and effectively out of your truck's bed. By eliminating the ability for any standing water to remain in your truck bed and become stagnant, you remove the potential for damage caused by that water, mainly in the form of rust spots forming on your bed. With the bed mat lining up with the factory drain holes perfectly, there is no need to drill additional holes in the bed of your truck, meaning less work for you, and a higher resale value on your truck if you ever do go down that road.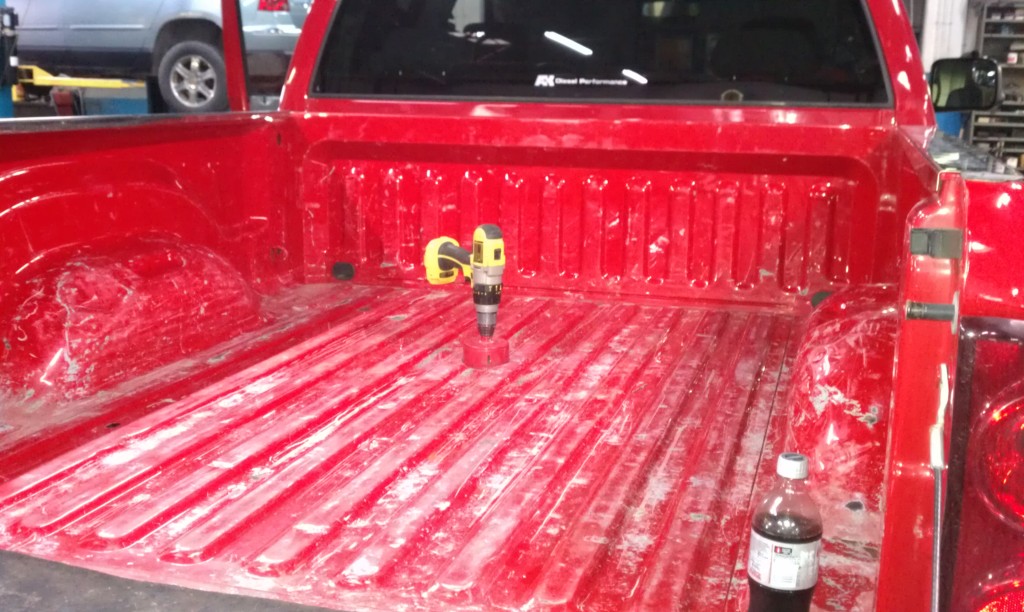 Why Is Proper Water Drainage Important?
If you still aren't sure as to why water drainage and air flow is so important, it's simply because water that does not drain or evaporate properly is one of the leading causes of damage to truck beds. Drop-in bed mats and spray-on bed liners do not adequately protect your bed against this type of potential damage. A drop-in bed mat will not allow proper air flow underneath the mat in most cases which can lead to standing water or debris becoming an issue. With a spray-on bed liner, there is no potential for water or debris to get stuck underneath the liner. However, these types of bed liners will often block your factory drain holes, which can cause standing water to become a problem in the bed of your truck. DualLiner's modular truck bed liner not only prevents debris from becoming trapped in the first place but allows for proper airflow and drainage to prevent any potential rusting of your truck bed caused by standing water. Simply put, if you truly want the best of the best to protect your truck's bed, DualLiner is the solution for you.
Click for Bedliner Comparison Chart>
Click for DualLiner Step-by-Step Installation Guide>