Congratulations. You've bought yourself a DualLiner, now comes the fitting. This is much easier than other models and we'll walk you through the four steps that you need to know.
Regardless of which make or model your truck is, these four steps are the same. There's a few variations along the way, but we'll cover them as we go.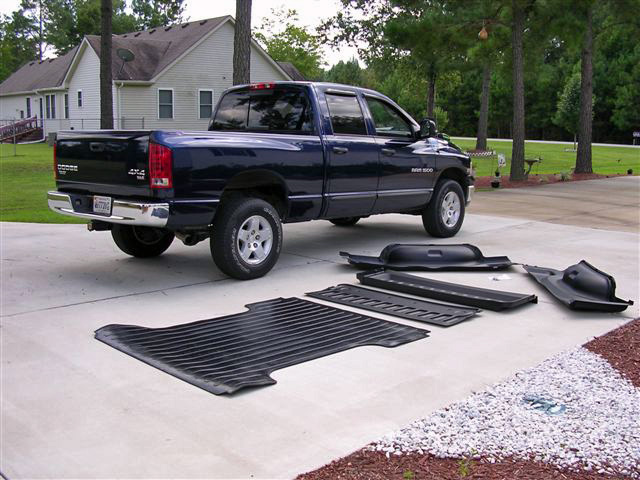 Install the Load Guard
For many makes and models this is a simple job that just involves you snapping it into place. If you have an F150 that's newer than 2004, you'll need to remove the tie-downs in the corners before fitting. Make sure that it fits into each of the corners and you're done.
Installing the Side Walls
Slide these into place over each of the sides. Once they're in place add two push pins to attach them to the Load Guard. If you've had to remove tie-downs, you will now reattach them to the bed of your truck.
Placing the ZeroSkid® Floor
Tuck one side of the flooring under one of the side walls and drop the rest in place. Make sure that the other side of the flooring locks under the other side wall. You may notice some bulging in the ZeroSkid® flooring but that is normal due to how it's shipped. After being fitted for a couple of days the rubber will relax and smooth itself out.
Fitting the Tailgate Panel
This is the most complicated part to fit and yet it will only take a couple of minutes. Depending on what truck you have, you may have to remove some of the factory mounting bolts and you may even want to drill some holes into the tailgate (only drilling is almost never required). If you have to remove the factory screws, remember to use the spacers supplied when fitting. This will give the panel the ability to flex when it heats up in the sun.
That's all there is to fitting the entire system. If you're still not 100% sure on how to fit it into your truck, DualLiner has made some helpful videos that cover all models and makes.
Still Unsure About Getting a DualLiner?
There are many reviews online that should convince you. AutoAnything.com has had over 120 reviews that give the DualLiner an overall rating of 4.5 out of 5 and there are plenty of customer testimonials from genuine customers that rate this product highly.