Just a few short months ago, we announced the first DualLiner designed to fit the aluminum-bodied Ford F-150 pickup trucks. Now we're making available a brand-new DualLiner to fit all 2015 and 2016 Regular cab, SuperCab, and SuperCrew F-150 pickups with a standard-length 6-foot 6-inch bed. That means the best Ford standard bed bedliner is now DualLiner!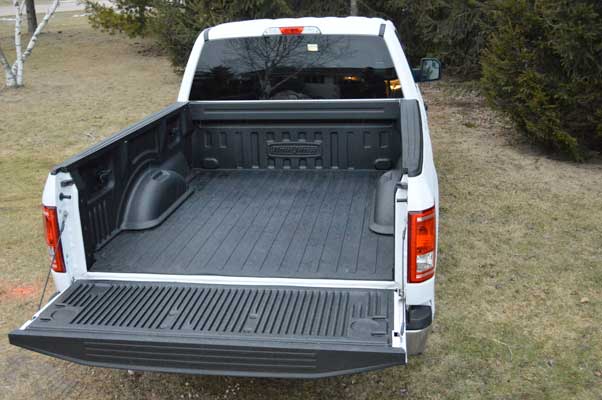 Like every DualLiner bed liner, the 2015-2016 F-150 Standard Bed DualLiner features our proprietary modular construction that allows the bed liner to fit even the tightest contours inside the truck bed without creating "corner voids" that can crack without support. The unique 5-piece system combines custom-fit rigid panels for the front bulkhead, sides, and tailgate with a heavy-duty, ZeroSkid® 3/8 which fits snugly into a molded C-channel at the bottom of each side panel. Together, the DualLiner system components provide complete scratch and dent protection for the bed of your new truck.
Uncompromising protection doesn't mean that you need to give up utility, though. Not only does DualLiner support the standard tie-downs, BoxLink and optional factory-installed LED bed lights. And if you use a fifth-wheel or gooseneck trailer, the ZeroSkid® rubber bed mat can be quickly removed or modified to accommodate the mounting points or kingpin.
"We're very excited to expand our offerings for the re-designed F-150," says Cara Dickmann, our General Manager. "With the launch of this product for the standard-bed 2015 and 2016 F-150, more truck owners than ever before can get the best protection and best fit of any bed liner on the market"
Our newest DualLiner fits all Ford F-150 pickups from model year 2015 and 2016 with a standard-length 6-foot 6-inch bed and any size cab in XL, XLT, Lariat, King Ranch, Platinum, and Limited trim. Every DualLiner bed liner is proudly made right here in the U.S.A. which lets us stand behind our product and sell each one with an transferable lifetime warranty.
Since our founding in 2004, DualLiner has been relentless in the pursuit of making the best truck bed protection possible for all pickup truck owners. Our originally patented "dual technology" component bed liner systems are available for most full-size GM, Ford, and Dodge pickup trucks built since 1999. And with our constantly-growing network of dealers, like Home Depot, and direct-to-customer sales, our DualLiner bed liners can be found in the backs of hard-working trucks from coast to coast!