Super Easy Bedliner Install
DualLiner boasts the easiest bed liner install in the industry. Our 5 piece bedliner installs in less than 20 minutes, there are no special tools required and even the most modest novice can pull it off all on their own. Just see what our customers have to say: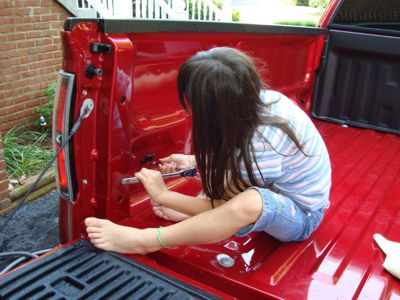 "Easy to install in my 2011 F-150. It was so easy, I had my two girls install it for me." – David K – Potomac Falls, VA (The pic to the right shows one of his daughters doing the install)
"This was installed by 2 senior citizens ages 66 and 68 one has a lung problem the other has 2 artificial knees I think we did pretty well." – Wayne P. – Fredericktown
"Very happy with this product. Out of the box to fully installed, took 15 minutes." – Darby M Houston, TX
The install process varies slightly depending on the model, but overall the process is as follows. Once you've received your DualLiner, simply pull the pieces and the install pack out of the box. The Load Guard simply snaps into place. If you have bolt in tie downs they must be removed to put the sidewalls into place and then re-installed. If you have weld in tie downs the sidewalls simply snap into place. You retain full access to the tie downs on all models which is an excellent feature.
The rubber mat fits snugly into the channels towards the bottom of the sidewalls, interlocking technology. The tail gate is different on many different models, but it boils down to simply remove some of the factory hardware and re-installing once the tailgate guard is in place.
As my Mother would say easy as pie. You've got a great looking brand new DIY bed liner installed in less than 20 minutes. Sit back and have a cold one and admire a job well done.