One of the best parts of owning a truck is the complete freedom you have when moving things. Your truck bed can transport a lot of things at once, or it can transport large items like a refrigerator. Refrigerators are one of the trickier appliances to move as they must be transported upright and are tall and heavy, which makes them somewhat awkward. With a few key tips though, it's not that difficult to move a fridge with the right equipment.
What you'll need:
Appliance dolly
Cords or straps
Two or three people
Protection for your truck bed if you don't have a durable truck bed liner
It's important to note that refrigerators don't move around easily, so scratches on surfaces like floors and your truck bed can happen easily. For example, if you have a spray-on bed liner, you'll need to be careful as these don't hold up as well to heavy abrasion compared to solid bed liners like DualLiner. DualLiner's rubber ZeroSkid® mat will also help keep the fridge from moving around too much during transport.
Prepping Your Fridge For Moving
Part of moving your fridge more easily is prepping it properly. Unplug the power and disconnect water lines from your fridge a few hours before you move it. Make sure everything is out of the fridge, including the shelves and bins if possible. Otherwise, you'll need to secure them tightly before transport. You should also clean your fridge thoroughly before letting it sit for those few hours, otherwise, it will start to smell.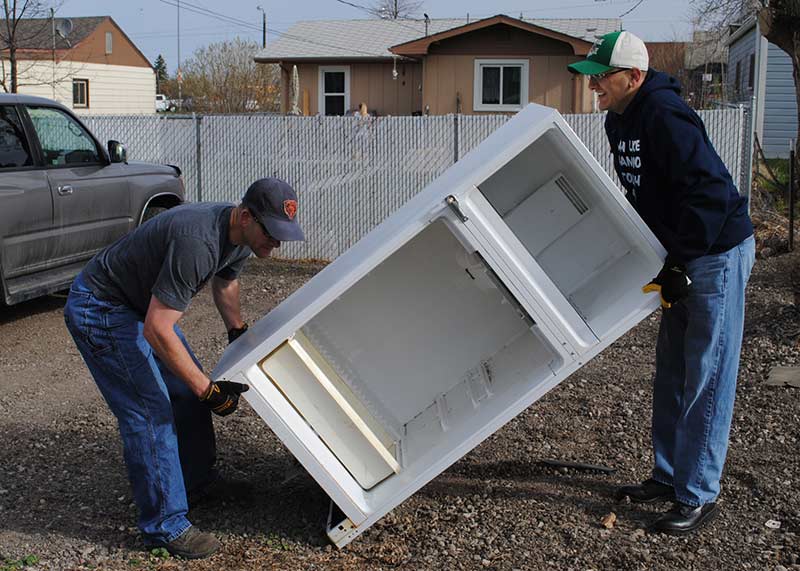 How To Load A Refrigerator Into A Pickup Truck
Now it's time to load the refrigerator into your truck. Make sure the fridge is securely strapped upright on the dolly. Then, back your truck up to wherever you're taking the fridge out. The easiest way to do this is to put your truck's rear wheels against a curb, which reduces the height you'll have to lift the fridge. To make things even easier, you can use a truck ramp from the street or driveway up over your tailgate into the truck bed.
Next, have one or two people push the fridge up from the ground while someone in the truck lifts the dolly handles. It's important to do this in one smooth movement, keeping the fridge at only a slight angle as the fridge needs to remain as upright as possible.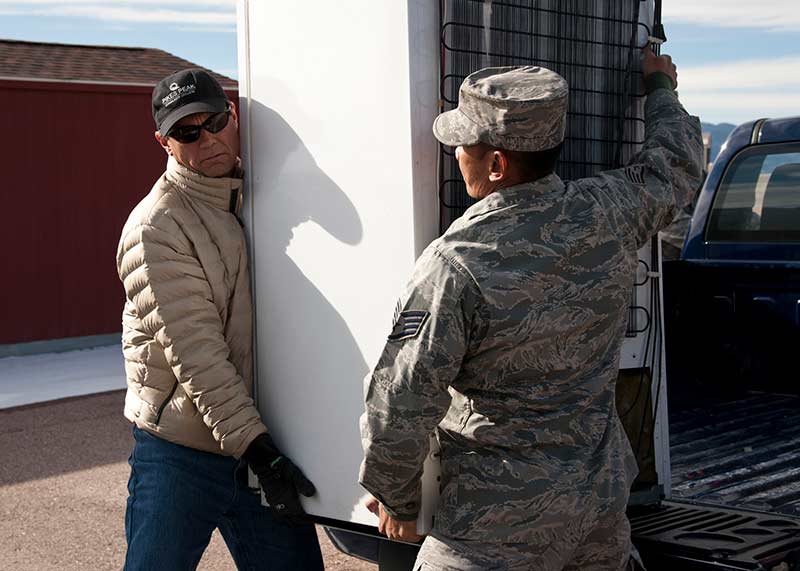 If you're going up a ramp, then go backwards up the ramp with the refrigerator following you. You may still need a second person to help push it up the ramp.
If you don't need the dolly for anything else at this time, you can keep the fridge tied to it in the truck. Back the fridge up to the rear of the bed against the cab. If you're moving something else, you can load that in front of the fridge, which will also help keep it from moving. Place a flat piece of cardboard between the fridge and the truck cab.
How To Tie Down A Refrigerator In A Pickup Truck
Next up is how to securely tie down the refrigerator in your truck. Ratchet straps are the best way to secure your fridge, but you can also use bungee cords in a pinch. The first strap should be secured over the top of the fridge. The second strap should go around the front. Tighten the straps by pulling them and the fridge towards the cab. Make sure the straps are fully secured to your truck's anchor points.
You may want to consider covering your refrigerator entirely in blankets before loading it and securing it. This will help protect it from weather and scratches, and it may help protect your truck as well.
How To Transport A Refrigerator In A Pickup Truck
If you're lucky, you won't have far to go when you're moving your fridge from one spot to another. The main thing to keep in mind is to take it slowly as you're driving. Corner slowly and try not to come to abrupt stops or engage in jerky acceleration. Remember that the fridge will likely be blocking your entire rear window, so you'll need to rely on your side mirrors almost exclusively.
Once you arrive at your destination, try to park in a similar way against a curb as you did when you loaded the fridge.
Best Way To Unload Fridge From the Truck
Unloading the fridge from your truck is simply a matter of reversing the previous loading steps. Use a truck ramp if possible, otherwise, have one or two people escort it from the ground level while someone pushes from the truck bed.
Once you take the fridge into your new location, make sure to leave it sitting for at least three hours before plugging it in. This is to ensure that any fluids that moved around during transfer get a chance to settle again.
Move Things In Your Bed More Securely With DualLiner
As previously mentioned, moving a large, heavy appliance like a refrigerator presents a great chance to scratch and damage your truck bed. Spray liners aren't usually tough enough to stand up. That's where the DualLiner truck bed liner makes a huge difference. If you have a full-size Ford, GMC, Chevy, or RAM truck, then you can get custom-fit bed liners that fit your exact bed specifications. Our unique interlocking technology ensures that your entire truck bed is covered in tough protection.