When buying a pickup truck—or purchasing a truck bed liner for your vehicle—it's important to know its dimensions, including its width. By using broad categories, a vehicle can be a compact, mid-sized, or full-sized pickup truck.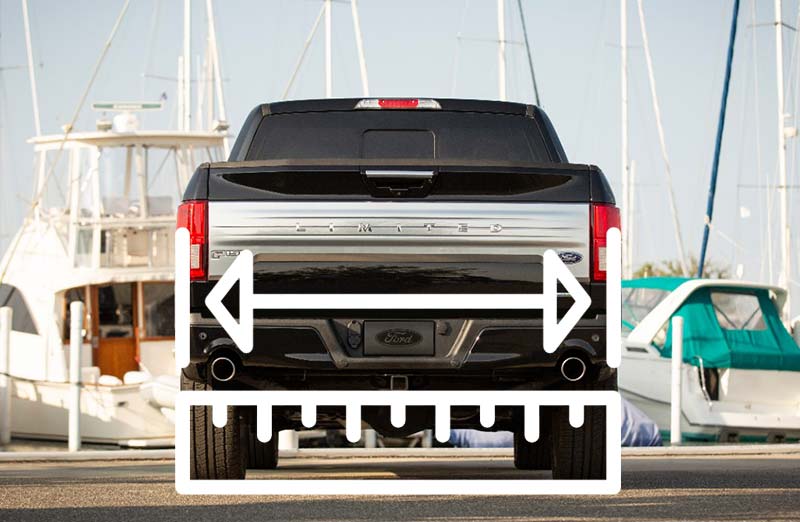 Then, even within those categories, a truck can have variations, based upon its manufacturer. A Dodge may not have the same width as a Chevy, and a GMC pickup truck may not be the same as a Ford. Plus, there can be variations that are based upon the individual model, year, and options selected for a vehicle.
So, instead of answering that question generally, it would be more practical to list the widths of specific pickup trucks. We'll do that for full-sized ones here:
Chevy Silverado / GMC Sierra 1500, 2500 and 3500 Overall Width
(inches w/o mirrors)
Dodge Ram 1500 Overall Width
(inches w/o mirrors)
Dodge Ram 2500, 3500 Overall Width
(inches w/o mirrors)
2014 80.0

2015 80.0

2016 80.0

2017 80.0

2018 80.0

2019 81.2

2020 81.2

2014 79.4

2015 79.4

2016 79.4

2017 79.4

2018 79.4

2019 82.1

2020 82.1

2014 79.4

2015 79.4

2016 79.4

2017 79.4

2018 79.4

2019 79.4

2020 79.4

Ford F-150 Overall Width
(inches w/o mirrors)
Ford F-250, F-350 Overall Width
(inches w/o mirrors)
2014 79.2

2015 79.9

2016 79.9

2017 79.9

2018 79.9

2019 79.9

2020 79.9

2014 79.9

2015 79.9

2016 79.9

2017 80 (96 for DRW)

2018 80 (96 for DRW)

2019 80 (96 for DRW)

2020 80 (96 for DRW)
Choosing Your Truck Bed Liner
Options can range from spray-in to drop-in to custom-designed interlocking bedliners. Spray-in liners mesh with the dimensions of a truck's size, but they require professional installation and cannot be removed. The process to Spray-In the material requires scuffing the factory paint of the truck bed and can void corrosion warranties.
Drop-in liners can be more affordable than spray-on ones and have a wide range in quality. These plastic tub-style liners can be slick, leaving cargo to slide around and tend to trap water. Plus, they don't always fit perfectly and tie-down access typically leaves extra exposed areas of the truck bed.
Besides comparing the pros and cons of these two options, we'd also like to share how DualLiner gives you the best of both worlds.
DualLiner Truck Bed Liners
When you're looking for a complete truck bed liner, one where you get the durability of sidewalls that are custom fit with secure stability for your cargo, we invite you to choose from our top-quality selection. Our liners are a comprehensive liner solution for full-sized Ford, Ram, Chevy, and GMC pickup trucks.
Consisting of five interlocking pieces, the DualLiner truck bed liner is designed to perfectly fit your truck. Our thick ZeroSkid® rubber bed mat is skid-free, and our specially created "CD" channel locks your liner together without a need for drilling or expensive coatings. You can find out more about the DualLiner difference here.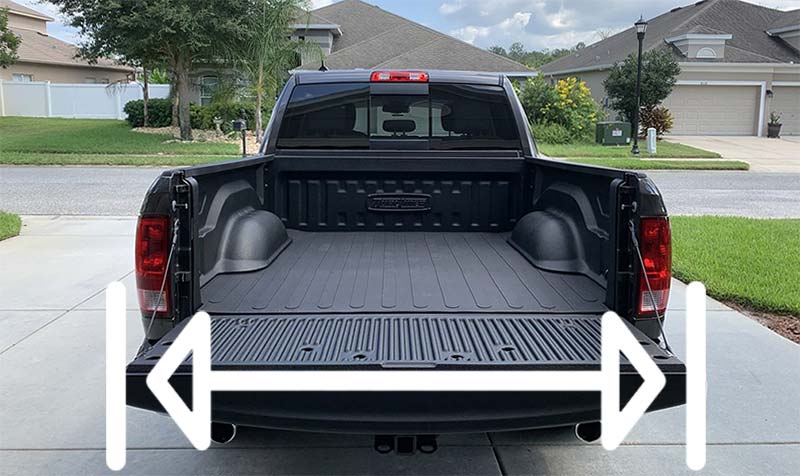 So, if you're looking for a liner that protects your sidewalls, the tailgate, and every inch of the truck bed, we've got what you need. Hard, Custom-Fit Dent Protection, ZeroSkid Rubber Floor for cargo protection and Unlike other bed liners, DualLiner doesn't block factory drain holes and won't trap water. We've paid attention to every little detail, so you're covered 100% and all our products include a Real LifeTime Warranty.
To find the truck bed liners you need, use our simple year/make/model/truck bed length search feature. Enter the info and what you need is only a couple of clicks away. Questions? Contact us online or call 1-800-992-1949. We're here to help!
Related Posts:
How Much Does a Pickup Truck Weigh?
How to Measure a Truck Bed
How Many Yards of Mulch in a Pickup Truck?