DualLiner by definition is a Hybrid Bed Liner. There are many types of truck liners, from one piece drop-ins to spray-ons, roll-ons, do-it-yourselfers, rubber mats. But DualLiner carries the only hybrid. So how do we define hybrid?
The definition is as follows –
Noun: A thing made by combining two different elements; a mixture. or Adjective: Of mixed character; composed of mixed parts. When we call the DualLiner a hybrid, we are referring to the fact that it is made of two completely different types of material,hard plastic for the outer walls and a soft rubber for the mat. Simply put our bedliner is a mixture of a drop-in and a rubber bed mat.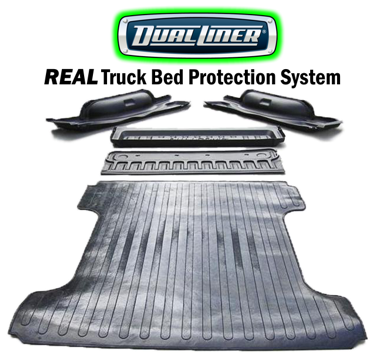 This product is at the forefront of the truck bed protection industry. The interlocking technology makes our bed liner one of the safest ways to truly protect your truck's box from scratching and denting. The design is basically flawless. it consists of four UV treated hard plastic outer walls and a 3/8 of an inch rubber mat that snaps into place within the channels at the bottom of the side walls and load guard. The tailgate on most models is held in place by the existing factory hardware, which makes it a drill free application.
The DualLiner is 100% manufactured in the United states with only the best materials. Our factory is located
in Kewaskum, WI with shipping locations through out the continental United States. We are currently targeting customers through out North America, and we have the ability to ship for free within the continental U.S.A. We can also ship to Alaska, Hawaii and Canada for a very reasonable rate.
Our customer base is anyone that is looking to protect a new pickup from scratching and denting without having to permanently alter the look and feel of their new pickup. We also market towards the consumer who has had one piece drop-ins in the past and seen the type of damage that those inferior systems will actually cause to their truck's bed in the long run.
Don't be fooled by our competitors. Spray on bedliners actually damage your factory paint. The average consumer does not realize that a spray-on dealer actually scuff sands or removes their factory paint to adhere the material to the truck's box.
If there is any scratching or scuffing that happens your box will be exposed to the elements and the corrosion sets in. Spray-ons are permanent and can not be easily removed. Our product can be removed at any time to reveal your bed's pristine condition. Get yours today!