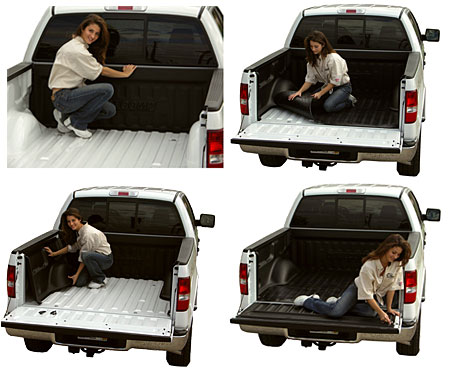 Bed Liner Installation.
Think of how long fifteen minutes is. It is 4:45 and there are fifteen minutes left until clocking out. The minute hand flies by and soon you are out the door to live your life before you know it. Fifteen minutes passes by like a racecar!
So does the time it takes to install a DualLiner bed liner. In as little as fifteen short minutes, the entire (and we mean the ENTIRE) bed of your truck will be protected for life. That means the bed walls, floor, and tailgate door are fully covered.
Just how long is fifteen minutes really? How about these comparisons:
Grill some hamburgers or install your DualLiner bed liner.
Brush your teeth or install your DualLiner bed liner.
Fill up your gas tank or install your Dualliner bed liner.
It's easy to see how fast it is to install our efficient, protective bed liner. Now, let's see how the other guys stack up. The average time to apply a spray-on liner is two hours. That's a large chunk out an active day.
So just how long is two hours really? Check out these examples for some perspective:
Wait for a steak to marinate or apply a spray-on liner.
Have a tooth crowned at the dentist or apply a spray-on liner.
Drive across state or apply a spray-on liner.
If the average American is active 15-16 hours daily and is working a full time job…how many truck owners wish to spend 1/4th of their free time lining their truck with a messy, ineffective liner that's certain to age and decay within a matter of years? None, plain and simple.
With the DualLiner truck bed liner, installation takes a fraction of the time, does not wear or tear, and will actually protect your truck bed from dents and abrasions. Never mind applying another coat or seeing batches of discoloration in the paint again. One liner, one time, and it is backed by a LifeTime Warranty,  you'll never have to worry about your bed liner again. Dual Liner is a time saver and it is "REAL truck bed protection!"