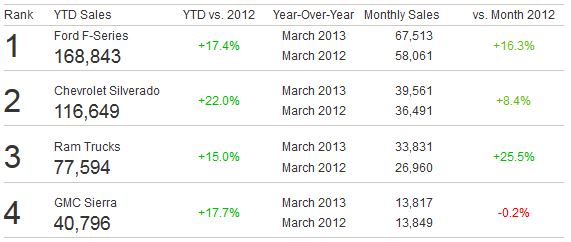 There are some things in the truck market that you can reliably count on like Ford, Chevy and Ram taking the top three truck sales spots, in that order. And true to form, March 2013 brought no huge surprises.
Full-size pickup truck sales remain strong for the first quarter of 2013. March is traditionally a strong sales month for truck makers because of spring and the more robust work schedules planned by small-business owners. Also, the competitive nature of the segment means manufacturers are stepping up their incentives to make room for new models.
Most notably, General Motors is dealing with several plants that are making the changeover to a brand-new half-ton pickup. All-new crew cab Chevrolet Silverado and GMC Sierra 1500s start rolling off the line at the end of April, double cabs in the middle of July and regular cabs in the beginning of August.
Over the next few months it will be very interesting to see if there are major shifts in Chevy and GMC sales with the launch of the new 2014's. I have a feeling we will be in for some more huge increases in numbers. Hold on to your hats!