May 2013 Top Selling Trucks.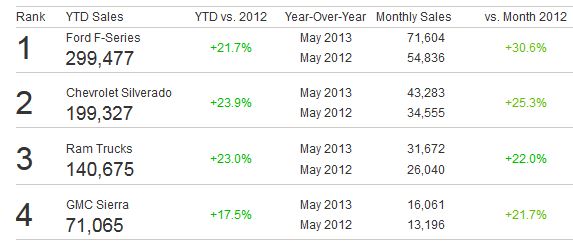 Pickups continue to sell like hotcakes! May 2013 is the first month in more than six years that the Ford F-Series sales have made it above 70,000 units, and that was when we were talking about the possibility of seeing a 1-million-unit year from Ford. Sure, we've seen some good news from the construction sector, and that seems to be helping all the full-size domestic truck makers, but there could be more good news on the horizon if other parts of the economy begin to show more optimism as well.
The Dodge Ram continues to show strong growth as Chevrolet and GMC dealerships continue to make more room (with strong incentives on 2013 models) for the arriving 2014 Silverado 1500 and 2014 Sierra 1500.