Bedliner Terms Can Be Misleading
Let's take a closer look at some of the words associated with the most popular types of bedliners. It is easy to assume that something is water proof when in fact the item states that it is water resistant. This might not sound like a big deal, but if you wrecked your brand new Rolex watch by jumping into a pool, that would be a different story.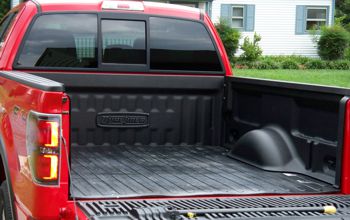 If you are currently looking for a bed liner for your new or used truck, then I am positive that you have encountered some of these "misleading" terms. One term that most bed liner companies use is "skid resistant." Over the years I have come into contact with just about every different type of truck bed protection. I don't think, well actually I know that I would never label what happened to my cooler when I hit the brakes as "skid resistant." The term that I would quicker label that very fast movement as would have to be "launch pad."
Obviously "skid resistant" has many different definitions, or varying degrees of resistance. I supposed that if you were to conduct a controlled experiment where you took each type of bed protection and compared it against glare ice. Then you could honestly say that there was more skid resistance than ice. Even though that is not saying much, most of these companies still push the fact that they are.
I did say most companies used these types of misleading terms, but there is an exception. One of these companies labeled their truck bed liner as "zero skid", they did not leave much room there for interpretation. "zero skid" is not confusing at all, it is clear, and to the point. It means "no skid", when you put your cargo in the back of your truck you can be assured it will stay right where you put it.
The company that produces the "zero skid" mat is called DualLiner, they are committed to providing the maximum amount of scratch and dent protection without causing any harm to the trucks factory finish. They can achieve this, thanks to many recent advances in manufacturing technology. The "zero skid" mat inserts into a channel that was built into the side wall panels. Each panel is molded to fit the exact contour of your trucks box; this provides complete and unparalleled protection.
So the next time you see any of these kinds of misleading terms, ask yourself if this is really the type of product that I should be looking for?