Truck owners love truck toppers, and it's easy to see why. Toppers give trucks large amounts of weatherproof storage space. A truck topper will convert your truck bed into an extra-large trunk. Toppers have additional functionality: some truck owners also use this enclosed area for camping or for adding extra security to their truck beds. They go by various names: topper shells, camper shells, box shells, truck caps, or truck canopies, but they all offer the same general function.
New truck owners have plenty of topper options available to them. We'll discuss these potential choices, their pros/cons, and cost estimates.
How Will You Use Your Truck Topper?
Your basic truck topper will sit flush with the roofline of your truck's cab. It'll probably include a rear liftgate window and a simple cam lock for security. This type of topper won't thwart any serious theft attempts, nor will it be able to accommodate oversized rear cargo.
A basic topper is difficult to work out of because of the lack of accessibility; you'll have to remove cargo to reach the cab end of the bed.
Think about what you want to use your truck topper for, and whether the topper in question will provide the functionality you need. A standard model topper might not cut it. Here are questions to consider when shopping for a truck topper:
How much room do you need? Do you need enough room to stand or crouch? Or do you require extra space to accommodate tall cargo? If you need vertical clearance, look for a "high rise" topper that advertises ample headroom.
Do you need access to your entire bed? For bed access, look for a topper with side-opening windows. This option is available on most commercial toppers. If you use your truck for work, look at sliding bed cargo trays.
These accessories are slide-out floors for your truck bed, making it easy to access tools without sticking your head through the topper's side window.
Will you use your topper for mounting cargo? Some truck owners want to use a topper for mounting camping gear, bikes, kayaks, or other recreational equipment.
Commercial users might want a truck topper to mount ladders or lumber. A topper with crossbars will provide the functionality you need for this.
Do you need security for expensive gear? It's easy to disarm the simple cam lock on a basic topper. Commercial topper systems include sturdier locking mechanisms made from aluminum or heavy-duty steel. You can also invest in accessories like locking drawers or toolboxes.
Do you want your topper to be comfortable? If you want to use a topper for camping, a lined camper shell is probably for you. A lined topper is warmer, quieter, and much nicer to stay in.
These questions and others will help you define what truck topper you need. These extra features (high-rise, roof bars, a lined interior, etc) substantially raise the topper's cost.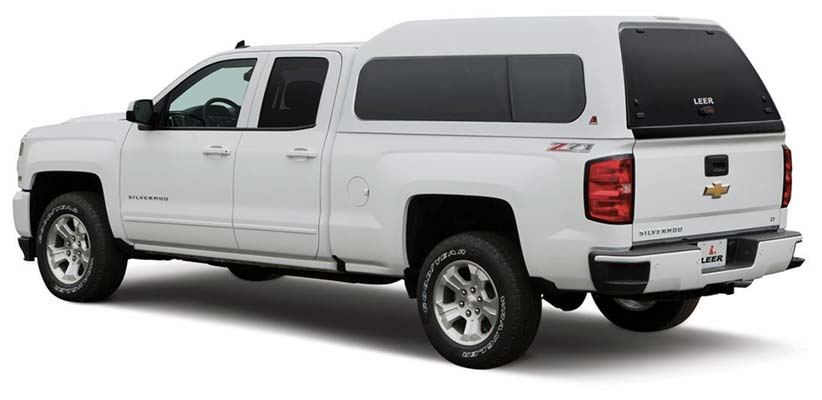 Truck Topper Materials and Cost Estimates
Once you know how you want to use your topper, you'll have to decide on a material. When shopping for a topper there are four options: aluminum, fiberglass, composite/plastic, or stainless steel.
Aluminum is the most cost-effective choice by far. Truck owners on a budget can generally find an all-new, standard-issue aluminum topper for less than $2,000-$2,500. You might even find one for less than $1,500. However, their affordability comes with setbacks:
Aluminum toppers usually come in limited colors, like white and black. You might not find a topper that matches your truck.
Aluminum toppers (and cheaper toppers in general) are easily dented and look rough over time.
If you're less concerned with aesthetics a plain white aluminum topper will be a fine choice. Aluminum toppers are also useful for truck owners trying to keep their truck's weight down, or if they want a commercial topper with worker-friendly features like shelving, lockable toolboxes, or double side doors.
Fiberglass toppers are known for their good looks. You can even paint them to match your truck's color. You're unlikely to find a fiberglass cap as cheap as aluminum.
Fiberglass toppers can cost as much as $4,000-$5,000. They're also heavier than aluminum covers and weigh as much as 200 lbs. There are fiberglass caps made for commercial use, but much fewer choices.
Composite/plastic toppers are a relatively new option available to truck owners. Like aluminum toppers, you get a limited color selection. However, composite toppers are a solid compromise between aluminum and fiberglass options, offering the utility found on aluminum toppers without sacrificing aesthetics.
Prices on these types of toppers vary wildly; depending on features, prices average between $1,500-$2,000; some options can cost up to $3,000.
Another relatively new option on the market comes from SmartCap, which manufactures truck toppers from stainless steel. These are some of the most expensive toppers, with some options costing over $4,000.
Despite their cost, their materials make them some of the most durable, longest-lasting toppers. SmartCap truck caps are manufactured in South Africa and sold in the United States.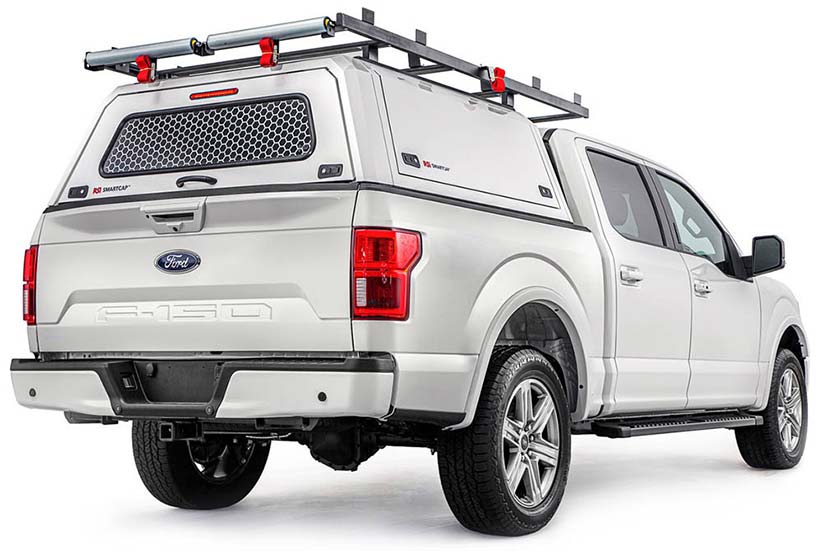 NOTE: All prices listed are for full-size trucks, and the price can change depending on the vehicle.
Truck Topper Companies and Manufacturers
This section won't feature opinions or recommendations on specific manufacturers or brands. However, prices can vary drastically between retailers. Some brands have more of an online presence, while others don't.
Models from the same manufacturer can also have price discrepancies: a no-frills topper can start at $1,000, but additional features can raise the cost to 2-2.5 times that amount.
Here's a list of well-known topper brands and some price ranges you can expect. These prices are just general estimates, you should always contact a local truck topper dealer for the most accurate pricing information.
R.E. – $1,499.00 for aluminum to $4,200.00+ for fiberglass
Century – $1,675 to $2,375
Jason / Ranch / ATC – $1,450 to $3,000
Leer – $2,179 to $4,199
SmartCap – $3,695 to $4,495 stainless steel
Snugtop – $3,000 to $3,999
Unicover – $1,395 to $1,950
Any topper you choose can be re-sold or re-used whenever you decide to replace your truck. Truck bed dimensions don't change too much from model to model, and an unpainted topper in neutral colors like white, black, or silver could work just as well on your new truck as on your old one.
A DualLiner truck bed liner is compatible with most major truck topper manufacturers. A high-quality truck topper and DualLiner bed liner are an unbeatable team!
The DualLiner / truck topper combo enhances your truck's rugged looks and offers solid truck bed protection to help maintain your resale value long-term.