Truck owners love toppers (a.k.a. topper shells, camper shells, box shells, truck caps, or truck canopies) for a lot of different reasons, but the main reason to buy a topper is to create a large truck storage space that's weatherproof. While some truck owners want this space to be secure – or perhaps comfortable enough to camp in – most are trying to turn their truck bed into a very large trunk space.
In this post, we'll break down some of the topper options available to new truck buyers, with pros and cons for each along with cost estimates.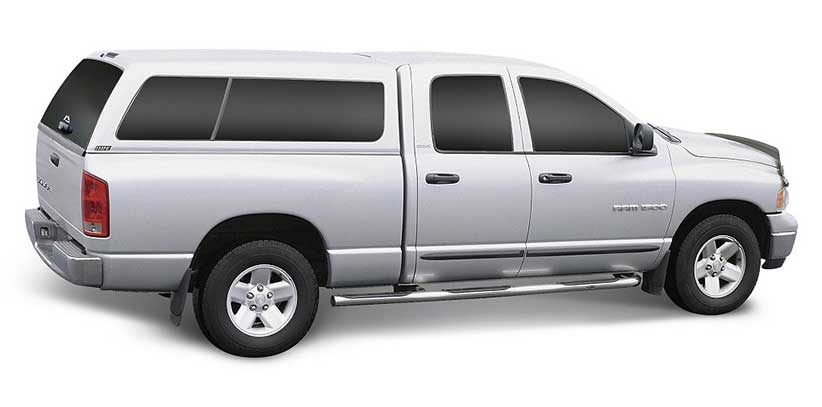 WHAT ARE YOU GOING TO USE YOUR TRUCK TOPPER FOR?
A basic topper is even with the roofline of your truck's cab, has a liftgate window at the rear, and a simple cam lock. It's not going to stop a serious theft attempt, nor is it going to accommodate oversized rear cargo. It's also not going to be very easy to work out of, as gaining access to gear requires you to "unload" every time you need a tool or piece of gear that's closer to the truck cab.
Do you need room to stand, or at least crouch? Room for tall cargo? You want a "high rise" topper that advertises lots of headroom and/or a tall design.
Do you want access to the entire bed? If so, you probably want a topper with side-opening windows. Most commercial toppers have this feature, only some commercial trucks are starting to use sliding bed cargo trays instead, as they're a little more convenient than sticking your head thru the side window of a topper.
Do you want to mount something to the roof of your topper? Some people like to mount camping gear, kayaks, mountain bikes, etc. to the roof of their toppers, while commercial users tend to mount ladders or other gear up top. Either way, you want a topper with roof rails.
Do you need to protect expensive gear? Defeating a simple cam lock on a basic topper is easy as can be, which is why most commercial systems use heavy-duty steel or aluminum locking mechanisms. There are also locking drawers, toolboxes, etc. available.
Do you need the inside to be lined? If you're actually going to camp in your topper, a lined camper shell is a good idea, as it will make things warmer and quieter, not to mention nicer.
There are other questions that you can answer to help you define what you need, but suffice to say that any extra features – like a high-rise, roof-mounted rails, lined interior, etc. – increase the cost pretty substantially.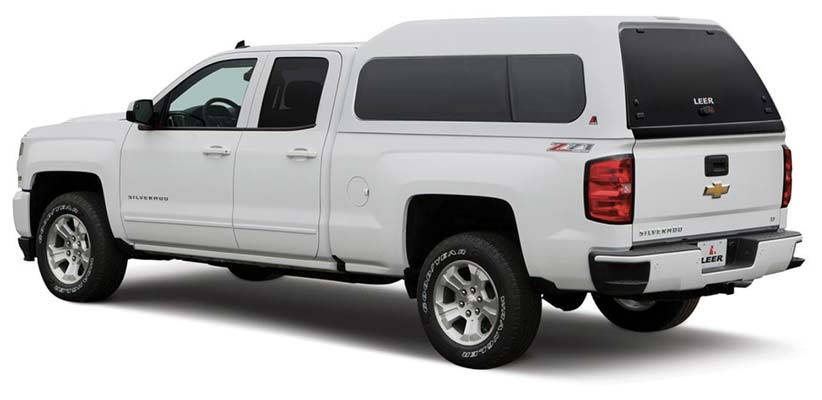 TRUCK TOPPER MATERIALS AND COSTS
Once you've decided on the basic functions your topper is going to perform, it's time to decide on a material. For the most part, there are 3 or 4 options:
Aluminum
Fiberglass
Composite/Plastic
Stainless steel
Aluminum is by far the least expensive option: You can typically buy a brand new aluminum topper with minimal features for less than $1,000. Most cost anywhere between $900 and $1200 (installed). However, aluminum:
They usually come in limited colors, usually white, sometimes black, and a lot of people don't like how a white topper looks on a truck that's any other color
Over time, aluminum toppers (especially the least expensive toppers) tend to look dingy and dented
If you're not at all concerned about aesthetics (or if you have a white truck) a plain Jane white aluminum topper is a fine choice. Aluminum is also a good choice if you're trying to save weight, or if you want a serious commercial topper with features like shelving, locking toolboxes, double doors on the sides, etc.
Fiberglass toppers typically look great – they're often painted to match your truck's factory paint job – but they're quite a bit more expensive than aluminum (it's hard to find one for less than $1,200 installed – most cost $1,800-$3,000 installed) …which is probably why aluminum toppers are still fairly popular. Fiberglass toppers are also on the heavy side (they can weigh as much as 200lbs, depending on options), and it's not as easy to find fiberglass toppers designed for commercial use (although they are available).
Composite/plastic toppers are a relatively new option. While color selection is very limited, they're a good compromise between aluminum and fiberglass, as they offer a lot of the features of aluminum without sacrificing appearance. Pricing varies greatly on these newer composite toppers, but you can generally expect to spend more on composite than aluminum (but still less than fiberglass). $1,200-$1,800 (installed) is a good estimate, depending on features.
Lastly, a relatively new player in the market, SmartCap, makes their truck toppers out of stainless steel. These are some of the most expensive truck bed toppers on our list but will undoubtedly be the most durable and longest-lasting. SmartCap truck caps are manufactured in South Africa and sold here in the United States.
NOTE: All prices are for full-size trucks, and are averages based on vehicle. A topper for a Tundra may be more than a topper for a Ford F-150 simply because the F-150 is more popular. Likewise, a topper for a new Chevy Colorado or Toyota Tacoma may be a little less than a full-size truck topper for say a RAM or Sierra.

LIST OF TRUCK TOPPER MANUFACTURERS/COMPANIES
We're not going to weigh in on topper manufacturers and brands, but we will say that prices can vary tremendously from one installer/retailer to the next. Additionally, some brands are really easy to learn about online, and some aren't.
Here's a list of well-known topper brands and the price ranges we found online:
A.R.E – $1,199.00 for aluminum to $3,600.00+ for fiberglass
Century – $1,675 to $2,375
Jason / Ranch / ATC – No prices listed
Leer – $1,999.99 to $2,933.99
Raider – No prices listed
SmartCap – $3,195 to $3,895 stainless steel
Snugtop – No prices listed
Unicover – $1,095 to $1,415
As you know from the rest of the article above, these brands can vary in cost. Some will offer a basic no-frills topper for around $1,000, which others will cost 2-2.5 times that amount.
Whatever topper you decide to buy, keep in mind that both your truck's topper AND your truck bed liner can be re-used or re-sold when you replace your truck. Most truck beds don't change dimensions too often, and if you opt for a standard vehicle color (like black, white, silver, or tan), there's a very good chance you can take your topper off your old truck and install it on your new truck.
You can probably do the same with your DualLiner bedliner too, which is great news as our bedliners are compatible with most major truck toppers on the market. Combining a high-quality topper with a DualLiner truck bed liner is the perfect way to make your truck tougher and better looking while maintaining a higher long-term value!