Resale value is a popular consideration for new truck buyers, and some brands have better resale value than others. Whether you're looking for a half-ton or heavy duty truck, we've got brand resale rankings listed below.
However, it's good to remember that there's more to resale value than a truck's brand name. The package and options you choose impact resale, as do the steps you take to protect your truck after your purchase. We've compiled a list tips and suggestions for maximizing resale value as well as brand rankings below.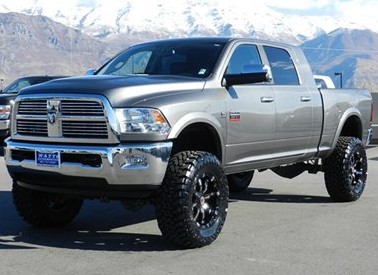 Resale Value Is Important, Even if You Don't Plan To Re-Sell
A lot of the people who buy a new truck have no intention of trading or selling their truck anytime soon. For these buyers, resale value doesn't seem too important. However:
A truck is an asset, and trucks that hold their value are better assets. Should their be an unforeseen event that forces you to sell or trade your truck, you'll be glad if it's held its' value.
The US truck market is in the midst of a revolution. Over the next 10 years, Ford, Chevy/GMC, Ram, Toyota, etc. are all going to offer trucks with never before seen technology. From aluminum bodies to diesel engines to trucks that get 30mpg, there's a chance that you might not want to keep your 2014 as long as you think.
Resale value is a proxy for reliability and durability. Trucks with higher resale value tend to be more reliable and more durable than trucks with poor resale value.
Finally, vehicle resale value is important if your truck is somehow lost or destroyed. Even if you love your truck and have no desire to part with it, there's always a chance that an act of God or a reckless driver can take your truck away from you.
So, like we say, resale is important to all truck buyers…even if they don't plan to sell or trade.
Which Truck Brands Have The Best Resale Value?
There are several outlets who put out guides on truck brand's long-term resale value. This information is typically based on past sales results. While past results don't dictate future success, they're a decent indicator of what you can expect in terms of resale value on any given vehicle.
Keeping in mind that brand resale charts are pretty basic, we'd like to suggest new truck buyers look at Auto Leasing Guide's (ALG) depreciation ratings. ALG is a trusted source for resale value estimation, as their estimates are often used by finance companies to set lease residuals and rates.
Here are the top 1/2 ton truck brands, ranked from best to worst resale ranking:
As you can see, Toyota and Honda lead the pack with 5 star ratings. However, Ford and Chevy are average, and Ram is only slightly below average.
Aside from the Ford F-250 and Ram 2500, most heavy duty trucks have average or better than average resale value.For heavy duty trucks, the ratings are quite a bit different:
Why Some Brands Have Better Resale Than Others
Resale value is a proxy for durability and reliability, but it's not fair to say that trucks with low resale value are unreliable. Looking at ALG's depreciation ratings, for example, we can see the top fleet sellers like Chevy, Ford and Ram tend to have lower resale values than brands like Honda, Toyota, and GMC, which are not major fleet sellers. This helps to explain why resale values are so different – higher sales volumes dilute supply, causing a drop in value.
However, resale is also about consumer preference. You'll note that GMC's "Denali" brand 2500 HD has better resale value than the standard GMC Sierra 2500 HD. This is because consumers often prefer used trucks with luxury features over trucks without them.
How To Maximize Resale Value
While choosing the right brand of truck can definitely boost resale value, the single largest factor in determining resale value is you, the vehicle owner. If you're looking to maximize your truck investment, there are multitude of things you can do to ensure your truck has high resale value.
Consider buying a truck with a luxury package, at least if you can afford to do so and will enjoy the features. Luxurious trucks tend to hold their value better.
Stringently adhere to the vehicle maintenance schedule. One of the easiest ways to maximize resale value is to keep detailed maintenance records, showing that you've maintained the truck perfectly.
Protect your truck's body and paint. Body damage, faded paint, dings and dents – all of these things impact resale value. Regular coats of wax can keep your paint shiny and new. 3M makes a clear plastic material that can be applied to your truck's front end to prevent pitting and "road rash" in painted surfaces. Grille guards, running boards, and heavy duty bumpers can all prevent body damage while off-roading. Of course, it should go without saying that there's no substitute for a good bed liner.
Drive like an old lady. It might seem like an odd tip, but carefully driven vehicles last longer. You won't win any races accelerating and braking gently, avoiding rugged terrain when possible, etc., but you'll minimize wear and tear. You'll also save money, as conservative drivers spend less money on things like fuel, brake pads, and tires.
Keep cleaning supplies handy. It's amazing how fast a small spill can cause long-term damage. This damage can be easily avoided by keeping a package of wet wipes or similar cleaning supplies in your truck. Quickly cleaning up after spills, bird droppings or other things will help your resale value.
A NOTE ABOUT BED LINERS: Not all bed liners offer dent AND paint protection. Plastic drop-in liners can prevent dents, but they often scuff paint. Spray-in liners can keep your truck's bed from showing big scratches and scuffs, but they don't stop dents. Only a DualLiner offers both dent AND paint protection.
By following these tips, you can go get the highest resale value when it comes time to sell. Remember, keeping more cash in your pocket through smart truck ownership always trumps brand resale value charts.
Click for Bedliner Comparison Chart>
Click for DualLiner Step-by-Step Installation Guide>