Did you have a spray-in bedliner applied to your truck bed? Then you may have noticed overspray. Whenever material is sprayed where it doesn't belong –windows, trim, body panels– that's overspray.
We talked to professional detailers to help determine what causes bedliner overspray, and how you can remove it from your truck.
HOW DOES OVERSPRAY HAPPEN?
Overspray is a common occurrence when installing a spray-in bedliner. A spray-in liner requires a lot of prep time; the installer starts by masking off areas of the truck to prevent them from being sprayed.
Several parts of your truck are masked off:
All body panels immediately outside the truck bed (quarter panels, your rear cab doors, the cab c-pillars)
The back and roof of your truck's cab
The gap between your cab and the truck bed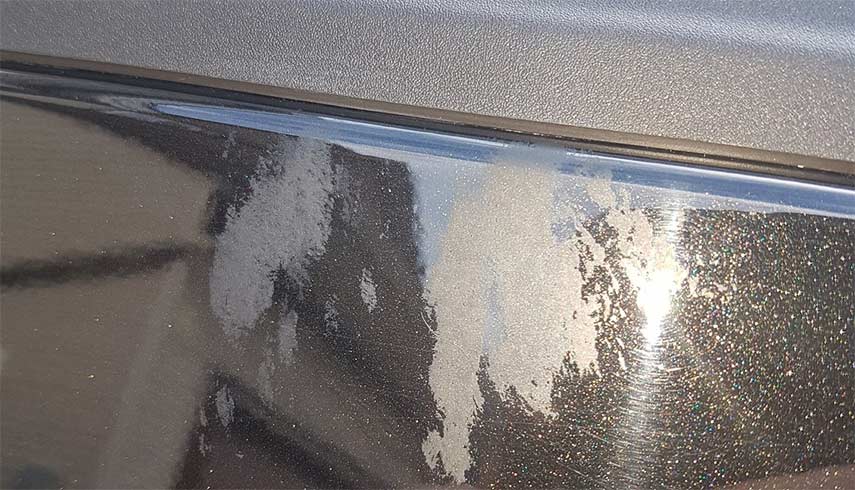 And many other places, such as your rear bumper, the tow hitch and your tires and wheels.
The masking process is time-consuming, but it's all to prevent spraying the areas of your truck that are off-limits. Removing overspray takes even longer.
Spray-in liners are often done professionally, and these businesses want to spray as many truck beds as possible. Chasing profit causes some installers to cut corners and some parts of your truck aren't fully taped off before spraying starts.
Spray-on applicators have a wide reach. Even being parked to another truck being sprayed puts your truck at risk from overspray.
FIRST STEP: RETURN TO YOUR BEDLINER APPLICATOR
If your bedliner was applied by a professional applicator you should first bring your truck back to them and find out if they will remove the overspray for you at no cost. Most likely they have had this happen before and know the best method for removing the overspray for their particular bedliner material.
If that doesn't work, document any damage to your truck and contact your insurance provider, let them know what happened, and ask them what your options are as far as getting the cost covered by the bedliner applicator.
HOW TO REMOVE BEDLINER OVERSPRAY FROM YOUR TRUCK'S PAINT
If the above isn't an option, for example, if you purchased a truck with bedliner overspray already on it, or if your DIY skills are a little off, below are the steps and methods to remove spray-in bedliner overspray from least to most aggressive. Removing overspray is a time-consuming process. If you don't use the right tools or products, then you risk damaging your paint in the removal process so be careful.
Assess the Damage: Light amounts of overspray may be removed by sponging it with a simple mix of water and dish soap. Intense amounts of overspray require more laborious measures.
Use a clay bar: Light amounts of overspray may also be removed with a clay bar kit. Clay bars are abrasive, so follow the kit's instructions carefully.
Use olive oil: This technique comes from a detailer we spoke with. Rub the affected area with olive oil and a terry rag cloth to loosen the spray-in material and make it easier to remove.
Tougher jobs require more intense efforts: A build-up of overspray usually demands a paint-safe scraper or sandpaper to get the job done. If the first three techniques haven't worked, take your truck to a body shop to get the overspray removed professionally.
If you have tried everything to remove overspray and it's still there, then you may need to take a more aggressive path by having a body shop sand, primer, repaint and clearcoat the affected areas.
HOW TO REMOVE BEDLINER OVERSPRAY FROM PLASTIC TRIM
In some cases, bedliner overspray might even get on your plastic trim. Plastic trimming is the most difficult part of your truck to clean overspray. You can't use clay bar kits, scrapers will cause gouging, and other detailing products may cause your plastic to fade. Don't think about using harsh chemicals either, because adhesive remover or paint thinner can melt plastic.
In this worst-case scenario, we found only one viable option. Detailers suggest that you can heat the overspray spots using a hairdryer, then pick off the overspray by hand, bit by bit.
HOW TO REMOVE BEDLINER OVERSPRAY FROM GLASS
If you get overspray on glass, it's much easier to remove. Acetone or a simple window scraper will clean off most spray build-up.
If you have tinted windows, then removing bedliner overspray isn't as straightforward. Chemicals or scrapers can damage windows that are tinted or plastic (like on a camper shell).
Fortunately, you'll never have to deal with overspray if you install the DualLiner truck bed liner.
The DualLinerbed liner offers complete truck bed coverage and works the best to prevent cargo shifting with a Zero Skid rubber bed mat. The DualLiner system is the best of the best when it comes to protecting your truck bed.