If you made the choice to get a spray-in bedliner, you may have noticed overspray on certain areas of your truck. Overspray is any material that got sprayed where it doesn't belong – windows, trim, panels outside the truck bed, etc. We've talked to expert automotive detailers as well as truck owners who know how to remove bed liner overspray to find out what causes overspray and how to get it off various areas of your truck.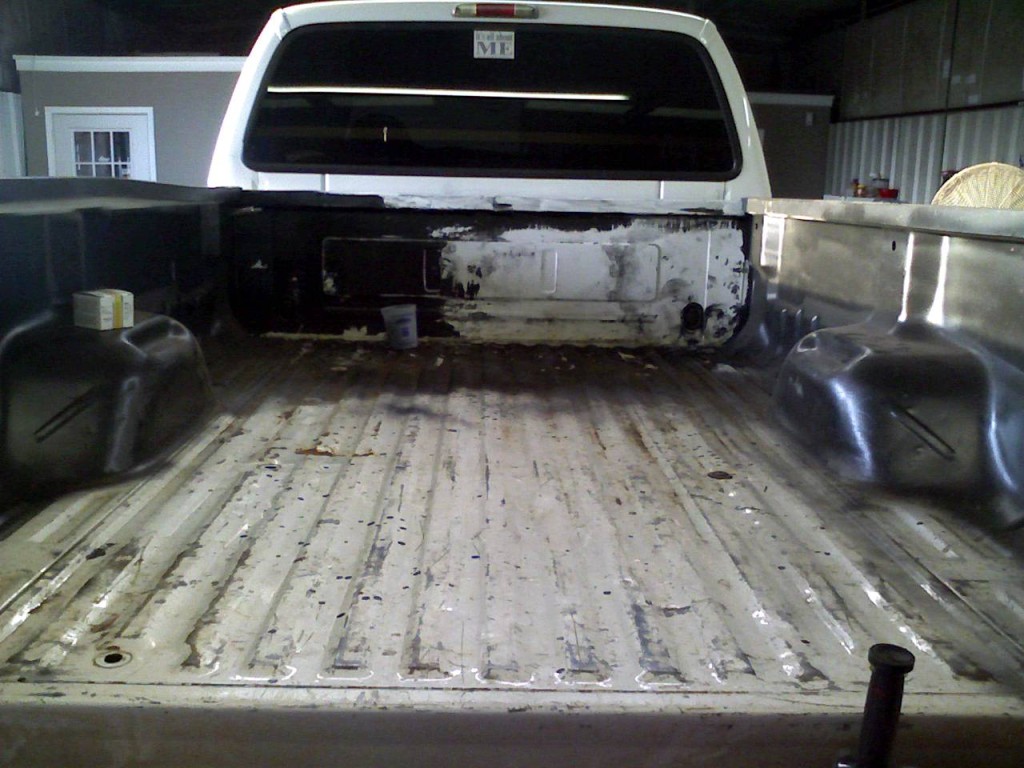 How Does Overspray Happen?
Understanding overspray is a matter of understanding the prep and spray-in bedliner install process. After the installer preps your truck bed's paint job, they should begin masking off all the areas of the truck that aren't supposed to be sprayed. Typically, the following areas are masked off:
All nearby body panels outside the truck bed, including the quarter panels, rear-most doors on the cab, c-pillars on the cab, etc.
The back of the truck cab as well as the roof of the cab
The area down between the cab and the bed (many installers don't mask this gap off, or don't pay much attention because overspray in this area isn't very visible)
The rear bumper, tow hitch, tires and wheels, etc.
As you can imagine, masking off all of these areas takes time. But trying to remove bed liner overspray takes even longer. Some spray-in bedliner installers cut corners, choosing not to fully mask off the truck before spraying the bed.
Additionally, if your truck is parked near another truck that is getting sprayed, overspray is a possibility.
Since installers are often trying to speed up their installation process to maximize profits, overspray is quite common.
How To Remove Bed Liner Overspray From Your Truck's Paint
Trying to remove bed liner overspray from vehicle paint is tricky — paint can be damaged if the wrong tools or products are used. To make sure your truck's paint if protected:
Start by Assessing the Damage. If the spray is light, you might be able to remove it with a mix of water, dish soap, and a sponge.
If a simple wash doesn't work, a clay bar kit can be used to remove light overspray. Just be sure to follow the instructions that come with your clay bar kit closely.
One detailer we spoke with suggested rubbing overspray spots with olive oil and a terry cloth rag to loosen the liner material and make it easier to rub off.
More built up overspray will usually call for paint safe scrapers and possibly even the use of sandpaper. If options 1-3 don't work, it's probably time to take your truck to a body shop.
Finally, if you have to remove bed liner overspray using more aggressive methods, it's likely that your truck's clear coat has been damaged. At this point, it might be a good idea to document the damage and contact your insurance provider about getting the overspray fixed (your insurance company can sue the spray-in installer).
How To Remove Bed Liner Overspray from Plastic Trim
If the person who sprayed your bed is really "talented", they may have sprayed your plastic trim. Plastic trim pieces are the most difficult to clean when it comes to removing overspray. Clay bar kits are not recommended for use on plastics, they'll have very little effect anyway. Other kinds of detailing products meant to remove overspray can fade plastic quickly, and using any kind of scraper will gouge trim.
Harsh chemicals (like adhesive remover or paint thinner) can actually melt plastics — don't even try them! The only real option we found after consulting a few detailers is to heat the overspray spots with a hairdryer and try to pick the overspray off by hand.
How To Remove Bed Liner Overspray from Glass
Fortunately, it's very easy to remove bed liner overspray from glass. Acetone and/or a simple window scraper (with a razor blade) will remove most of the build up.
However, if your windows are tinted – or if they're plastic (like a camper shell window) – proceed with caution. Scrapers and chemicals can damage tinted or plastic windows.
Finally, don't forget that there's never a problem with overspray when you install a DualLiner.
Click for Bedliner Comparison Chart>
Click for DualLiner Step-by-Step Installation Guide>