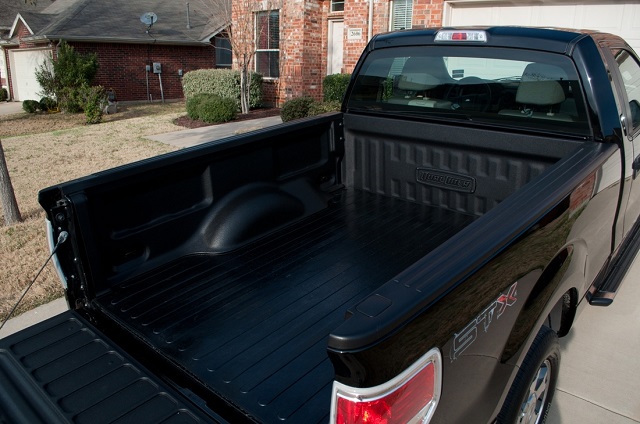 Wondering what a Rhino liner install costs? We conducted a national survey of Line-X and Rhino Liner installers and we learned that the national average install price is $470.41. That's nearly $100 more than a DualLiner (which, for the record, does a better job of protecting your truck bed).
However, that's not the whole story. Rhino Liner installation costs vary from state to state and region to region, as do installation times and installer availability.
Rhino Liner Install Prices By Region
According to our survey data, the region with the highest average spray-in installation cost of $520 included the states of Connecticut, New York, New Jersey, Massachusetts, Vermont, New Hampshire, Maine, Maryland, Pennsylvania, and Rhode Island. If you live in one of these states, a Rhino liner is probably going to cost $100 more than a DualLiner.
On the other hand, if you're fortunate enough to live in or near Houston, Texas, you just might be able to buy a Rhino Liner for about the same cost as a DualLiner – our survey showed the average cost in that region of the country was $390.


But the real question is, why would you want a Rhino Liner when a DualLiner is better?
None of the spray-in liners offer the dent protection of the DualLiner's hard plastic sidewalls and thick rubber floor, which absorb dents.
The DualLiner's ZeroSkid® rubber floor locks down cargo in a way that no spray-on coating can match, not to mention that the rubber floor doesn't scuff or damage cargo the way that a rough spray-on coating can.
According to PickupTrucks.com, the DualLiner's warranty is superior to the warranty offered by Rhino Linings (which, for the record, doesn't warranty their product for commercial use like DualLiner)
The DualLiner ships free and takes 20 minutes to install. You don't have to drop your truck off at some shop for a day, wait for an installer to do their job, and hope that they do it correctly.
When it comes right down to it, a DualLiner offers more protection, a better warranty, a better installation experience, and according to our survey a much lower cost than a Rhino Liner too.
Click for Bedliner Comparison Chart>
Click for DualLiner Step-by-Step Installation Guide>