A letter from a DualLiner customer…
Best Bedliner for the RV'er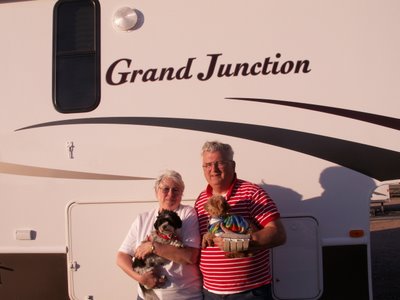 As a long time RVer I have owned several different trucks and several different campers as well. We actually started camping in a tent when our children were little, then moved up to a travel trailer after a few years. The move into a travel trailer was really nice as far as camping goes but towing this huge box had its challenges. We eventually moved up to a fifth wheel and love how it tows and it is way easier to hook up and maneuver than the conventional travel trailer. The only drawback to a fifth wheel is the fact that you have a hitch mounted in the bed of your truck and this makes it more challenging to find a bedliner to fit.
When I was searching for the best bedliner for my needs, I had several requirements that the bed liner had to accomplish. The first being the ability to work perfectly with the fifth wheel rails that the hitch mounted to. Second, the bedliner needed to protect my truck from dents, as you know when you go camping, you have to bring camp fire wood. The third requirement that the bedliner needed was the ability last several years, without fading or deteriorating. Last it was of great importance to me that bedliner would not harm my truck (obviously).
Drop-in's cause so much harm to the trucks finish I ruled that one out right away. Spray On bedliners don't provide enough dent protection for the way I use my truck, so I ruled out that one too. These requirements narrowed down the possible contenders to one, the DualLiner truck bedliner. The DualLiner provides more protection than the others and it will not damage the trucks finish. That was "HUGE" for me, as I just spent more money on my new truck than what I paid for my first house (really). I was really impressed with the zero skid mat, it kept whatever I had in my trucks bed from sliding around. Since the fifth wheel hitch is right in the middle of the bed, I decided to order two zero skid mats, one I for when the hitch is in place (I just traced the fifth wheel hitch rails and cut those pieces out) and one for when the hitch is out. The DualLiner has a lifetime warranty so we know it will last for many years to come. It was like the DualLiner was made exactly for my needs (and I suppose every other truck owner). Thank You DualLiner for such a wonderful product.