Sportsmen Tested and Approved!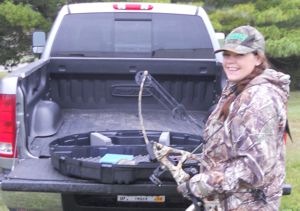 A fan recently wrote to us to express the following:
I, like many others, use my truck as a tool to get myself out of the city and into the woods. I love to spend time in the great outdoors, it doesn't really matter what I am doing I enjoy every minute of it. During the summer I search for new fishing spots, hit the trails on my 4 wheeler, and take my kids out for a fun day of exploration. In the fall I deer hunt, which means a lot of trips into the woods scouting for signs of deer activity and checking my trail cameras. In the winter I do a lot of ice fishing and snowmobiling. Each of these activities requires me to carry a bunch of stuff in the bed of my truck.
I bought my truck new from the local dealership and I asked my salesman if he recommended any particular bedliner, he said that he has a DualLiner and that he really liked it. So I checked it out and it instantly made perfect sense to me. It was one of those "why didn't I think of that?" moments. Such a simple idea of combining molded plastic panels with a rubber mat to provide the best of both worlds.
I have owned my DualLiner for about two years now and I have definitely put it to the test! I am constantly loading and unloading my four wheeler along with all my other toys. I also use my truck regularly to haul fire wood for heating my home. This would lead me to believe that my truck is getting more abuse than the average truck, and the DualLiner still looks like new. All though the bedliner still looked great, I was curious how the truck was holding up. I pulled out the mat and the sidewall panels and I was surprised (enough to write this letter), I could not find any scratches in the trucks finish or dents in the sheet metal. That is VERY impressive!
Whenever you purchase a product, you can't help but wonder if it is really going to be as good as they claim it is. Take it from me the DualLiner is everything that they claim it to be and that is why it is the only bedliner I will put in my truck."
Do you have any thoughts to share about the DualLiner from a sportsmen's point of view? If so, share them with us!