One of the most common questions we see on truck enthusiast forums or on Facebook groups is "I'm looking to get a bed liner, should I get spray-in or drop-in?". In this article, we do our best to help you make that decision based on your individual needs. We'll give our unbiased view of what's good and bad about spray-in and drop in bedliners.
NOTE: This information is obtained by researching reviews and comments on spray in and drop in bed liners. These are commonly reported experiences that we have read online and have heard from our customers regarding their experiences with other bed liners. As with everything, there are exceptions, and we encourage you to do your own research before making a purchase.
Spray-In Bed Liner Information and Installation Advice
A Spray-in bed liner is just that, a sprayed-in material. The application is done in a paint booth by an installer using a spray gun. Spray-in (or Spray on as it is also referred to) bed liner is basically a thick painted-on coating of 100% polyurethane, 100% polyurea, or a hybrid of both. The specific makeup of the material applied varies from company to company and in some cases within the same franchise locations depending on location.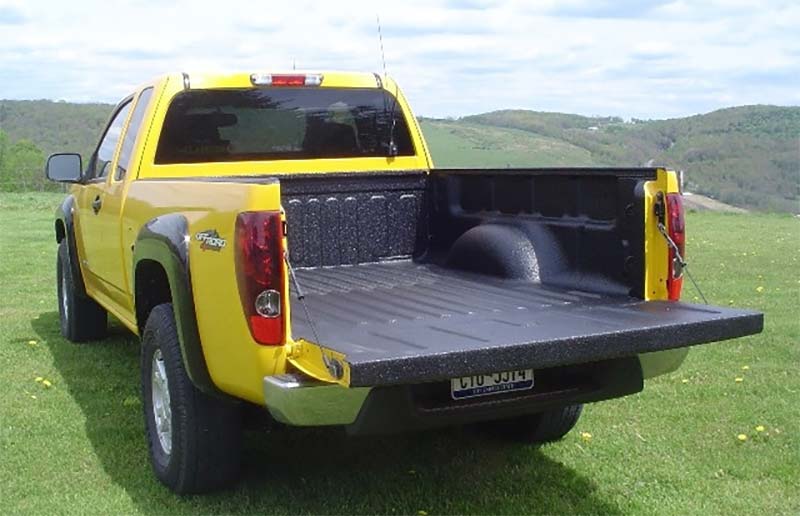 It's important to ask questions, here are a few to consider:
#1 – Is the liner an aliphatic or aromatic coating?
Aliphatic vs. Aromatic – Most spray-in coatings are polyurethane and they harden when exposed to the atmosphere. However, some spray-in coatings are called aromatic and some are called aliphatic.
An aliphatic compound will maintain its pigment (color) better than aromatic compounds. This means a spray-in bed liner using an aliphatic compound will not fade as quickly as one made with an aromatic compound.
The downside is aliphatic coatings are more expensive. If you ask someone who works in the spray-in business, they would agree that the aliphatic coatings are better. Our take on things? If you are not getting a spray-in bedliner made with an aliphatic compound, you should be getting a very good price but you can also expect it to fade quicker.
#2 – What is your specific vehicle preparation process?
Vehicle Prep Process – Spray-in bed liners are essentially just paint, so preparing the surface before painting it is the most important step in the process. A hurried or lazy prep process might not show up right away but eventually, the truth will come out in the form of chipping and peeling of the sprayed bed liner material.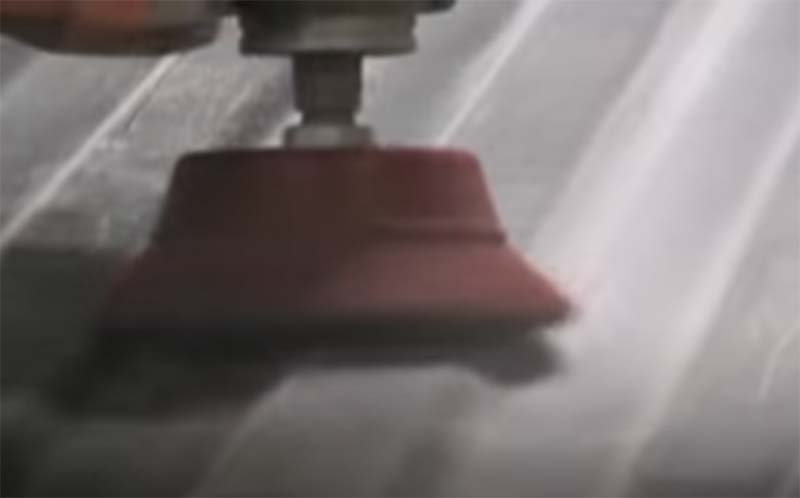 A high-quality prep process will include the following:
Stripping away the truck's bed to the primer or bare metal. This is done using a grinder or sander.
Cleaning of the newly stripped surface
Optional but recommended cleaning with a chemical surface prep solution
Masking of any surfaces of your truck not to be covered with spray-in bed liner. Overspray is a problem with some applicators, and it is very difficult to remove from your truck's paint without damaging the clear coat finish.
Adequate distance between your truck and any other vehicles being sprayed. Ideally, the application process should be done in a ventilated paint booth, but this might not always be available if the shop is trying to get as many done in the day as they can.
#3 – Can I see your paint shop before I buy?
Ask if you can see where the shop and/or installation process – You can learn a lot about how a company does business by seeing the environment in which they do their work. A lack of attention to their workspace means a lack of concern for the quality of their work. Is the shop clean? Is it organized? Are the employees properly protected for the work they are doing? Are the employees attentive, friendly, and helpful?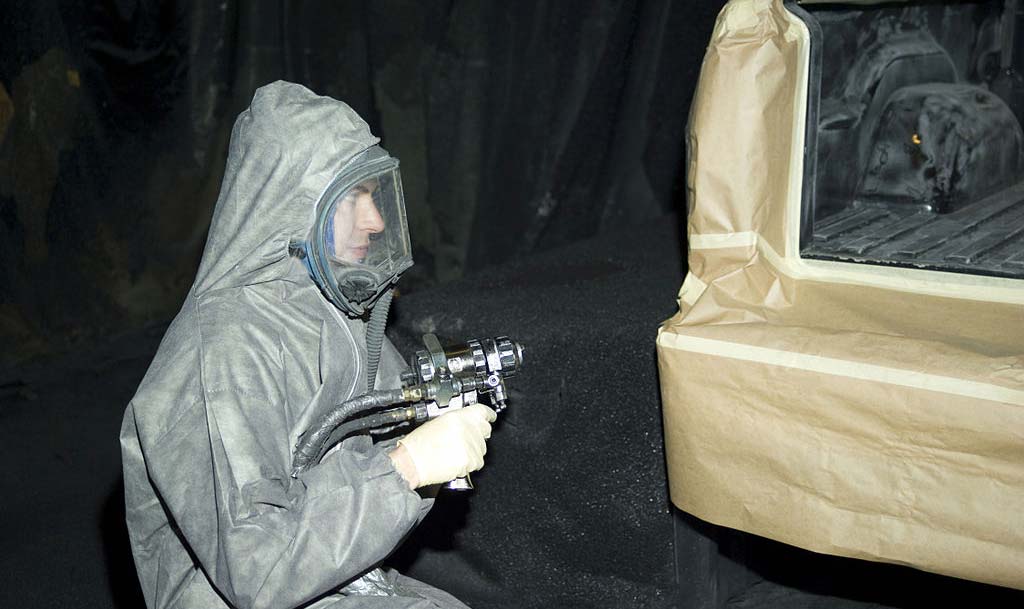 Photo copyright National Institute for Occupational Safety and Health
Spray In Bedliner Pros and Cons
Now that you have some background information, let's look at the good and the bad about spray-in bedliners.
Pros
A professionally applied spray-in bed liner looks very good when applied correctly
Spray-in bed liner can be applied wherever you like as long as the source is prepped as described above. This means you can use it on your bumpers, fender flares or even on the entire body of your truck if you want.
The texture of the spray-in bed liner will generally prevent cargo from sliding around in the truck bed compared to the slippery plastic of a drop-in bed liner.
Cons
The process of installing a spray-in bedliner necessitates destroying your existing factory paint in your truck bed. This will invalidate your truck's corrosion warranty on any parts with a spray-in coating.
Installers of spray-in bed liners need to be professionally trained and have a meticulous attention to detail to do the job accurately and carefully without future problems arising. If shortcuts are taken the results can be terrible. You can find plenty of horror stories about installation failures on several websites.
You cannot remove spray-in bed liner. Once it's applied there's no turning back. Ok, actually, it is possible to remove spray-in bed liner but it's a very difficult and a painstaking process that typically leaves the truck bed looking very bad.
Spray-in bed liner warranties are not the greatest and come with many limitations. This article on PickupTrucks.com goes into more detail.
Lack of protection from dents and dings when loading or unloading cargo. It is essentially a paint and does not protect your truck from dents.
Tough textured surface makes it painful to knell in the truck bed when working.
Expense. The cost of a spray-in bedliner can be as little as $425 and as high as $700 or even higher if you want a color tint or the tailgate covered.
Drop-in Bed Liner Pros and Cons
In the drop vs. spray-in debate, it's not necessary to go into great detail on the installation process. Drop-ins are pretty simple. The only advice we have on the installation "process" is to buy a drop in bed liner that is specifically designed for your year make and model truck.
They do make drop in bed liners that have a universal fit but this just means they were designed to fit in a large variety of truck beds. This can lead to an imperfect fit which leads to a host of other problems. Loose-fitting drop in bedliners scuff your paint and that causes the bare metal which will probably not be seen before it's too late.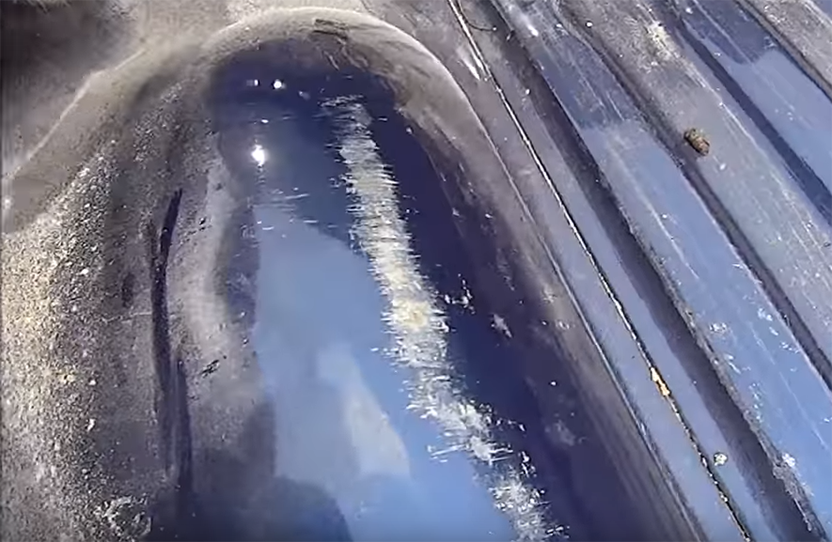 Pros
Low Price – In general, they are inexpensive when compared to spray-in bed liners. Most are in the $125 to $200 range.
Easy Install – Do-it-yourself installation.
Removable – And potentially transferable if your next truck has the same bed dimensions.
Protects – Protection from dents and dings when loading and unloading cargo.
Cons
Poor Quality – Low price generally means a low quality of the plastic used. This type of plastic is vulnerable to cracking and warping. This leads to fitment problems and poor fitment causes scuffs which lead to rust and lowers resale value.
Slick Materials – The surface of most drop-in bed liners is slippery. This leads to cargo sliding around and potential damage to the truck bed's contents.
Traps Water – Drop-in Liners are essentially a large plastic tub, they tend to trap water and do not allow for proper drainage.
Exposed Sheet Metal – Tie-down access is not typically machined to tight tolerances, rather it is an access hole. This reduces your cargo space in the truck and allows water and debris to get trapped under the liner.
Noisy – With poor fitment, you have a loose piece of plastic in your truck bed. On the highway, the wind can get under the bed liner and this leads to noise from the bedliner hitting the sides and floor of the truck bed.
The Best of Both Worlds – DualLiner
DualLiner took the pros of the spray-in and drop-in bed liners and did away with the cons of both to bring you the perfect combination of what you need from a truck bed liner. DualLiner offers the best of both worlds.
✅ Easy to install
✅ Completely transferable
✅ ZeroSkid® rubber floor
✅ Inexpensive
✅ Custom-fit to your truck
✅ Durable
✅ Free of hazardous chemicals
✅ Looks great!
✅ Protection for cargo
✅ Lifetime warranty
✅ Made in the USA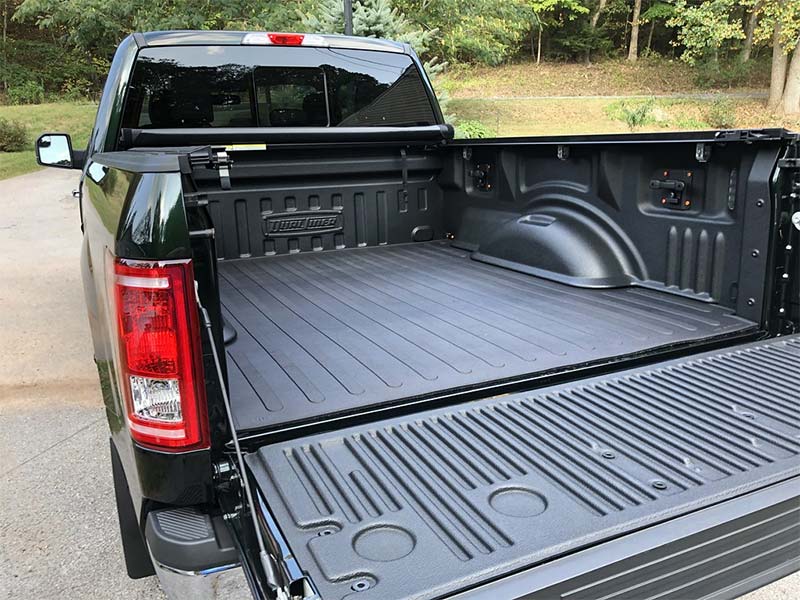 While our opinion on which bed liner you should choose is pretty clear (we think DualLiner is best), we encourage anyone buying a DualLiner, plastic drop-in, or spray-in bed liner to do their due diligence. If you choose a spray-in bed liner, look into the installer completely.
If you opt for a drop-in bed liner, be sure it fits correctly, and consider purchasing a rubber bed mat to improve the cargo control.
Related Posts:
What Does a Spray in Bedliner Cost?
Why You Should Avoid A DIY Spray-In Bed Liner
Spray-In or DualLiner?
Spray-in Bedliner Alternatives