Line-X Cost… Rhino Linings Cost… How Much Do Spray in Bedliners Cost?
Finding out what a spray in (or spray on) bed liner costs is not an easy task. Most companies that offer spray in bedliner service do not list the prices on their web site. Typically, the process starts with filling out a website form and waiting for someone to get back to you.
If they do follow up with an email (and in our research, quite a few did not respond) most of the replies did not include a quote but instead gave us a phone number to a local franchise. Keep in mind that independently owned franchises set their own pricing, below is what our research revealed. Your experience depending on location may be different.
We contacted 12 different companies and provided the same truck year, make and model information. Below is a list of the quotes we received. The price listed for each was their lowest, some offered color tinting or texture add-ons that would increase the price. Of the quotes we received, the minimum cost of a spray in bedliner is $425 and the maximum is $700. The average cost to have a spray in bedliner installed is $512.
| | |
| --- | --- |
| Spray In Bed Liner Installer | Minimum Cost of Spray In Bed Liner |
| Toff | $425 |
| ArmorThane | $450 |
| Speedliner | $459 |
| Bullet Liner | $475 |
| Gardit | $475 |
| Rhino Linings | $499 |
| Xtreme Liners | $499 |
| Scorpion Coatings | $500 |
| Line-X | $525 |
| Zeibart Rhino Linings | $553 |
| Leonard USA | $578 |
| Reflex Liners | $700 |
Additional Notes on Spray In Bedliners and Installers
The length of time to install the spray in bed liner varied greatly between installers. We were advised the truck was needed for Four hours on the low end up to a whole day for install.
The wait time for an installation appointment was 3.5 days for some and nearly 40% of installers not able to schedule us in until after 4 days.
20% of the installers we contacted did not respond at all.
A Word of Caution
Apart from providing the information about what spray-in bedliners cost, the inconsistency in finding information aligned with something we hear from our customers almost every day:
Spray-in bedliner installers are hit-or-miss.
There are some spray-in bedliner installers that did a great job at a fair price and others that charged an exorbitant price or rushed the job to get it done as quickly as possible.
Be sure to do your due diligence and investigate the installer before getting a quote. Look at their reviews, ask around, call and talk to a representative of the business.
Better yet, go with DualLiner instead. For $489.00 it's less expensive than a spray-in bedliner and it won't chip, crack or peel off.
If you have a full-size Ford, GMC, Chevy, or Dodge RAM truck, you can get a custom-fit bed liner for your truck.
Our unique interlocking technology ensures that your entire truck bed is covered in tough protection. With a true lifetime warranty, our made-in-the-USA truck bed liner will last the lifetime of your truck. For more information see this page or select your truck's year, make and model on our home page and find a bed liner custom made for your truck.
Click for Bedliner Comparison Chart >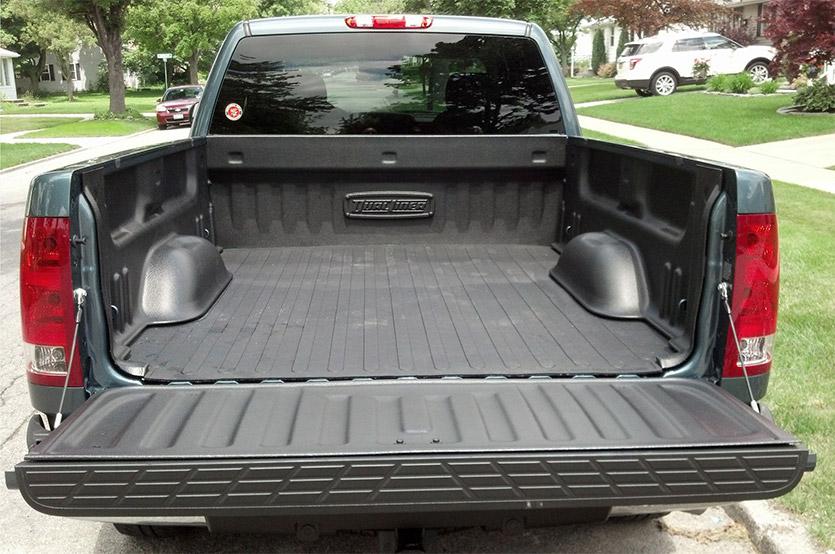 Additional information on spray-in bedliners:
How to Remove a Spray-in Bedliner
Why You Should Avoid a DIY Spray-in Bed Liner
DualLiner vs. Spray-in Truck Bed Liners