In the past truck owners had to choose a bed liner that was the lesser of two evils.
They could either choose a damaging "Drop In"; bed liner or a "Spray On"; bed liner that required the trucks finish to be sanded off and only provided minimal scratch and dent protection. Thankfully today there is an alternative to the "Drop In"; and "Spray On"; type of truck liners.
"Drop In Bed Liners"; were great for protecting the trucks sheet metal from dents, but they were absolutely horrible on the trucks finish. Since they were designed to fit multiple trucks, there was a lot of wasted space that could otherwise be used for cargo. These large areas behind the liner would collect dirt, dust, and debris. While driving down the road these "Drop In's"; would shift around the trucks box and grind the sand/dirt against the trucks finish, eventually wearing the trucks paint off and leaving bare metal totally unprotected. You add some rain or snow to this equation and the end result is rust, and lots of it, all underneath the "Drop In"; so the trucks owner has clue that this is happening to their truck.
"Spray On Bed Liners"; quickly became the most popular type of bed liner after the "Drop In's"; problems became more well known.There are many different types and brands of "Spray On's";, but they all seem to share these same drawbacks. Over time it is very likely that they will fade and discolor, which was a big problem for those of us that hang on to our vehicles longer than the average person. Another drawback to many truck owners is the liner provides. Even though the thickness may vary from installer to installer, heavy cargo could easily scratch the material off leaving exposed sheet metal (because the trucks finish is sanded off so the chemicals can adhere to the metal). Again based on the thickness of the material, some "Spray On's"; provide very minimal dent protection.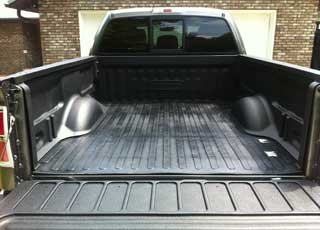 "The Alternative"; is a truck bed liner developed to provide the maximum amount of scratch protection. The Dual Liner uses exact fit panels that are shaped to the contour of your trucks sheet metal, this prevents the panel from shifting and thus prevents your trucks finish from being harmed. Each panel is made from thick thermoformed polyethylene (which is one of the most durable materials available) that absorbs incredible amounts of force and spreads it over a much larger surface area to provide more protection against dents.
Dual Liner is made from UV treated materials which will stand up to even the most harmful rays from the sun for a very, very long time. Dual Liner's unique Zero Skid mat keeps your cargo safe from freely sliding around and crashing into the sides of the trucks box. Another nice feature is the fact that you can take it out of your truck to clean it properly or if you are you want to wax the entire truck. This bed liner also comes with a Lifetime Warranty so you can be sure it will stand the test of time. The whole idea was to bring to market a truck bed liner without the drawbacks of its predecessors, and that is exactly what Dual Liner has done!