Truck bed covers, often called tonneau covers, are truck accessories that cover your truck bed. Truck bed covers are useful for many reasons, including protecting anything you're carrying in your truck bed from weather or thieves, and increasing your truck's aerodynamics for better gas mileage. A truck bed cover is ultimately a pretty simple piece of equipment, but there are still several types out there to choose from.
Choosing the bed cover that's best for your needs mostly depends on how you use your truck bed, the climate you live in, and what kind of security you want. If you sometimes haul taller items in your truck bed, you'll want a bed cover that can easily be removed or rolled up out of the way. If you live in a place with extreme weather, you'll probably need something made of more durable and solid material.
The good news is that whatever type you choose, you can easily use it with a DualLiner truck bed liner as it installs under the bed rails and won't get in the way of a cover.

Types of Truck Bed Covers
There are several types of truck bed covers on the market and they can generally be broken down into categories based on material, retractability, and how easy they are to install. The less complex and heavy-duty the bed cover, the less it usually costs as well. Let's take a look.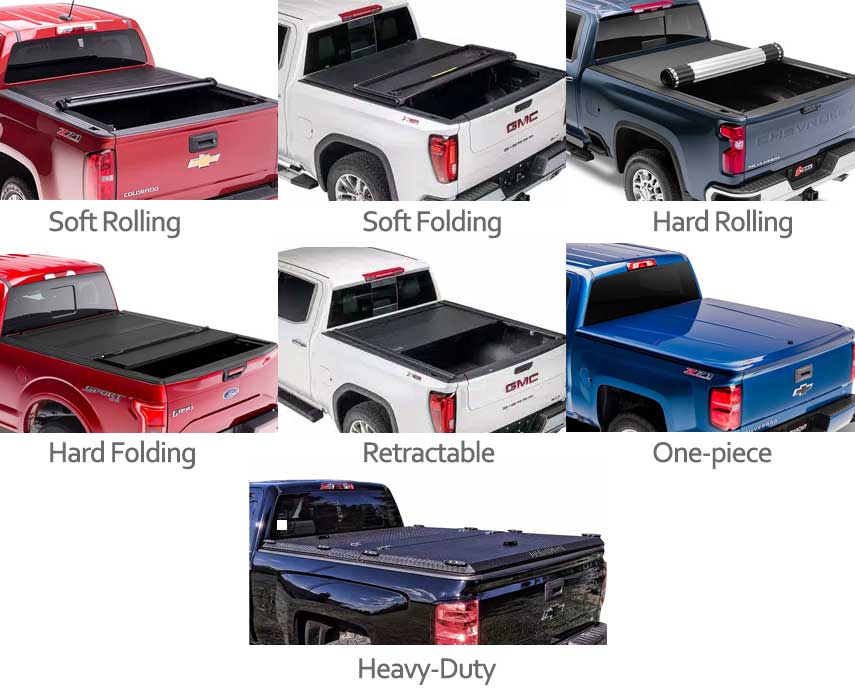 Soft Rolling Truck Bed Covers ($149-$699)
The soft rolling design uses a durable vinyl cover that stays in place via rails mounted on the sides of your truck bed. As the name implies, this type of cover opens by rolling up toward the front of your truck. A strap then holds it in place if you need the cover out of the way. Soft rolling covers are typically on the lowest end of the price spectrum for truck bed covers. These covers are also among the easiest to install.
Soft Folding Truck Bed Covers ($236-$723)
The soft folding style of truck bed cover is similar to the soft roll-up in that they are compact and easy to use. These covers are also generally made with vinyl attached to a hard frame, so they're a bit more durable than the soft rolling covers. As the name implies, these covers fold back toward the front of your truck in sections rather than rolling. This is also one of the most inexpensive truck bed covers.
Hard Rolling Truck Bed Covers ($979- $1,219)
Hard rolling covers are a fairly small category with only a few brands making this style. These are similar to a soft roll-up, but they use an aluminum substrate beneath the vinyl top to increase security and weight capacity. They may also use a quick-release mechanism, which allows you to remove the entire rolling part of the cover when you need full access to the truck bed.
Hard Folding Truck Bed Covers ($371-$2,475)
Hard folding covers are very similar to the soft versions, but they're typically made of stronger materials like aluminum and fiberglass-reinforced polymers. This gives your truck bed cover more security against thieves or extreme conditions. Hard folding covers fold back in pre-measured sections toward the front of your truck.
Retractable Truck Bed Covers ($999-$2,999)
Retractable covers roll in and out of a canister that is mounted behind the cab of your truck. These covers are usually made from durable materials like polycarbonate or aluminum. Despite being one of the more expensive options, retractable covers give you the same easy utility as hard or soft rolling covers but with more security and durability.
One-piece Truck Bed Covers ($1,053-$2,920)
One-piece truck bed covers are exactly what they sound like: a single piece of material that covers your truck bed. These covers are usually raised like a lid to give you bed access and they often come with locks. Fiberglass is the most common material used and it can be painted to match the finish of your truck. They might also be made of hard plastic.
Heavy-duty Truck Bed Covers ($1,950-$3,095)
Heavy-duty truck bed covers are similar to one-piece or hard folding covers in that they're made of hard material that either lifts or folds in one or two sections. However, these bed covers are made of exceptionally sturdy and durable material that allows you to haul a large amount of weight on top of the cover.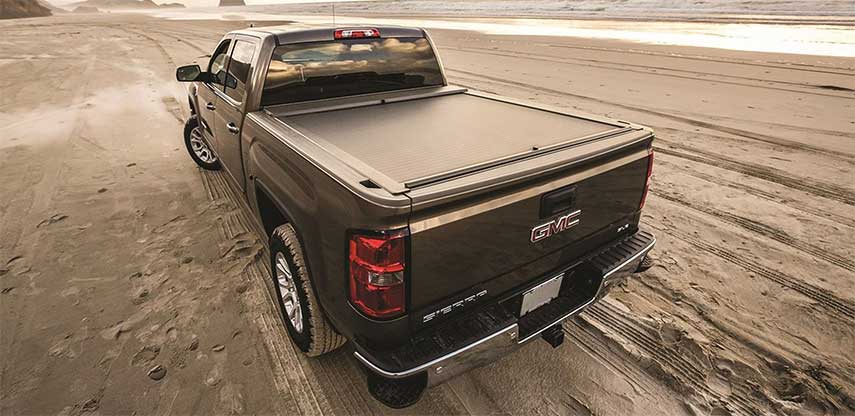 Best Truck Bed Covers For 2023
Most of the truck bed cover categories have quite a few brands within them to choose from. That's why we've narrowed down the very best two from each one to help you decide.
Best Soft Rolling Truck Bed Covers
Tyger T1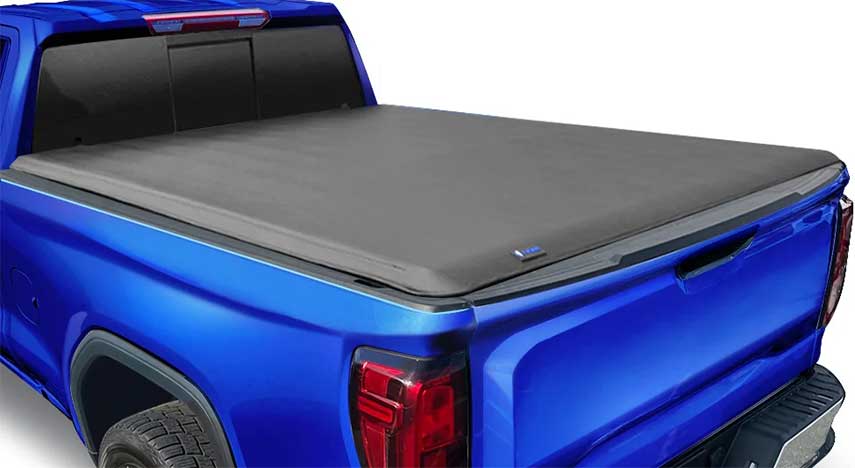 The Tyger Auto T1 soft rolling truck bed cover features a marine-grade 24-ounce vinyl tarp with a quick-release mechanism to roll up and lock the cover to the back of the cab. Velcro strips seal the sides and a latch lock system seals it at the tailgate. Installation is easy and requires no drilling or bed liner modification if you have an under-the-rail setup.
TruXedo Pro X15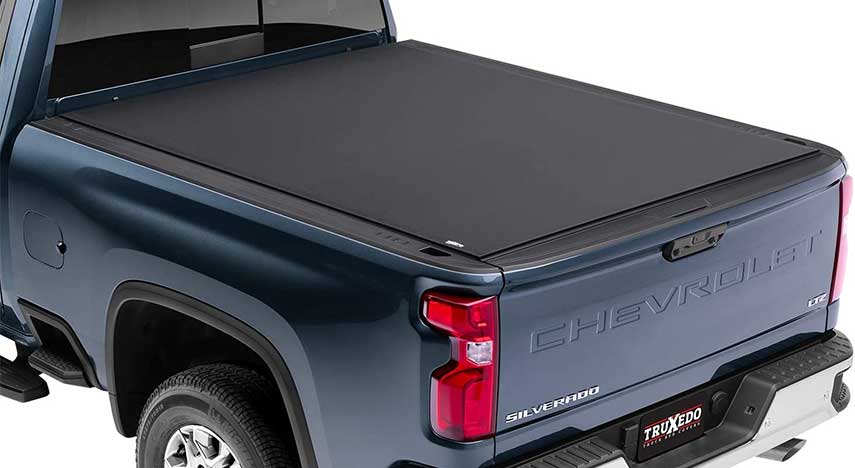 The TruXedo Pro X15 also features a quick-release system to ensure that the cover can be removed in sections for full bed access. This cover is made from durable woven fabric and has a matte black appearance for a stylish and sleek look. The anodized trigger latch allows you to open the cover with only one finger, then roll it closed easily to store your cargo.
Best Soft Folding Truck Bed Covers
Tonno Pro TonnoFold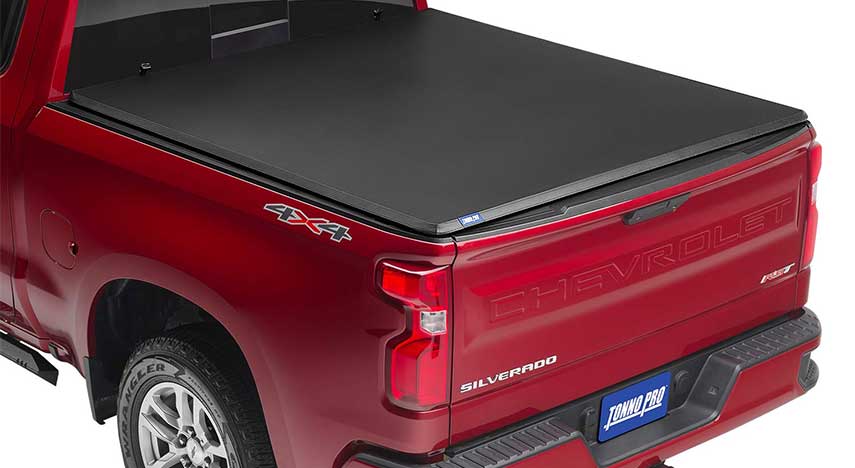 The Tonno Pro TonnoFold soft tri-folding bed cover features a double-sided vinyl top that is tear-resistant and durable enough to handle wind, rain, and snow. Beneath the vinyl top is a powder-coated aluminum frame to give an additional layer of protection from everyday use. The TonnoFold cover is delivered completely assembled, which makes installation a breeze with no drilling required. The cover can also be quickly and completely removed in minutes to haul tall cargo in your bed.
Extang Trifecta 2.0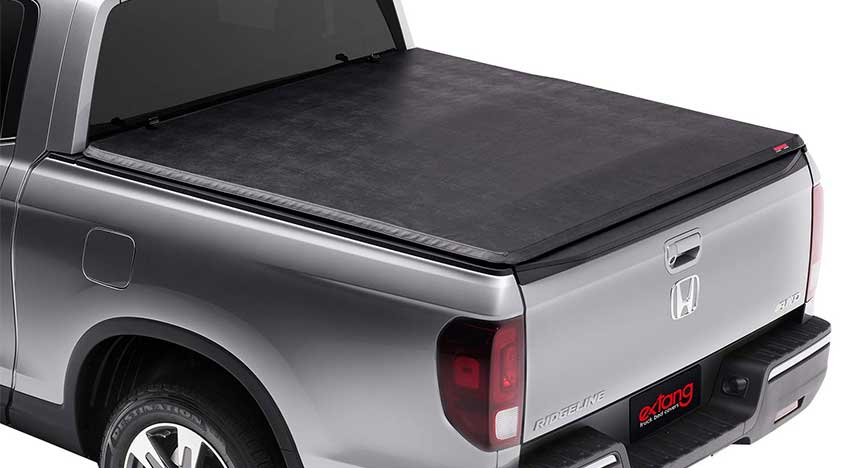 The Extang Trifecta 2.0 tri-fold soft truck bed cover offers an easy folding design made of heavy-duty canvas. This cover is easy to install with no drilling or assembly required. You simply position the cover on your truck bed and tighten the clamps. The canvas construction does offer more durability versus most vinyl covers.
Best Hard Rolling Truck Bed Covers
TruXedo Sentry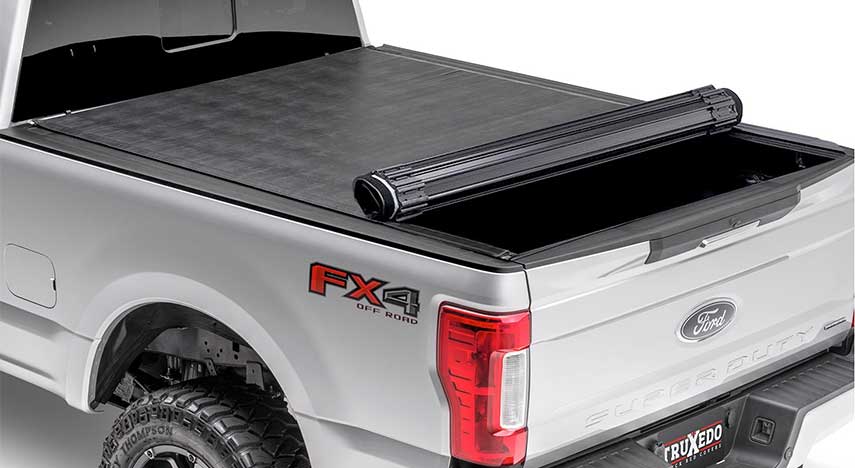 The TruXedo Sentry is an all-new model that uses leather-grain vinyl fabric paired with heavy-duty aluminum slats. The cover rolls up tightly to the cab to give you full bed access without blocking your visibility or the third brake light. With the cover closed, you'll enjoy a flush mount profile that results in a sleek look and improved aerodynamics. Installation of this cover is quick and easy, and it doesn't require any drilling or special tools.
BAK Revolver X4s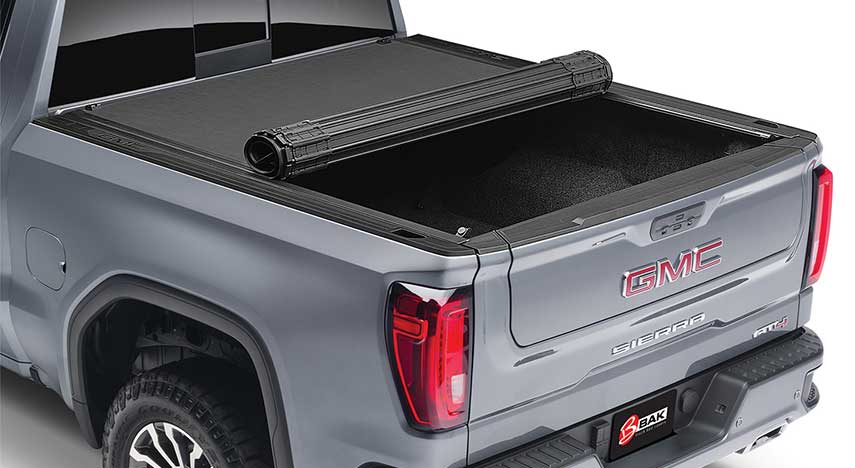 Another top hard-rolling option is the BAK Revolver X4s. This cover is constructed with marine-grade vinyl and aluminum slats. Rotational locking rails secure the cover across the entire truck bed, but it offers complete bed access when fully rolled up. Installation is a breeze with no drilling required, and it comes with a five-year warranty.
Best Hard Folding Truck Bed Covers
BAK BakFlip MX4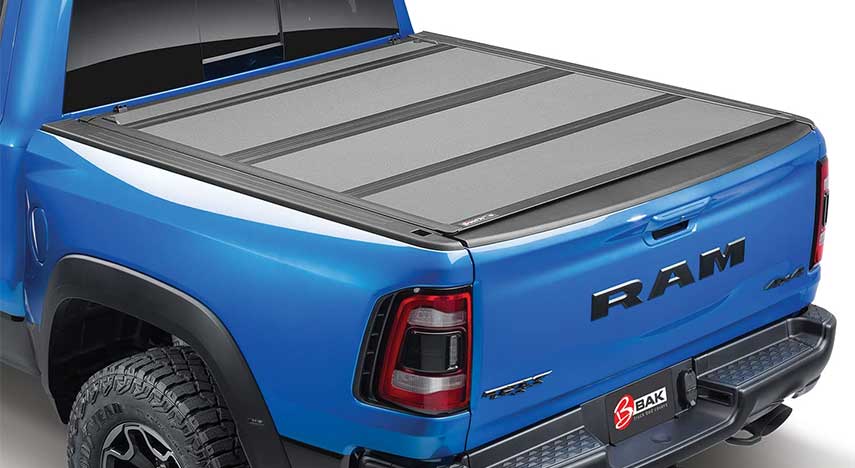 Also by BAK, the BakFlip MX4 is a top-quality hard folding cover that provides superior weather resistance, security, and low-profile aesthetics. This hard folding cover folds up right against the bulkhead to provide full bed access. Simple, no-drill installation means you'll be ready to go in no time flat. With alloy-material construction, this hard cover can't be easily sliced through with a knife. It's also installed flush against your bed rails to disappear into your truck's profile.
UnderCover Armor FLEX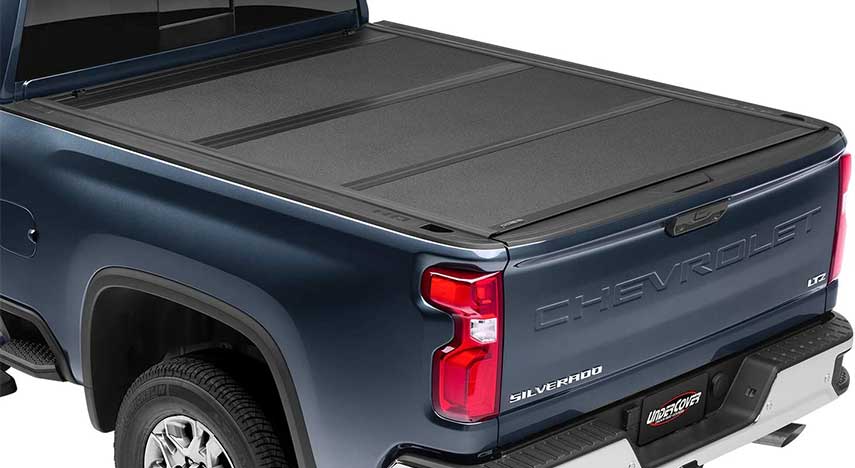 The UnderCover Armor FLEX is a hard folding cover made with heavy-duty panels coated with Premium Grade LINE-X that fold into three pieces. It features a dual-action tailgate seal that allows you to close the tailgate with the cover up or down. Like the BAK covers, this one comes with a five-year warranty for peace of mind.
Best Retractable Truck Bed Covers
Retrax PowertraxPRO MX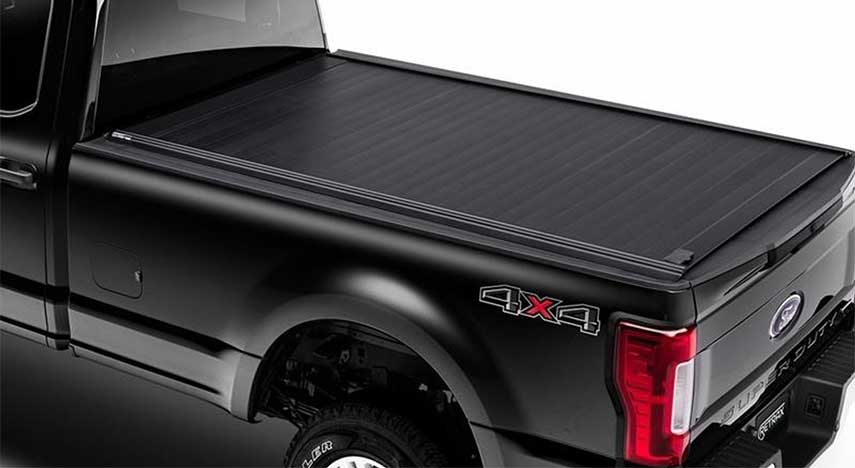 The Retrax PowertraxPRO MX features easy electric operation using a wireless key fob to open and close the cover. It is constructed from industrial-strength aluminum slats and then covered with a durable matte finish. The cover can lock in any position along the truck bed rails with an electromagnetic brake. This allows you to have the full hauling ability of your truck bed.
Roll-N-Lock E-Series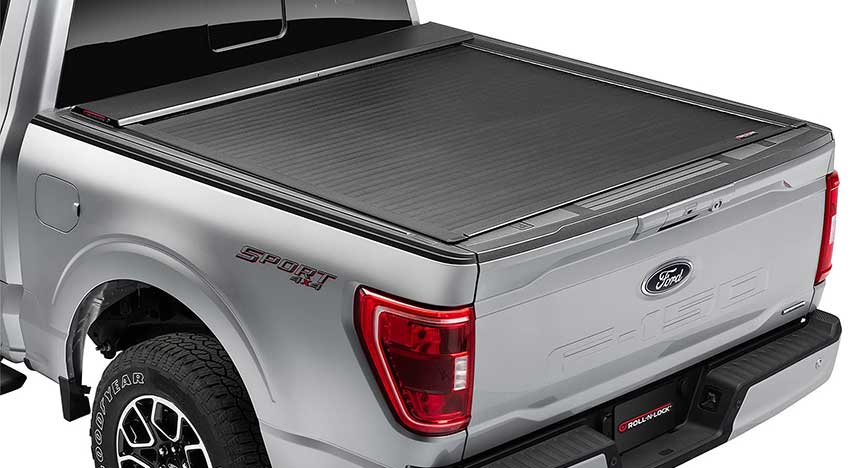 Like the Powertrax cover above, the Roll-N-Lock E-Series retractable cover offers wireless operation with a key fob. This means easy, hands-free access to your gear within seconds. The E-Series cover can also lock at any point on your bed rails to give you flexible hauling ability. Another great feature of this cover is that it has an intuitive sensor that detects if anything is in the way before it retracts.
Best One-Piece Truck Bed Covers
UnderCover Elite LX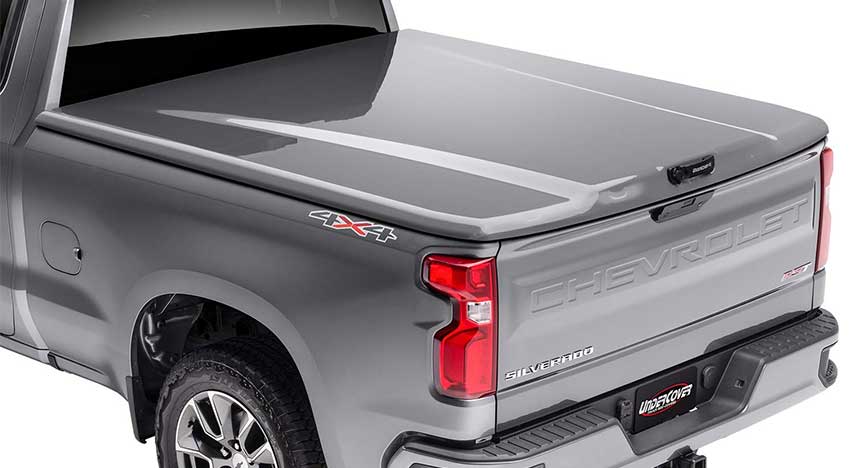 The Elite LX by UnderCover offers the sleek and premium look of a one-piece cover with a flawless paint job that can be matched to the color of your truck. The underside is lined with carpet for a quality feel, and a bright LED light system is installed at the rear of the cover to make it easier to find stuff in your truck bed. It also comes with a Cargo Retriever tool to help you get things at the back of your bed without climbing in.
Stowe Cargo Systems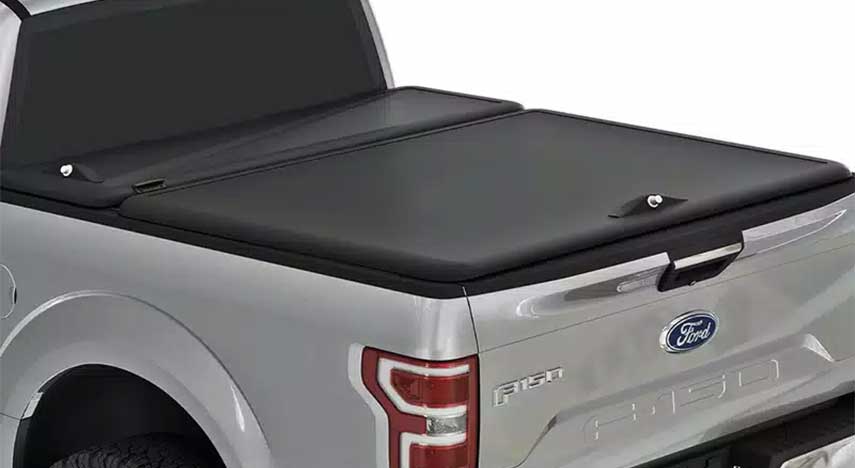 If you want a one-piece bed cover system but don't want the painted look, the Stowe Cargo Systems has you covered with a composite material cover paired with an aluminum frame. The protective, watertight fit keeps out dust and debris, while also being tough enough to withstand attempts to break in. Installation is easy and the cover is protected with a three-year warranty.
Best Heavy Duty Truck Bed Covers
DiamondBack HD
The DiamondBack HD bed cover offers a choice between rugged black, smooth black, and aluminum finishes, as well as loose or preinstalled anchor cleats. When you need a really tough truck bed cover that can carry up to 1,600 pounds and features full weather protection and a deadbolt-style lock system, this cover is one of the top choices. The heavy-hauling ability of this cover means you have both your bed and the top of it for cargo.
Renegade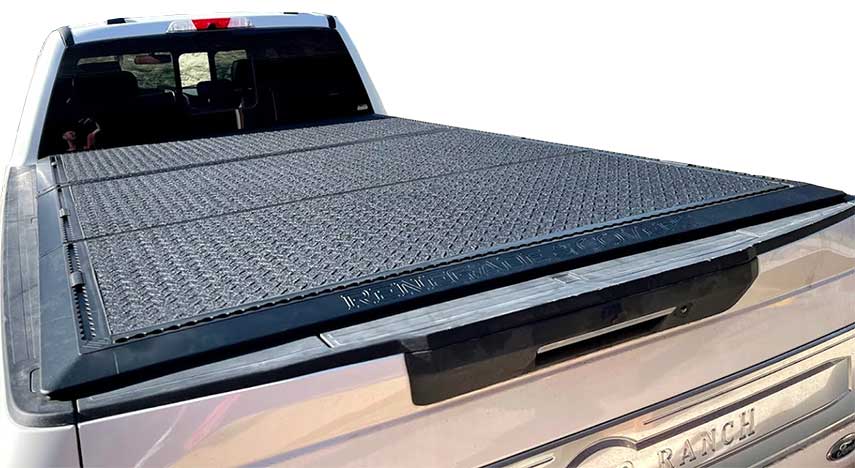 Another top choice for heavy-duty bed covers is the Renegade brand. This cover can hold up to 2,000 pounds and is made with military-grade aluminum. The cover is weathertight, and lockable, and comes with tie-down anchors and four heavy-duty anchor points. Installation is easy with no drilling required.
Regardless of what bed cover you choose, you can rest assured that the DualLiner truck bed liner system is compatible. The DualLiner bed liner offers complete truck bed coverage and works the best to prevent cargo shifting with a Zero Skid rubber bed mat. As the truck bed covers mentioned above, the DualLiner system is the best of the best when it comes to protecting your truck bed.