Trucks are pretty expensive vehicles, so naturally, most owners want to protect their investment. There's no doubt that the area of a truck that sees the most abuse is the truck bed. However, it's also one of the main reasons people buy trucks in the first place.
Whether you use your truck for work or as a daily driver, it will be incredibly difficult to keep your bed from absorbing dents, dings, scratches, and moisture. The best way to protect your truck bed is with a bed liner. But which type should you choose?
These are the main categories of bed liners.
We believe that DualLiner is the best bed liner available on the market, but it's important to know the features and drawbacks of different types of truck bed liners so that you can make an informed decision. Let's take a look.
Best Truck Bed Mat
Bed mats are a type of protective liner for your truck bed that covers it with a weatherproof material. These liners don't include any protection for your sidewalls, wheel wells, liftgate, or the area behind the truck cab but they do a good job of keeping cargo from sliding around and are relatively easy to clean.
Typically, bed mats range in price from around $80 to $200. For 2023, we've chosen bed mats by Husky and WeatherTech as the best in this category.
Husky Liner Heavy Duty Bed Mat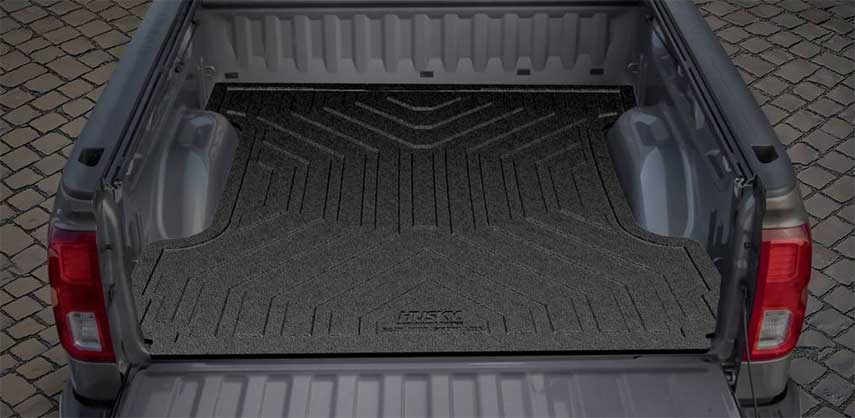 The Husky Liner Heavy Duty Bed Mat is made from rubberized DuraGrip material to protect the truck bed from damage, but the material is also soft enough to protect cargo from shifting or getting scratched.
A cushioned foam surface provides an anti-skid effect as well. One downside of bed mats is that moisture can get trapped between the mat and the bed. Husky Liner boasts air-dry nibs that slightly elevate the mat to allow air to pass through and dry any moisture.
The Husky Liner Heavy Duty Mat is easy to install without any tools. It simply drops into your bed and can be pulled out the same way. The price range of the Husky Liner Heavy Duty Mat depends on the vehicle. For example, the mat for a 2020 Ford F-150 with a 5'7 bed is priced at $120.95.
WeatherTech TechLiner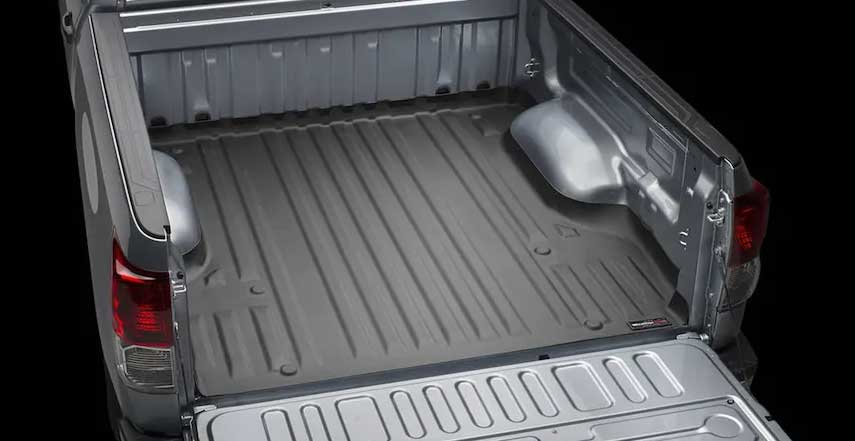 The WeatherTech TechLiner also boasts an easy install that doesn't require tools. Like the Husky Liner, the TechLiner system provides a soft-touch material that protects cargo and makes it easy to load and unload.
TechLiner is made from a thermoplastic elastomer that is 100% recyclable. It is also durable and UV resistant. TechLiner claims a custom fit to conform to the exact shape of your truck bed. The price range for the TechLiner is listed between $64.95 and $264.90.
You'll need to confirm fitment by entering the make, year, and model of your truck.
Best Drop In Bed Liner
Drop-in bed liners are shells in the shape of a truck bed that you simply drop into your truck's bed. Like bed mats, these liners are not permanent and can be removed. Also like bed mats, they can trap dirt and debris between the mat and the bed.
This is even more likely with drop-in bed liners, however, as the elements can warp the liner and make it less fitted to the bed. Another problem is that these liners have a looser fit, which can cause friction against the paint of your truck bed.
Drop-in bed liners do protect your cargo and bed well enough, but they simply don't last as long as other types.
BedRug Impact Liner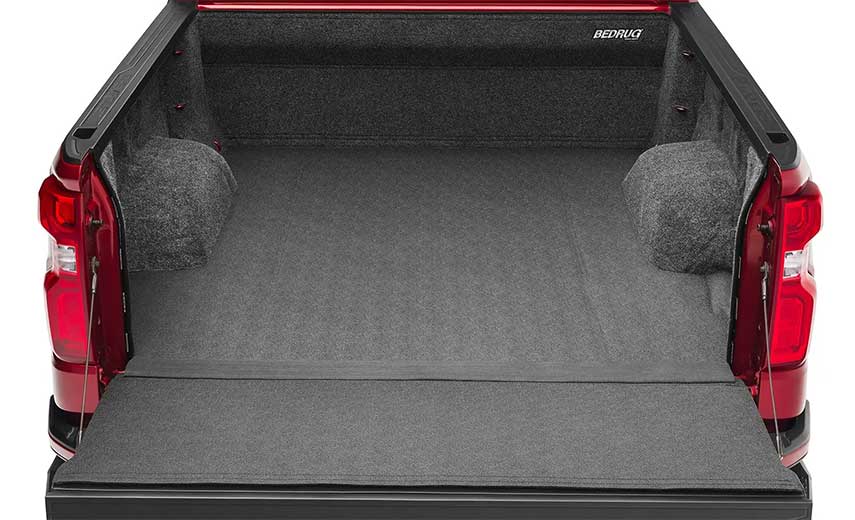 The BedRug Impact Liner starts at $408, but you'll want to confirm your vehicle for an exact price. The main benefits of this liner include rugged construction, an anti-skid composite surface, and a 3/4-inch thick floor pad to protect against impact.
BedRug products are made from a fiber material that looks great and claims to be impervious to chemicals and UV rays. Despite the fiber appearance, the BedRug liner is made from 100% polypropylene (basically plastic). Installation requires basic hand tools and isopropyl alcohol. It drops in as one piece.
DuraLiner

The DuraLiner system is made from durable and recyclable material that resists UV rays as well as most chemicals. This liner is designed to provide skid resistance and to keep cargo from shifting.
It boasts a custom fit with no-drill installation as well as convenient extra features like stacking board holders and tailgate cupholders. DuraLiner makes liners that fit just about every make and model of truck available. The price is $289 for all versions.
Best Spray-in Bedliner
Spray-in or spray-on bedliners come in two types–professionally applied and DIY bed liners. The winners for best spray-in bedliners are professionally-applied liners as these tend to work out much better than DIY bed liners.
Spray-in bedliners offer 100% coverage for your bed and are good at deadening the sound. However, these liners are also permanent, and commercial use is generally not covered under warranty.
The other issue with this type of liner is that the application and prep work can be inconsistent and is only as good as your local shop. Considering that these liners are permanent, that might be a difficult sell for some people. The price for spray-on bed liners ranges between $355 to $600.
Line-X Bedliner
Line-X Spray-On Bedliners protect your truck bed with a durable coating sprayed by expert technicians. As one of the most popular spray-on liners on the market, Line-X bedliners resist chemical staining, prevent leaks and rust, and do not crack, peel, or bubble.
You can also get custom color options with Line-X bedliners and there is a noticeable sound-dampening effect. Line-X also boasts that their liners can be repaired to new quality if they begin to degrade.
Rhino Linings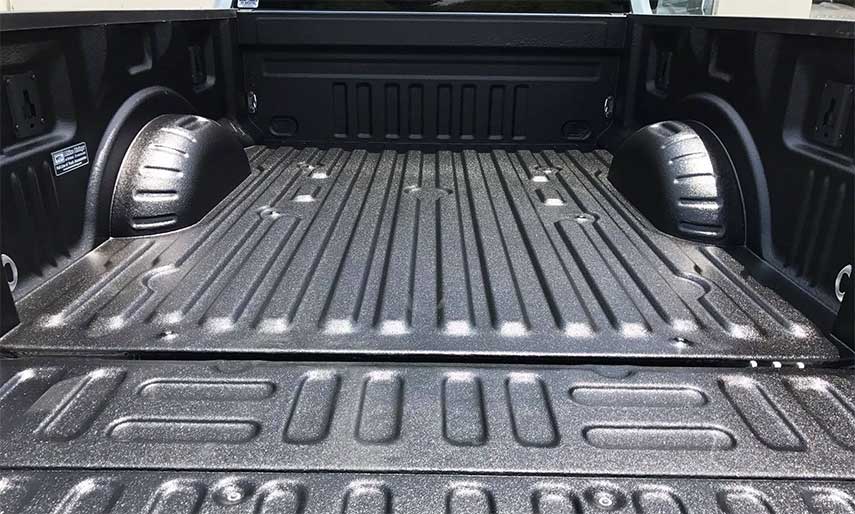 Along with Line-X, Rhino bedliners are also one of the most popular brands for spray-on liners. These liners are sprayed directly onto your truck bed to coat it with a durable layer of material that is airtight and impact-resistant.
Factory-trained technicians apply these liners, but you'll want to check with the shop doing the job and make sure that it's reputable. For example, dealerships often sell Rhino Liners with new trucks. Like other spray-on bedliners, Rhino Liners are a permanent solution for coating your truck bed.
Best Truck Bed Liner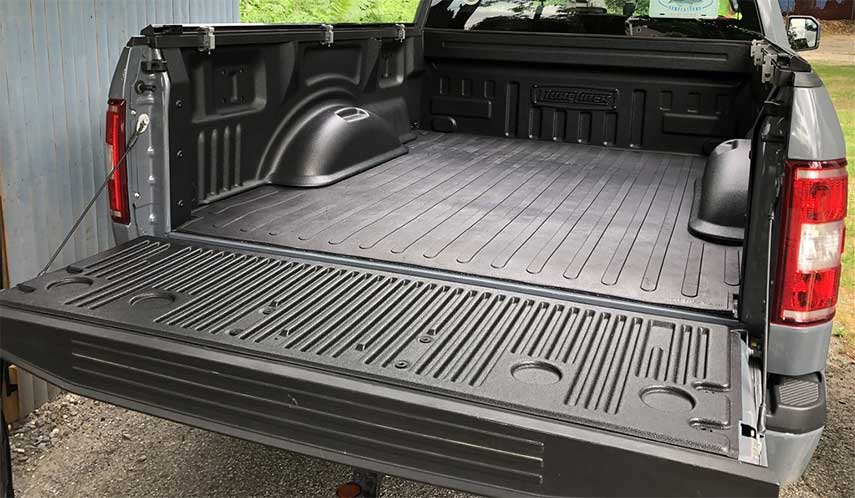 DualLiner is our choice for the overall best truck bed liner. The price range for a DualLiner truck bed liner is between $489 and $519. This is a hybrid system that uses four or five interlocking pieces that fit together to make a complete bed liner.
The DualLiner bed liner offers complete coverage of your truck bed and it keeps cargo from shifting with a thick ZeroSkid rubber bed mat. This bed liner is easy to install and requires no drilling or permanent coating.
It's custom-designed to fit your truck perfectly and will not stop water from getting to your truck's drain holes, which ensures that moisture is not trapped beneath.
DualLiner is made in the USA, and offers a lifetime warranty and free shipping! This is the complete package that protects your entire bed, is easy to install, and is easy to remove. That's why it's our choice for the best overall truck bed liner.
$489.00
MOST MODELS
& FREE SHIPPING
But don't just take our word for it, hear what Cars.com said about how they came about choosing DualLiner as their choice for best bed liner in the video below.
Find Your Next Truck Bed Liner Below