Are you considering buying a plastic drop-in bed liner? If you are, you probably think that a plastic bed liner gives your truck bed a solid defense against the elements. But if you knew what was happening underneath a drop-in bed liner, you might change your mind! If you've never had the opportunity to look underneath a plastic bed liner, we recommend you check it out below. What you see may shock you.
The problem with a drop-in bed liner is that it's just a piece of hard plastic that sits on top of your truck bed's painted finish. There's nothing from keeping the bed liner in place other than a few screws. With a loose bed liner, debris can easily get caught underneath, or it can shift around in your truck bed. So when you lift up a bed liner and take a look, you might find damage and rust.
Here's a picture of a pickup bed after a drop-in plastic bed liner was removed.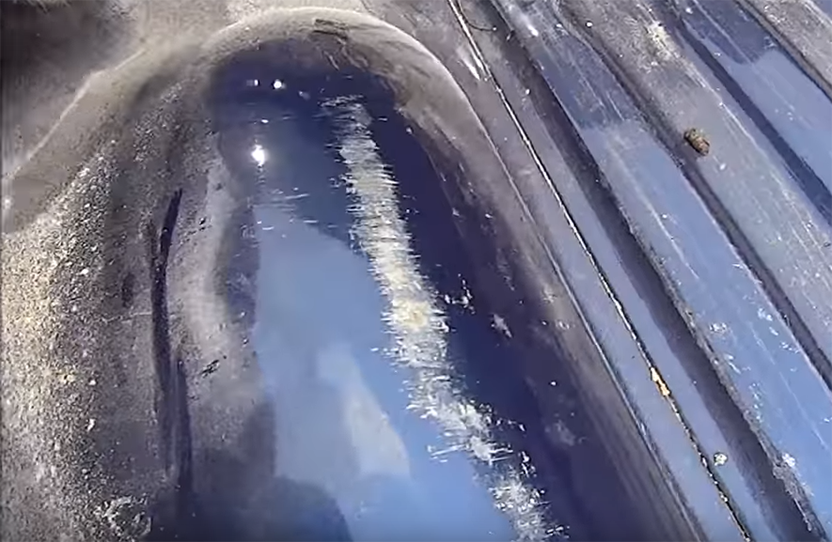 Scratches From Drop-in Truck Bed Liners Invite Rust
Drop-in bed liners offer truck owners little in the way of truck bed protection. These "protective liners" are only good for scratching up your truck. These liners are loose pieces of plastic with little to no fastening which leaves them free to slide around in your truck bed. The constant shifting rubs away at your paint job.
Although you may think it's easy enough to hide the scratches with your liner, this damage isn't just cosmetic. When the liner scratches your paint job down past the primer then the metal underneath becomes fully exposed. After that, there's nothing to prevent rust from setting in.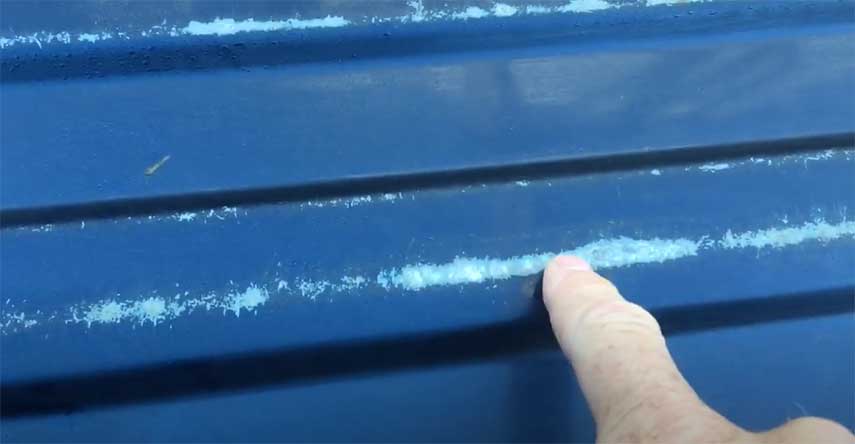 DualLiner succeeds where other truck bed protection cannot. Our soft rubber ZeroSkid mat prevents scratches and protects your paint job. Unlike drop-in liners, our mat stays firmly in place. As a bonus, it'll also help protect your bed against impacts.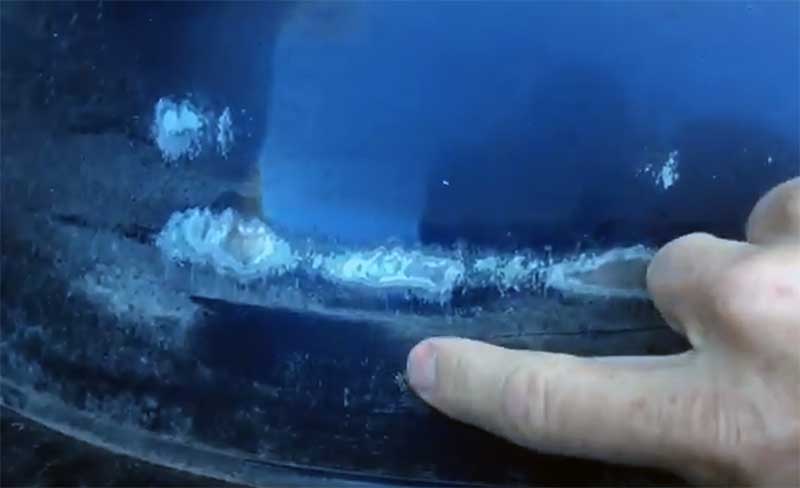 Ouch! Those scratches caused by a drop-in bed liner go down to the base primer coat. This drop-in liner was in the truck for two years, and it's close to getting down to bare metal.
Debris Traps Moisture, Adding to the Drop-in Bed Liner Problem
Think about all the different materials you might haul in your truck bed: mulch, gravel, yard waste, etc. All these things can get caught under your bed liner. Even leaves can find their way underneath. Any time you drive your truck you risk getting exposed to debris, so odds are you'll find any or all of these undesirables underneath your drop-in bed liner.
When debris gets trapped underneath your liner, moisture gets trapped underneath too. All that water sitting underneath can lead to rusting. DualLiner is easy to remove and doesn't allow debris to get under the bed liner.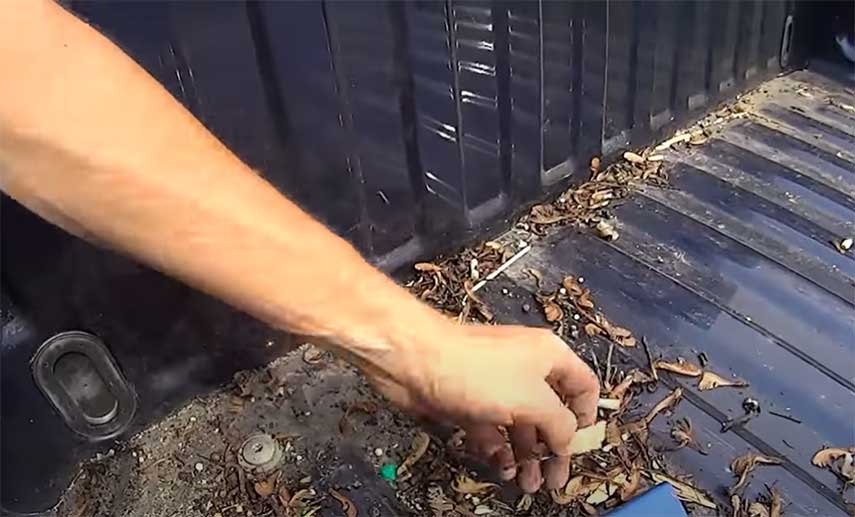 Water Is Ok If It Can Drain Unrestricted But Drop-In Liners Can Block Drainage
Water trapped under your bed liner isn't a huge issue if you have a way to drain your truck bed. Truck beds inevitably come into contact with water so every bed has built-in drain holes. However, some drop-in bed liners block your drain holes and trap water inside your bed, which leads to rot and decay.
The DualLiner system works with your truck's factory drain holes and lets water drain freely. It also helps promote airflow to further help keep your truck bed dry and rust-free.
Below is a graphic of how the DualLiner works, showing a cross-section of the mat on your truck bed. The DualLiner's ZeroSkid rubber mat has nibs that keep the bed liner raised, allowing airflow and preventing your drain holes from being blocked.

How Does DualLiner Compare To Drop-In Bed Liners?
Compare for yourself! Compared to a drop-in bed liner, the DualLiner truck bed liner offers much better bed protection. The benefits are obvious. The DualLiner won't damage the bed itself because the ZeroSkid rubber mat is made to stay in place and prevent scratching.
The truck bed mat also allows for proper water drainage in your truck bed. And if you're worried about debris getting trapped under your DualLiner truck bed liner, it's easy to remove. You can simply pull the mat out of the sidewalls and fold over the mat to clean out the debris. DualLiner isn't just the best bed liner, it's the only truck bed liner that works.