Trucks are versatile vehicles, and one of the main reasons for that versatility is the truck bed. There are a lot of great ways to use your truck bed, but a truck bed pool is not one of them.
You might have seen some examples of truck bed swimming pools on reality shows or on the internet, and it certainly seems like a fun idea on the surface. Truck beds are pretty roomy and relatively deep. You can just cover it with a waterproof tarp and fill it with water, right?
Unfortunately, it's not quite that simple. There are a lot of reasons why a truck bed pool is not a good idea and very few reasons why it might be. Let's break down the idea of a truck bed swimming pool and take a look at why it doesn't really work.
Water is Heavy
One of the main reasons why a truck bed pool is a bad idea is that water is extremely dense and heavy. Your truck's bed is only rated for a certain payload weight, and most trucks on the road today would not be able to handle a full bed full of water.
To compare, redwood weighs about 28 pounds per cubic foot. Crushed asphalt weighs about 45 pounds per cubic foot. Water weighs 62 pounds per cubic foot, which makes it one of the heaviest things you can put in a truck bed.
To see how this might work in practice, let's take the 2022 Ford F-150. The bed volume of the standard 6.5-foot bed is 62.3 cubic feet. If you filled this bed up with water, it would weigh about 3,888 pounds.
If you added five people weighing an average of 150 pounds, you'd have another 750 pounds of weight. That adds up to well over 4,600 pounds. Unfortunately, the maximum payload of a 2022 Ford F-150 is only 2,238 pounds. As you can see, that's not even close to enough to handle a full swimming pool. Even if you fill the bed half-full of water, it's still not strong enough.
Naturally, when you go to consider other 1500 models or even smaller trucks like the Toyota Tacoma or Ford Ranger, the numbers don't get any better. The bed volume gets smaller, but the payloads also get smaller.
Can Any Truck Bed Handle It?
You might be saying, ok, but what about if I have a really big truck? The maximum payload of a 2022 Ford F-350 is 4,713 pounds, and the bed volume is 78.5 cubic feet. A full bed of water will be just under 4,900 pounds.
Add in five people, and well, it's pretty easy to see that the math won't add up there either. However, in this case, a bed half-full of water only adds up to about 2,449 pounds. If you add five people with the aforementioned average weight, you'll end up with about 3,200 pounds. The Ford F-350's payload covers that pretty easily. It's also true that other HD trucks like the Chevy HD 3500 have even bigger payloads than the Ford. Slam dunk, right?
Other Reasons Why a Truck Bed Swimming Pool Is a Bad Idea
Even if you have a really big truck and are careful to only fill it half-full, the weight is not the only reason why a truck bed pool is a bad idea. First, you might want to consider that these HD trucks that can probably handle a bed half-full of water cost well over $60,000 to start.
A high-quality in-ground swimming pool should only cost half that. Larger above-ground swimming pools will cost even less.
If you want something portable, there are plenty of options out there that you can carry in your truck bed to your recreation spot and then set up…outside the truck bed. Instead, your truck bed can be home to other cargo and refreshments for swimmers.
The other reason why a truck swimming pool is a bad idea is that water and your truck bed don't really mix. Truck beds are constructed with drain holes to ensure that the bed doesn't fill up with water after a heavy rainstorm.
It's generally best if your truck bed doesn't come in contact with a lot of water, which is why many people invest in bed liners and bed covers to protect their truck beds from water.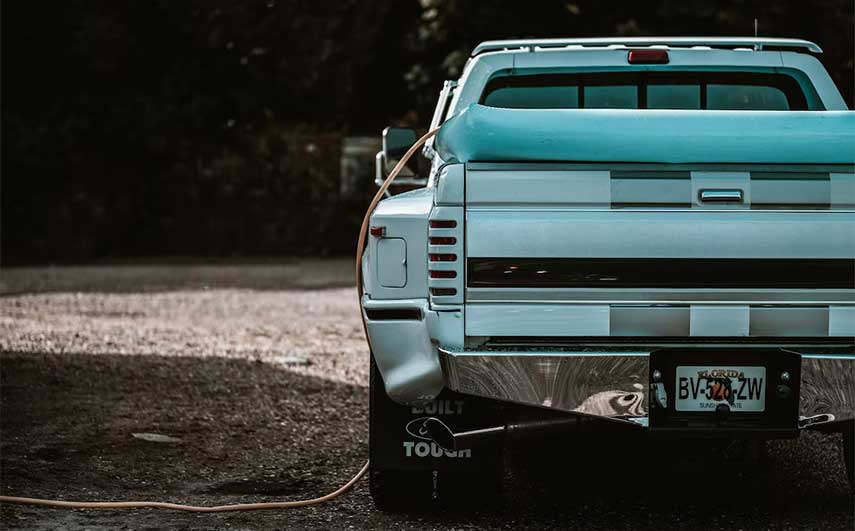 How To Make a Truck Bed Swimming Pool
So let's say you have an old junk truck or truck bed on your property and you want to turn it into a swimming pool. That could definitely work in a pinch. This is especially true if the bed happens to be detached from the truck.
Then you can proceed to line the floor and sides of the bed with a tough tarp. It's important to check the old bed for anything sharp before you line it with a tarp. You don't want anyone stepping on anything sharp and obviously, you don't want it to puncture your tarp.
Once that's ready, you simply fill up the old truck bed with a garden hose. It's important to remember that this may take some time considering how much a truck bed can hold. Once the pool is filled and confirmed for safety, you can hop in and enjoy.
Obviously, if you do have a large truck as described above that can handle a certain amount, these same tips apply. But it's also important to note that you should never drive the truck while it's filled with water.
In general, truck beds simply aren't meant to be swimming pools. The vast majority of trucks on the road can't handle even half a bed of water, much less the people inside of it.
Another important point to make is that some people think that water gets trapped under the truck bed liner. This only happens if the bed liner is poorly made. DualLiner bed liners are designed to have a waterproof fit that doesn't interfere with your truck's drain holes.
Your truck's bed deserves the best protection, and DualLiner is the top choice on the market with complete truck bed protection.