One of the features of every DualLiner that we're most proud of isn't really a feature at all. It's a commitment to integrity and a commitment to quality. We're talking about the fact that every DualLiner is made in America, by American workers using American materials. We want it to be the best bed liner available today.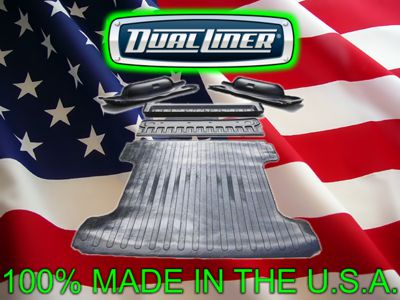 In our increasingly globalized society, a shocking percentage of auto parts and accessories are made in foreign countries, even if the name on the box is an American company. It's becoming more and more difficult to find genuine domestic products. Sure, it makes the product cheaper for you, but are the savings really worth it?
We feel it is our responsibility to play a small part to help restore the reputation of the United States as a manufacturing powerhouse by creating good job opportunities and durable high-quality products that our customers can count on for years to come. Every time you purchase an American-made product like our DualLiner bed liner, you help put money in the pockets of families and workers in the United States who can then spend their hard-earned money and keep our economy going. That's why 100% of the price you pay for our product stays in the USA and works to make our domestic economy strong.
Sure, we could save a few bucks by outsourcing the manufacture of DualLiner bed liners to a foreign country and increase our profit margin, but there are things that are more important than profit margins. At DualLiner, we believe that it's important to keep the American economy growing by fairly paying our workers so that they can support their families and the future of our nation.
But not only is Made In the U.S.A. better for the American economy, it's better for every one of our customers. The high-quality, professional craftsmanship of our American workforce allows us to offer you a REAL LIFETIME WARRANTY on every product we sell. Our competitors simply cannot offer anything even close. Yes, foreign labor would be cheaper but the quality issues we'd encounter would cost us money and customers in the long run and we could never afford to stand behind our product and guarantee it forever.
So when people ask us "why not outsource production," we ask them right back "why would we?"