The DualLiner Bed liner will not damage your truck!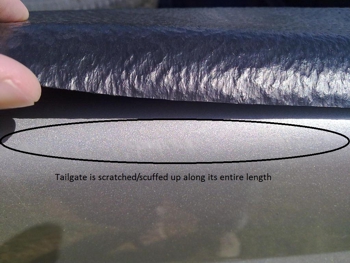 When looking for a bed liner for you truck bed it is important to consider the facts the right bed liner will protect your truck bed. The wrong bed liner will damage your truck bed. There are many reasons why a truck bed liner can damage your truck take a look at a few.
Trapped Water Under A Bed Liner
A plugged drain hole can quickly lead water pooling under your bed liner. When the water has no way to drain that's the perfect place for rust and corrosion to get started. Since some drop in liners are not so easy to get in and out it makes it hard to inspect drains that may be neglected.
Vibration Noises
Bad fitting drop in bed liners make great surfaces for wind to get behind. That can mean wind noises sometime. And it is a really annoying noise that will not take long to drive you crazy. In either case, a poor fit likely means a noisy liner that may be almost more than it's worth.
Worn Paint
A poor fitment can mean more than just noise. A liner that moves and vibrates makes more than just noise too. A liner that is always moving around may very well wear away paint and that can cause a big problem. That means another place for rust to get started. What was meant to protect a pickup bed can lead to early decay.
Most plastic bed liners take almost any sort of abuse without the least damage to the liner or the truck. But watch for a good fitment and keep a careful watch for clogged drain holes. or it will cost you big in the end the result may be a corroded truck bed as well as a noisy ride for you. One solution is the new type of bed liner on the market called the Dualliner with a completely different design for a liner that comes in 5 pieces instead of just one big plastic piece. Dualliner is a custom fit bed liner for your truck and will avoid all these problems if you want a real truck bed liner that will not damage your truck bed and give you 100% truck bed and cargo protection then check out the dualliner truck bed liner.