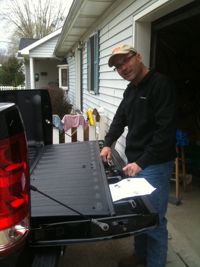 Bedliner technology has evolved quite a bit over the years, from the days when the only option was the old drop-in, to today's market, where several options are available. Truck bed protection is very important in maintaining the resale value of your truck, and you really must be sure to get something in your truck bed as soon as you get your new truck home. Spray-in's are a widely used option, but recently their durability has come into question.
The problem with spray-in's is that they will all eventually fail in one way or another, causing you to have to either have the entire surface of the truck bed removed and replaced, or take some other action to restore your truck bed. Pitting that occurs on the surface of the spray-on will not always be easily repairable, and the material does not patch well at all.
Take it from a truck owner, if you were to buy a spray-on, the first time you drop a sharp corner on the truck bed, you will not feel well. Forget about the condition of your spray-on if you're planning on using it as a work truck, most liquids used in construction will definitely cause damage to the spray-on, most of the time being irreparable.
Drop-in's used to be the only solution available for a long time, and, if you've had a good amount of highway driving experience, you've probably seen one or two laying on the side of the highway from time to time. These drop-in's are on the side of the highway because they blow out of the back of people's trucks, causing a dangerous and potentially harmful/fatal incident. This condition is produced by a fatal design flaw — the liner simply isn't an exact fit, allowing air to get trapped between the surface of the truck bed and walls causing lift. Forget about keeping your cargo in place with a drop-in as well, and always remember that they are very slick when they are wet.
The DualLiner bedliner addresses all of these issues and then some. Forget about your load moving around anywhere, you load it in your truck bed, and it stays in the same position. This means the freedom of being able to load things near the tailgate of your truck, and having them be there when you open your tailgate again. The 3/8 rubber floor will make it nearly impossible to gouge your truck bed, and it keeps the water that runs through your truck bed traveling through the factory channels, so no alteration is required, and drainage isn't affected. Cracking and sun-fading, which are constant problems with spray-on's and drop-in's, is totally circumvented by our special UV-treatment that is added at the time of manufacture. The DualLiner also preserves the resale value of your truck, which, in today's economy, is extremely important.
What about finding a dealer? Don't worry, the DualLiner ships right to your door. How will I get it installed? The DualLiner installs in 30 minutes, and, in most instances, requires only light hand tools. It's really one of the most innovative installation designs around, focused around using the existing structure of your truck bed to insure not only a tight, but extremely accurate fit. It must cost a lot to ship that big box, how much? We know how tough the economy is, and we want our customers to enjoy the lowest prices possible. Due to some creative shipping negotiations by our office, we are able to offer free shipping to the continental United States.
Knowing what you want in a bedliner is something that everyone must consider themselves, but remember, a damaged truck will hurt the resale value of your truck by anywhere from several hundred to several thousand dollars. Always keep in mind that the DualLiner is the most innovative product in truck bed protection on the market today, and will continue to protect your truck for years. Don't get duped into a shotty spray-on or paper-thin drop-in. Get a real truck bedliner, get a DualLiner!