Bedliners and Truck Bed Protection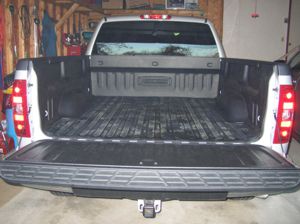 Have you ever bought a product that quickly deteriorated? I have, and it was a lesson I will never forget. I was at my local hardware store and I was dreadfully looking for some deck stain to reapply to my deck since it had been about 4 years since it was done originally. There were several different brands to choose from and they all claimed to last up to a decade. This was where I made the mistake and chose the least expensive option. The savings worked out to be roughly 30.00 total on the three gallons that I had purchased. Since both cans seemed to last the same length of time (according to the labels) I figured I would be wise to save the $30.00.
It took me a couple days to prep and apply the deck stain, once it was complete it look pretty good. Although it looked pretty good at first, it quickly deteriorated in just a few short months. Looking back I should have spent the extra $30.00 to purchase the same exact stain that I had applied originally (it lasted roughly four years). Since the cheaper stain only lasted one year, it ended up costing me several times more than the initial savings. Although this experience was quite frustrating, I did learn a valuable lesson. Now before I make a purchase I make sure that I do enough research to be sure that what I am looking at purchasing is indeed worth the money and that it works as advertised.
When I was looking for a bed liner for my truck, I took roughly a month to make a decision. I check bed liner reviews on the internet as well as forums and blogs to help educate myself. I looked at several different types of bed liners and quickly became intrigued by a bedliner called the DualLiner. It is a new 5 piece bed liner that is made up of precision panels that interlock together to provide maximum scratch and dent protection.
I compared the DualLiner against the conventional drop in bedliner. Sure it was a bit more expensive, but I could easily justify the difference in cost. If your familiar with drop in's then you know they tend to shift around in the bed of your truck, which causes the paint to eventually be worn off. Once the sheet metal is exposed to moisture it is going to rust. With the DualLiner the sidewall panels are shaped to the sheet metal of your specific type of truck so the panels won't shift. The sidewalls also hold the Zero Skid Bed Mat in place. The Zero Skid Bed Mat is 3/8ths of an inch thick and provides excellent dent protection while at the same time securing your cargo from sliding all over in the bed of your truck. The materials that make up the DualLiner are UV treated and covered by a Lifetime Warranty. A Lifetime Warranty is a really good indicator on how long the product is going to last, surely a very long time.
Just because a product is less expensive doesn't always mean that it is a better deal. I found that spending a few dollars more upfront can save you time and money in the long run.