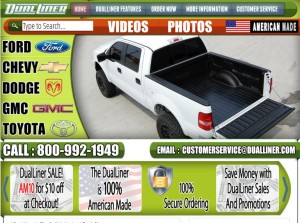 Dualliner Bed Liner Systems is happy to announce the release of the new website design and improved functionality. Dualliners new website design is focused on showing how the Dualliner bed liner system is superior to other Spray On, Carpet, and Drop In types of bed liners on the market today. It has always been Dualliners focus to provide a bed liner that truly protects the truck's bed from dents or scratches. What sets the Dualliner bed liner apart is that it's not necessary to grind off the trucks finish in order to install it, like a Spray On bed liner. Also the Dualliners exact fit panels are molded to the precise contour of your trucks sheet metal so that the panels won't shift all around and cause damage to the trucks finish like a Drop In Bed Liner.
The goal for the new design was for a clean and updated look as well as better functionality that would offer customers a user-friendly site with better access to the information that they would need to make a buying decision.  Dualliner wanted the look and feel of the site to emphasize that their bed liner was developed to meet and exceed truck owner's wants and needs. A lot of time was spent on figuring out what was working as well as what wasn't in order to make it better for their clients. This new design and platform will allow Dualliner to launch a more competitive online marketing campaign going forward.
For more information about the Dualliner bed liner, or to schedule an interview, please call Customer Service at 1-800-992-1949.