Truck Bed Protection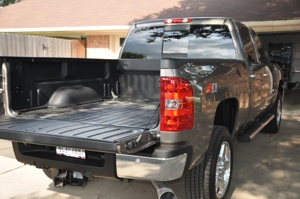 Every three years, or about 50,000 miles, I purchase a new truck. I would say I use and abuse my truck more than the average guy. Years ago, in my spare time, I would buy and sell classic auto parts, this eventually turned into a full time business for me. Cars have always been a passion for me and I love what I do. I will travel hundreds of miles to find a rare fender, an original transmission, or even a set of hub caps for a classic car. When I travel to get these parts I always take my truck because you never know what you're going to find while you're there. I have gone to a junk yard to pick up some tail lights and left with the bed of my truck overflowing with all sorts of parts and pieces. Some of the parts that I buy are very expensive, because they are original and in good condition.
When I was looking for a bedliner for my truck, I wanted to find a liner that would protect my truck and anything that I would haul in the bed. The salesman at the dealership that I bought my last truck from showed me his new 5 piece bed liner, and instantly I was sold on the idea.
I have had a DualLiner in the past two trucks that I have owned, and it works perfectly for me. I can set a car door or even a piece of auto glass right on the bed mat and I don't have to worry about it sliding around and getting damaged. I don't have to worry about the sides of my trucks box getting scratched or dented either because those are protected by the hard plastic panels. Before I had a DualLiner I remember cargo sliding into the wheel wells and making huge dents (I do not miss that, by the way). If you use your truck like a truck (like me), the DualLiner is a great bedliner and I would highly recommend it to you.