Trucks aren't just rugged and dependable –they come with plenty of storage space. Yes, storage space is one of your truck's greatest assets. The more your truck is able to carry, the more you can accomplish. If you want to get the most out of your truck, we have listed 8 great accessories for maximizing your truck bed storage.
1. DualLiner Bed Liner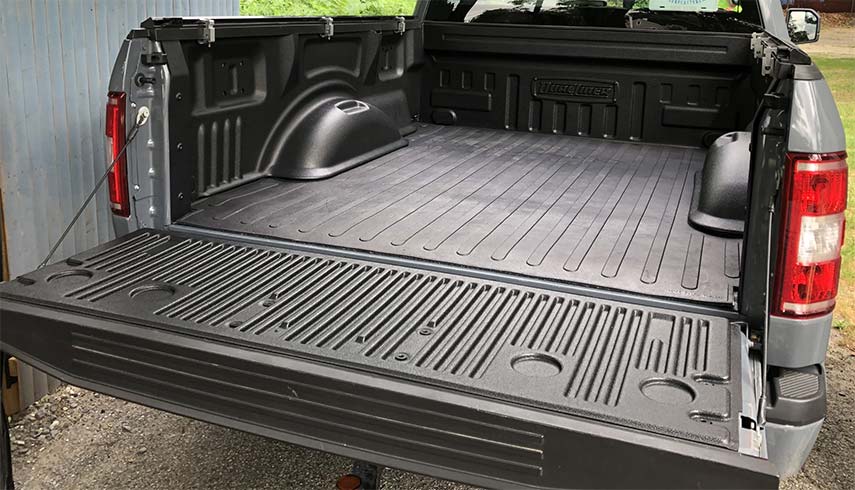 You have to start with the basics. Work truck accessories shouldn't just organize your cargo, you should also be investing in ways to keep your cargo protected. The DualLinertruck bed liner is an easy and relatively inexpensive way to keep your cargo from getting damaged.
This interlocking bed protection system includes a ZeroSkid® rubber floor mat to prevent cargo from sliding around your truck bed while you drive. The DualLiner system's hard plastic walls and thick rubber floor mat help protect your truck bed too. No other bed liner offers you the same level of cargo control and bed protection.
2. Tool Box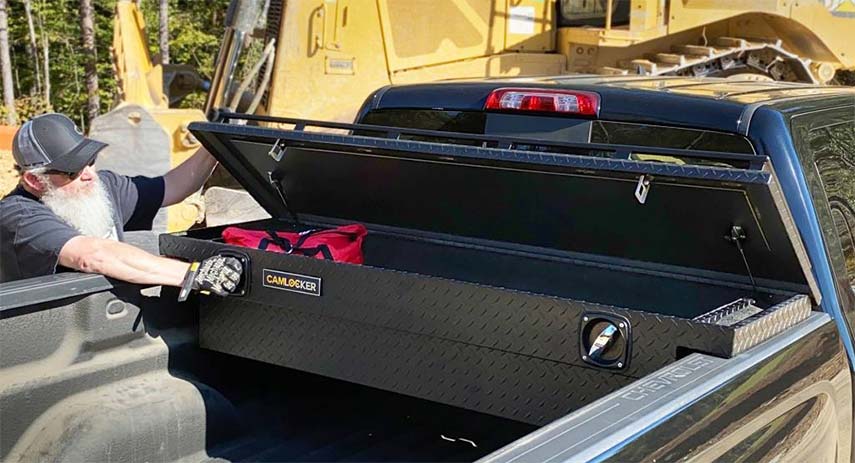 Picking up a toolbox is one of the easiest, most effective ways you can start organizing your truck bed. By gathering and storing the smaller items, you'll be able to clear up your truck bed and make it easier to locate those things.
Consider picking up a toolbox with an over-the-rail style. These boxes are specially designed for pickups and sit right on top of your truck bed rails. For extra security, make sure you're getting a lockable tool box.
3. Overhead Truck Rack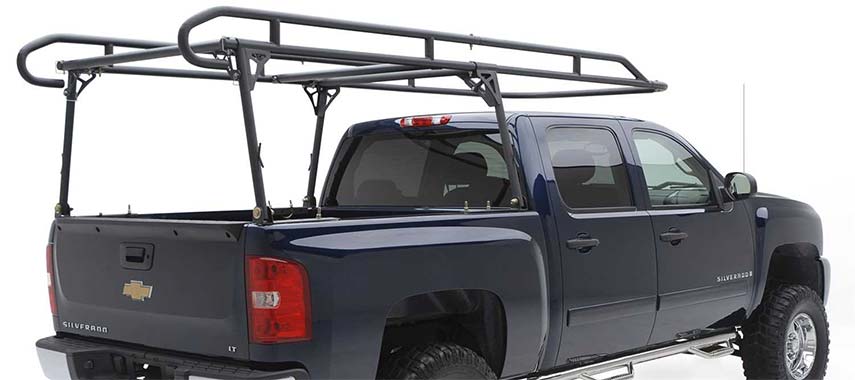 Using your truck for work, you may have lots of long or bulky materials that don't fit neatly in your truck bed. Objects like ladders, pipes, siding or lumber aren't easy to haul in the bed of the truck. An overhead truck rack helps alleviate that problem.
These racks allow you to store long objects overhead, making them more secure and freeing up your truck bed for equipment and gear. They usually have built-in slots to help you secure tall items as well. They're an inexpensive solution that's a must-have for any tradesman.
4. Hard Folding Tonneau Cover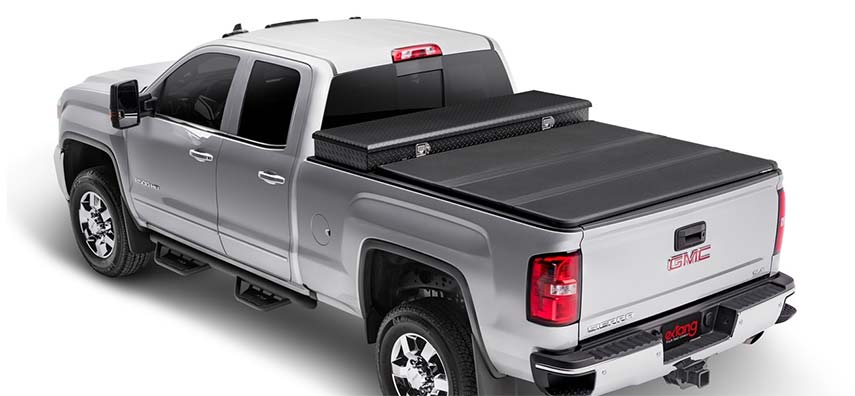 Tonneau covers are another way to keep your cargo protected. There are many styles of tonneau covers, but hard folding tonneau covers offer the most protection and security. The panels that make up a hard tonneau cover are made from materials like aluminum, fiberglass, and hard plastic. These covers also typically include locks for additional security.
It's also important you choose a folding tonneau over a one-piece tonneau cover. Folding tonneau covers allow you to flip back the panels, which makes it easier to access your truck bed. Folding covers also make it easier to carry long or irregular objects.
5. Truck Toppers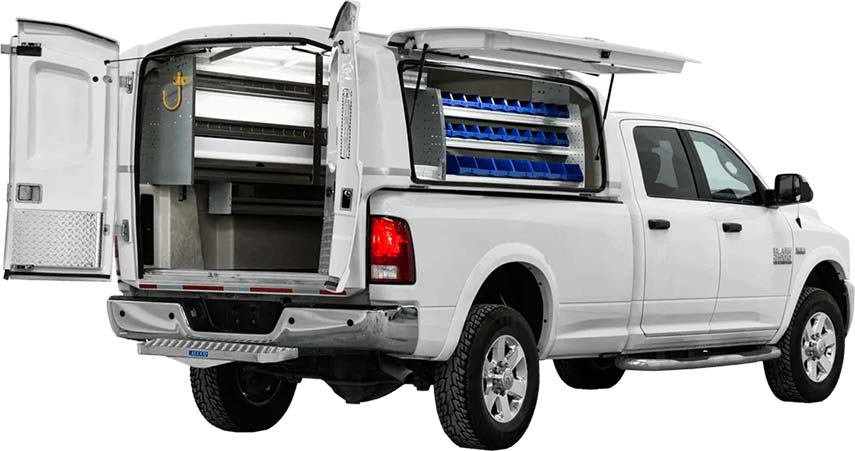 Hard tonneau covers offer great security but you can't use them with large or long objects. If you don't want to sacrifice security for storage space, then you can use a truck topper instead. These shells offer your more enclosed bed space.
Like a tonneau, they're weatherproof and help deter theft, but they're typically more expensive. They're also available in several different styles, including toppers with built-in lighting and storage compartments.
6. Truck Drawers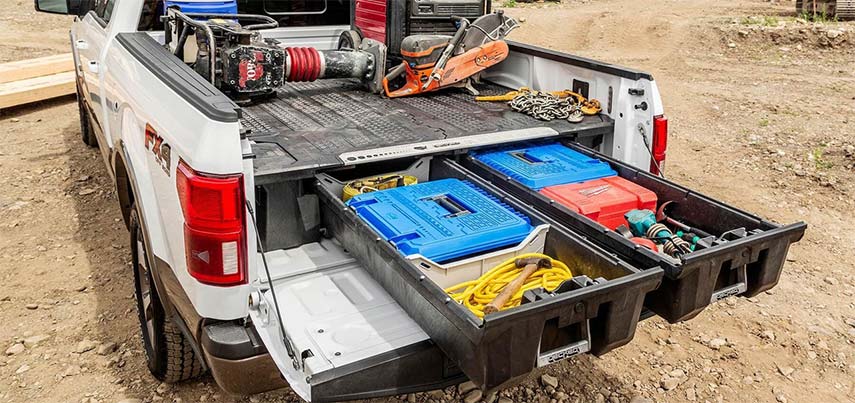 These storage organizers work well with both hard tonneau covers and truck toppers. Truck drawers are like giant toolboxes. They're available in many different styles, but most drawers are long slide-out cabinets that run the entire length of your bed, from the back of your cab to your tailgate.
If a toolbox isn't enough, then truck drawers are another clever solution for keeping items organized and protected.
7. Bungee Cargo Net
If you have lightweight cargo or loose materials such as mulch then your best option is a cargo net. You drape a cargo net over your truck bed and the mat's bungee cords keep your cargo in place. You can secure a cargo net in place using your truck's built-in tie-down hooks.
8. Bed Storage Pockets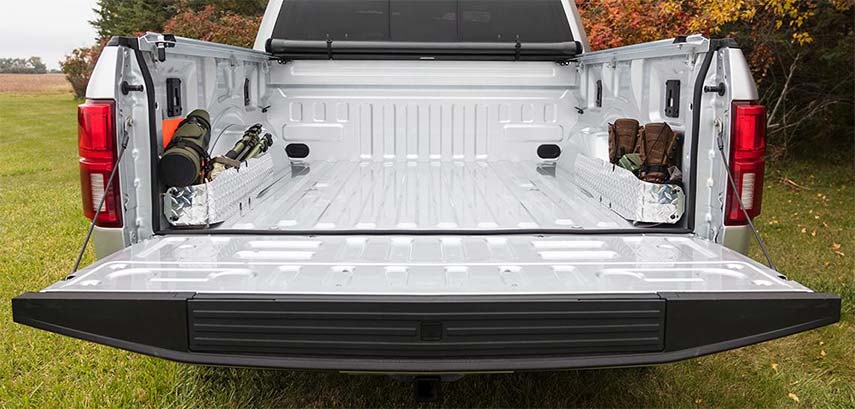 If you want another clever way to keep small items from getting scattered around your truck bed, try storage pockets. These pockets are made from hard plastic or metal containers designed to fit between your wheel well and your tailgate. They're great for keeping smaller items out of the way to give you room for larger objects.
We hope you found this article useful and that it will help you with making your truck bed better organized. Remember, if you want to keep your truck bed looking its best, invest in a DualLinertruck bed liner. All of these listed accessories are compatible with the DualLiner. The bed liner Cars.com calls their "Bed Liner of Choice".