When it comes to owning a truck, storage space is an asset…which means the truck bed is the most important asset you have. By maximizing the storage capacity – and function – of your truck bed, you'll be able to carry more tools, more parts, etc., and do more work.
Here are 8 great accessories for maximizing your bed's storage space.
Tool Box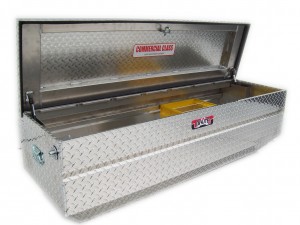 First and foremost, a tool box is a great way to store tools and secure them from theft. These boxes come in all sorts of different sizes and configurations. The most popular ones are diamond plated with locking cabinets and drawers.
DualLiner Bedliner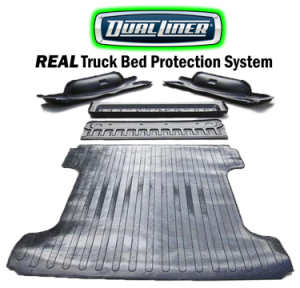 Your bed is going to take a bunch of punishment and you will want to protect it to make it last. An easy and relatively inexpensive way to do this is with a  DualLiner truck bed liner. This inter-locking bed system features hard plastic sides that protect your bed from dings and dents, as well as a thick rubber floor that prevents dents and controls cargo.
While you might not think of a truck bed liner as a "storage" accessory, the DualLiner's ZeroSkid® rubber floor keeps cargo from moving even as you drive down the road. This means that you can load your truck bed up with gear without having to worry about things sliding around…and that means more space.
Hard Folding Tonneau Cover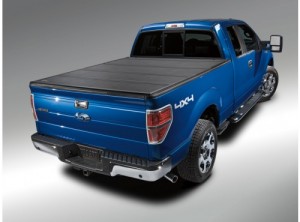 Another smart option is a hard folding tonneau cover. Available in a variety of styles, most folding tonneau covers are made from plastic and feature a locking system that secures whatever you have in the bed (unlike the "soft" tonneau covers, which are easily cut).
A folding tonneau cover is important, as there are times when you need room in your truck bed for a tall object. Folding tonneau covers can flip up and out of the way, often securing themselves to the back of the cab.
NOTE: Some say that tonneau covers save gas, and some say that they don't. While the evidence that tonneaus don't save gas isn't crystal clear, the best advice is to buy a tonneau because you need secure storage.
Topper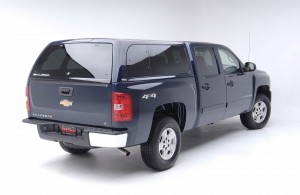 If a hard folding tonneau cover doesn't offer enough secured storage space, it's time to look at a truck topper. Toppers provide the ultimate in weather protection and truck security. They come in all sorts of different styles. There are even several being offered with lights and built-in storage compartments.
Truck Drawers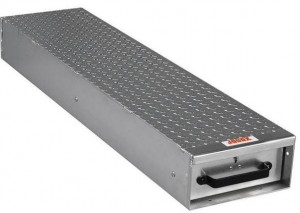 Once you have a hard tonneau cover or a topper, you can continue to better organize your things with truck drawers. There are many different types and varieties. The more popular options are steel drawers which sit on the bottom of your bed. They have long drawers that pull out. This allows you to store a lot of different items without them rolling around your bed or being an easy target for thieves.
Bed Storage Pockets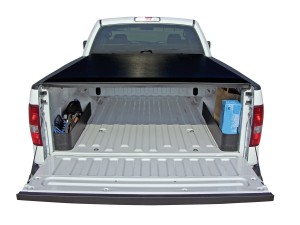 Another smart storage item are bed storage pockets. These are normally hard plastic and are molded to fit into the pocket of space created behind your wheel well to the tailgate. They can fold out and have different drawers to store items.
Truck Bed Divider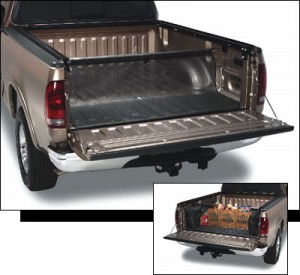 There are times when you don't need to store items as much as you need to keep things separate. Truck bed dividers are ideal for these times. For example, you may want to keep 5-gallon paint drums separate from wood and tile. A truck bed divider would separate these items and prevent the paint drums from sliding around.
Overhead Truck Rack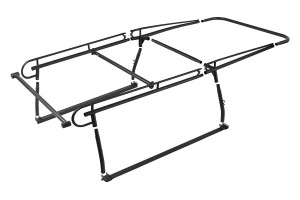 If your work involves carrying tall items like ladders, wood or windows, an overhead truck rack is right for you. These systems attach to the bed and rise varying heights above. They normally have slots built into them to help secure long and tall items to the sides. Many tradesmen have these racks like plumbers, window-replacement companies, garage door repairman, etc…
These racks are handy and fairly inexpensive.
When it comes to securing, storing and protecting your cargo, any of the above items will go a long way to making your life better.
Click for Bedliner Comparison Chart>
Click for DualLiner Step-by-Step Installation Guide>