The Right Bedliner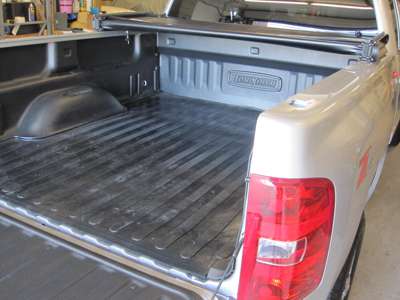 If you asked your truck which bed liner they would want you to purchase, I can say with confidence that it would be the DualLiner.
I like to think of truck bed protection as clothing. You know as well as any that there are certain types of clothing that just feel and fit better than others. If your truck has to be fitted for a new outfit you'd like to fit 'em for the best. To figure which one is right for your pickup takes a little searching, here we are going to try an examine which may be right for you.
There are a few different types of bedliners to choose from. From the older style one piece drop-ins, to the DIY roll on bedliners, to the spray-ons that seem to be pretty popular these days. Now recently our company has come out with a 5 piece that I believe to be at the forefront of the industry. Some can be better than others depending on the exact application you are going for so choose wisely.
Purchasing the wrong one can mean a lot more than just being out a couple hundred bucks, it can mean disaster for your truck's box!
One piece drop-ins have great dent protection. The real problem with this part of the industry has always been the one size fits all mentality of the manufacturers. Just as when you are buying clothes, if you are big or small, one size fits all usually is not going to fit you properly. It's really a misnomer if you think about it. I understand why they went that route. You try to open the tolerances as far as you can to apply to as many different makes and models as possible to widen your customer base. The models for plastic are very expensive, so the manufacturers are trying to keep the cost down as low as possible. The problem though occurs with improper fitment. If your Penda or Duraliner doesn't fit properly, then your so called protection is able to slide all around and actually causes scratching. The exact thing you are trying to protect the bed from.
Now the roll on liners are somewhat newer to the scene. They can be inexpensive and if applied properly they can give you good protection for years to come. I would NEVER recommend applying a DIY roll on to a new truck, but for something older that has already been scratched and has exposed metal, this is a cheaper way to protect from corrosion. The real key though here is proper installation. If you do not scuff sand and clean properly, these will chip and peel off which will make your box look worse than it did in the first place.
Spray ons are very popular and I believe they will be for years to come. There are diehards out there, you've seen the forum posts, where even when they are complaining about the common spray on problems, would still never buy anything except the beloved Rhino Lining or Linex. The complaints are there though for sure, in heavy numbers about the sun fade and the way that cargo slides around in the truck's box. For some that isn't as big of a deal as others, but I say why pay well over $500 for a product that does not address the consumers need? If I paint something black, I expect it to be black forever, not just for one summer!
Now the DualLiner 5 piece Truck Bedliner has addressed all of these issues to truly bring you the best of truck bed protection. There is no need to permanently alter your truck in the name of protection. Our liner is made of 4 UV treated hard plastic outer walls that will not fade in the sun and will keep your paint protected. Our rubber mat will keep your cargo in place, that's truck protection plus cargo protection. And the installation is a breeze clocking in at well less than 30 minutes with no special tools needed. If your truck was able to talk I believe it would convey that the DualLiner is the only choice to keep your paint protected without permanently altering its appearance. Get the bed liner your truck wants!