This year, Santa made a big change and has traded in his sleigh for a new pickup truck and then called us at DualLiner to outfit him with the best pickup truck bed liner system this side of the North Pole. When we asked why he made the radical change in his Christmas conveyance, Santa responded that his traditional sleigh just doesn't have the cargo room or amenities of a modern pickup truck.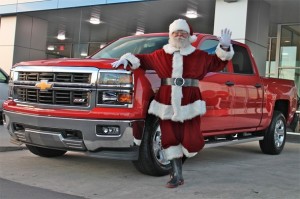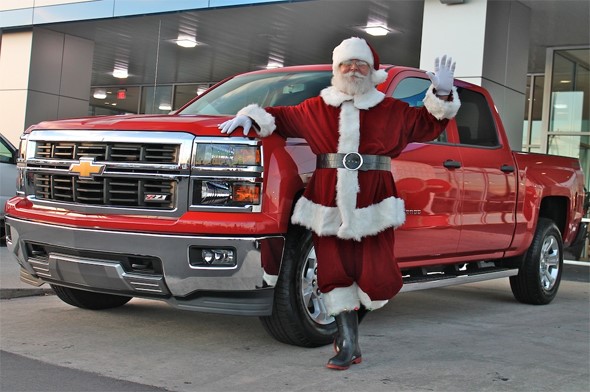 "My sleigh is actually very old and was designed to transport just a few people and not much else," he said with a chuckle. "Everyone's presents have been getting bigger and bigger these days, and even with some Christmas magic it was getting difficult to fit everything in. I was worried I'd need to start making a second trip, and I'm already on a tight schedule. It was time to retire the sleigh from delivery duty for something more modern and sturdy. Besides, I really wanted a windshield and heated seats!" he said as he gestured toward the shiny red truck behind him.
But Santa said that with all the extra room in his new ride, his bag was no longer wedged in the back and the presents were sliding all over the place. Every time he took a turn he could hear something new slide into the side of the bed with a clatter. And with everything riding on just one night of deliveries, there's no time to deal with damaged gifts. He said he saw DualLiner on several Christmas lists this year and decided to get in touch and see if we had solution for him.
Santa said that he especially liked the fact that the DualLiner bed liner system is modular and easy to wash if it gets messy. That way even after picking up the tree, he can be sure that all of the presents stay nice and clean on their way to delivery.
We also pointed out that the ZeroSkid® rubber mat stays pliable and grippy even in the harshest temperatures. That way Santa's bag stays in place in the truck and it's easy on the knees when he goes to unload. "I'm no spring chicken," he added, "I've been doing this a long time, and the soft floor of my DualLiner makes getting into the bed for loading and unloading comfortable and easy."
DualLiner Makes a Great Gift
Santa was so impressed with his new DualLiner, after checking his list twice, he picked a whole bunch to give as gifts to the pickup truck owners on his nice list this year. And since the DualLiner modular bed liner system is available for nearly every full-size pickup truck from Dodge, Ford, and Chevrolet, he didn't have any problem finding the right fit for anyone on his list!
Click for Bedliner Comparison Chart>
Click for DualLiner Step-by-Step Installation Guide>