Most people with pets will want to transport them at some point. Many pet owners will transport their pet in a travel carrier or crate that is placed in the bed of the truck. Others will just put the dog right into the back of the truck without any enclosure. Either way, this can be a very risky way to transport your pet. If you do not have the proper bed liner your pet could become injured badly or worse.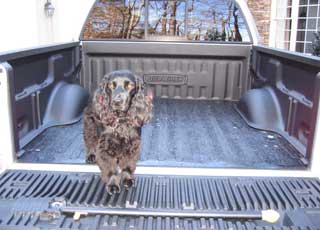 Several different types of bed liners out on the market today will claim that they are "skid resistant" or "anti-skid." What is the definition of "skid resistant" or "anti-skid?" I don't think that your dog would call a one piece plastic drop in bed liner "skid resistant."; your pooch wouldn't call most spray on bed liners "anti-skid" either.
A dog's toe nails become very slippery on pretty much any hard surface. If your pet carrier is plastic, it will slide across these types of bed liners like it has wheels on it. Just remember the last time somebody pulled out in front of you and had to slam on the brakes, if that would happen with your dog in the back, ouch is all I have to say about that.
There is a solution to this problem and it is called the DualLiner bed liner system. It is the only bed liner available with "zero skid technology." The definition of "zero skid" is "no skid' or "no slip." That actually means whatever you put in the back of your truck, it will not slide around. If your cargo just happens to be your family pet, this is very important.
Thanks to advances in manufacturing the zero skid bed mat was invented, this is not your average rubber bed mat. This zero skid bed mat is 3/8ths of an inch thick, it is composed of high grade corded rubber, and the underside has hundreds of soft rubber cleat to prevent the mat from lying directly on the trucks finish. This allows water to drain out of the factory designed drain holes. The thickness of the mat is very important as well, it is able to absorb what would otherwise be a damaging blow by spreading the impact over a much greater surface area.
The zero skid mat tucks securely into a channel located at the bottom of the sidewall panels. This ensures that the mat will not move around. The sidewalls are composed of polyethylene and each panel is designed to fit the precise contour of the sheet metal it is protecting. The Dual Liner is not a "one size fits all" type of bed liner, each bed liner fits a specific year, make, and model of truck. These precision panels act like a time capsule for your trucks box, preventing dents and scratches from occurring to your truck. If you would like to remove the bed liner for any reason you do have that ability, this is a nice feature if you lease your vehicles.
Don't put your pets at risk, get a bed liner that will help to keep them safe.
Click for Bedliner Comparison Chart>
Click for DualLiner Step-by-Step Installation Guide>